Master's in Computer Science in Canada
Become an expert in computer architecture, AI, machine learning, big data and development by studying a MSc in Computer Science
A Master's in Computer Science degree allows you to deepen your understanding of computer science concepts and theories. You can explore advanced topics and get the opportunity to specialise in different areas of interest, such as artificial intelligence, data science, cybersecurity, software engineering, or computer graphics. This specialised knowledge enhances your expertise and sets you apart in the competitive job market. Whether you aspire to work in software development, data analysis, research, cybersecurity, or entrepreneurship, a master's degree equips you with the right knowledge and relevant skills necessary to excel in these roles.
Canadian universities are globally recognised for their computer science education and research excellence. By pursuing your master's in computer science in Canada, you will have access to renowned faculty members, state-of-the-art facilities, and cutting-edge research opportunities. The curriculum is designed to provide a comprehensive understanding of core concepts while allowing for specialisation in the areas such as artificial intelligence, data science, cybersecurity, and software engineering.
Master's in Computer Science Course Curriculum
An MSc in Computer Science will equip students with advanced knowledge and skills. Renowned worldwide for its academic excellence and cutting-edge research initiatives, Canadian universities consistently rank among the top computer science departments globally. A typical MS in Computer Science allows students to tailor their studies to specific interests and career goals; whether you want to delve into artificial intelligence, data science, human-computer interaction, or software engineering, the program provides a solid foundation and opportunities for specialisation.
International fees: $15,000 - $30,000 per year
Entry requirements: A four-year undergraduate degree in a related field, including Computer Science, Computer Engineering, Information Technology, or a closely related discipline. Academic Achievement: A GPA of around 3.0 or higher on a 4.0 scale is often considered acceptable. Language Proficiency: The specific minimum score required can vary, but a typical requirement might be an overall IELTS score of 6.5, with no individual component lower than 6.0.
Common MSc Computer Science modules typically include:
Algorithms and Data Structures: This module covers the design and analysis of algorithms, data structures, and their applications in solving computational problems efficiently.
Artificial Intelligence and Machine Learning: Here, the focus is on the study of intelligent systems, machine learning algorithms, neural networks, natural language processing, and other techniques that are used in building intelligent computer systems.
Database Systems: This module basically covers the principles and design of database systems, including topics such as relational databases, data modelling, query languages, and database management systems.
Computer Networks: This specific module explores the architecture, protocols, and algorithms used in computer networks, including topics such as network design, routing, congestion control, and network security.
Software Engineering: Here, the focus is on the principles and practices of software development, including topics such as software design, requirements engineering, software testing, and software project management.
Operating Systems: This module covers the design and implementation of operating systems, including topics such as process management, memory management, file systems, and concurrency control.
Computer Graphics and Visualization: In this module, the principles and techniques used in computer graphics, 3D modelling, rendering, virtual reality, and data visualisation are explored in detail.
Distributed Systems: This module focuses on studying distributed computing systems, including topics such as distributed algorithms, distributed file systems, distributed databases, and cloud computing.
Computer Science Scholarships
Ontario Graduate Scholarship (OGS): This scholarship is available for students pursuing a Master's degree in Ontario, including computer science. It provides financial support to domestic and international students based on academic merit.
Trudeau Foundation Scholarships: These scholarships are highly prestigious and are available to exceptional students pursuing research-based Master's degrees in any field, including computer science.
Vanier Canada Graduate Scholarships: Although primarily for PhD studies, Vanier scholarships can also be awarded to exceptional Master's students. They are open to both Canadian and international students and provide generous financial support to students demonstrating leadership skills and high academic achievements.
Ontario Trillium Scholarship (OTS): This scholarship is available for international students pursuing a Master's or PhD program in Ontario. It provides significant funding to attract exceptional students from around the world.
Many Canadian universities offer their own scholarships for master's students in computer science. Examples include the University of Toronto Fellowships, University of British Columbia Graduate Scholarships, and McGill University Graduate Scholarships.
Computer Science Jobs
After completing a Master's in Computer Science, graduates have a wide range of career opportunities available to them in Canada. The field of computer science is diverse and offers numerous job roles across various industries.
Software Developer/Engineer
Data Scientist
Artificial Intelligence/Machine Learning Engineer
Systems Analyst
Cybersecurity Analyst
Database Administrator
Network Engineer
IT Project Manager
Research Scientist
Technical Consultant
Where can I study MS Computer Science in Canada?
To learn more about the best computer science universities in Canada, find details on the top-ranking computer science universities in the QS World University Rankings by Subject 2023 below:
Study MSc Computer Science in Canada
Do you want to study a master's in computer science degree in Canada? Arrange a free consultation with SI-Canada today to start your application.
Increase your chances of success when applying
SI-Canada specialises in selecting the right Canadian university for international students by reviewing your academic background, discussing your career goals and helping you apply. Our application services can help you achieve your dream of studying in Canada.
News
"SI-Canada helped me successfully apply to study business in Canada and I cannot thank them enough for their support. They assisted me with each step, ensuring I was aware of all my options in terms of program and university selection, making the process totally stress free."
Priyanka Jain
Business and Management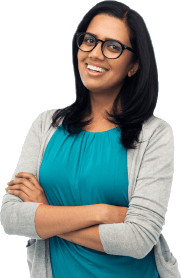 Leading Universities in Canada