Toronto Metropolitan University (TMU) has been imparting high-quality education to students from across the world since its inception in 1948. Through its seven academic divisions and faculties, the university offers more than 125 programs in the fields of arts, engneering, sciences, community services, law, business and much more. The core Toronto Metropolitan University campus is situated within the Garden District, and several other facilities are operated within the city. The Toronto Metropolitan University acceptance rate is around 80%.
TMU is committed to making a positive impact on society, both locally and globally. The university offers numerous programs and initiatives that aim to promote social justice, such as the Community Action Projects and the Institute for the Study of Corporate Social Responsibility. TMU also partners with various community organizations to provide students with opportunities to engage in community-based research and volunteer work.
If you wish to be a part of the TMU community as an international student, book a free consultation with SI-Canada today to begin your application or have any further questions answered.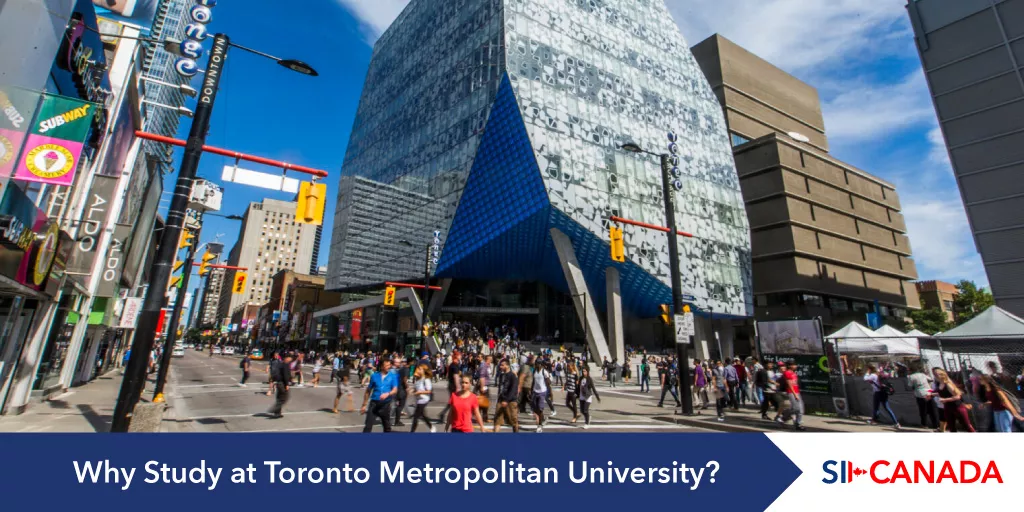 Five Reasons to Study at Toronto Metropolitan University
1. Graduate employment and career support
The graduate employment rate for Toronto Metropolitan University is 92.5% two years after their graduation and 88.3% just six months after the completion of their studies, according to a survey conducted by the Ontario Ministry of Colleges and Universities.
The high employment rate becomes possible as the university provides ample amount of support and guidance to students throughout the course of their degrees. The Career, Co-op & Student Success Centre at the university has an innovative model of support delivering equity-based and inclusive programs covering a student's journey from their first year to graduation into their careers. Additionally, students can access the career development hub in D2L, which is full of resources with resume templates, networking tips, and information on how and where to look for jobs. The career support by the TMU also extends in the form of award-winning Career Compass publications.
2. Rankings and awards
Toronto Metropolitan University is considered one of the top universities in Canada. According to the 2022 edition of the Maclean's University Rankings, Toronto Metropolitan University ranked 10th in the comprehensive university category, which includes universities with a significant amount of research activity and a wide range of programs at the undergraduate and graduate levels.
Toronto Metropolitan University has also received recognition for its entrepreneurship and innovation programs. In 2019, the university was named one of the top five most entrepreneurial universities in Canada by Startup Canada. Additionally, Toronto Metropolitan University has been recognized for its commitment to sustainability. In 2019, the university was named one of Canada's Greenest Employers for the ninth consecutive year by the Canada's Top 100 Employers project.
3. You'll be in an amazing city on a fantastic campus
Toronto is known to be one of the most multicultural cities, not just in Canada but across the globe. Toronto Metropolitan University's campus enables students to step out of the classroom to a world full of opportunities and diverse experiences.
Toronto is also one of the most livable cities in the entire world, according to a report by The Economist. Students can connect with leaders in business, culture, health care or government if they want to start a venture, intern or work anywhere in the city. In terms of how one enjoys their study years, there are plenty of options to explore near the campus, including Kensington Market, Eaton Centre, Royal Ontario Museum, St.Lawrence Market, Maple Leaf Gardens and much more. All these can be accessed by the world-class public transportation system of the city.
The campus at TMU is a great place not just for academic programs but also for other state-of-the-art facilities that are provided for learning, recreational purposes, career development, and health and fitness, among other aspects of successful university life.
4. International student experience and diversity
Toronto Metropolitan University is known for its diverse community of students and faculty members. With over 4,000 international students from more than 140 countries attending undergraduate and graduate programs, the university ensures they get the best support services throughout their journey.
The presence of such a diverse student population helps the students connect with others through a new perspective, and they learn to embrace the differences right through their university years, which then takes them ahead in their professional journeys in Canada and globally. The university is particularly committed to creating an inclusive and welcoming environment for all the students, which is achieved by the team at International Student Support at TMU. The team connects students to the vibrant campus environment and provides help in immigration, housing, security, and health, among other aspects of university life. The English Language Institute at TMU provides an ideal starting point for international students to achieve success through English upskilling.
5. TMU's zone learning is available to all
One of the most interesting parts of studying at TMU is that all students get access to the 10 zones, which are incubators or spaces that serve as the place for them to focus on a certain industry and gain real-world experience.
These zones provide unique opportunities to shape initiatives from the ground up in 10 different industries. Students get together in the area of their interest and brainstorm, kickstart different projects, and build startups through one-on-one mentorship from various experts. They can also develop their ideas and put skills to use by collaborating within a team and working in state-of-the-art workspaces. Another way in which these zones are beneficial is the presence of networking opportunities that eventually help students in gaining experience, build their resumes and even access funding for their startups.
Study at Toronto Metropolitan University
Begin your journey towards studying a Toronto Metropolitan University program by arranging a free consultation with SI-Canada today.