Being the region's highest-ranked educational institution, the University of Alberta (U of A) has the second-largest student population in all of Canada. The U of A is considered a "comprehensive academic and research university" (CARU), offering a diverse range of academic and professional programs leading to undergraduate and graduate-level credentials.
Located in Edmonton, Alberta, the University is ranked among the top five universities in Canada. It offers state-of-the-art facilities, excellent teaching, diverse societies, and clubs to meet new people.
If you wish to study at the University of Alberta and want to know more about the application process, book a free consultation with SI-Canada today.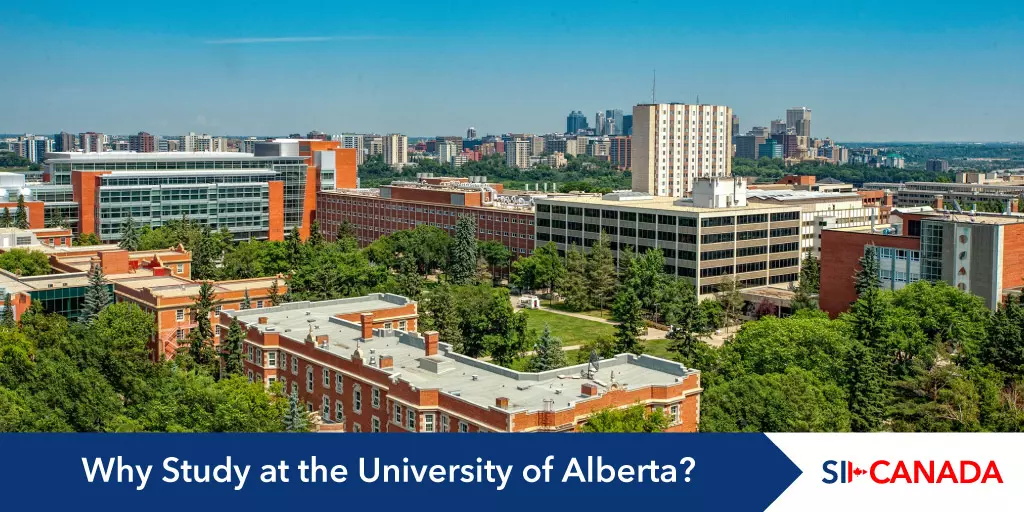 Five Reasons to Choose the University of Alberta
1. Career opportunities
The University of Alberta ranks among the top five universities in Canada in the Graduate Employability Rankings, meaning there are many opportunities for career development.
The chance to build a solid resume with an internship, job shadowing and career mentoring, apart from trying hands in the non-profit sector through Community Service-Learning (CSL), are some of the options U of A gives. Students can study outside their classrooms and still earn credits for their degrees by being in the field school or spending semesters abroad through the study abroad option of the University. You can also add a Certificate in Community Engagement and Service-Learning to your degree if you can complete more than one CSL course.
2. Academic excellence
A wide variety of University of Alberta courses are available at every study level. With over 200 programs for majors, minors, specialisations, certifications, honours programs, practicums and co-ops, each student can choose from many academic and professional growth options. The University of Alberta MBA is an option for business students looking to get ahead in their chosen field.
The University of Alberta also offers options for Native Studies ranging from certification courses to undergraduate and graduate degree programs, which is a first for a Canadian University at this level.
3. Vibrant student life
Located in Edmonton, U of A has the advantage of being an educational institution nestled in a modern, busy, yet naturally beautiful city. More than 36,000 students, including 8,000 from over 150 countries, are free to choose from around 450 student clubs, giving them many opportunities to grow other than academic progress that is, in any case, excellent at the University.
4. Comprehensive healthcare and wellness system
Each student at the University of Alberta is entitled to have free and confidential health resources that can help them thrive in an environment which is there to take care of all their needs. This is particularly important for international students, who are new to the place and system, so when they can get better healthcare facilities on campus, they are much more likely to enjoy their university life. Mental health care, immunisations, counselling and therapy sessions are available on campus.
5. Study abroad options
Taking learning opportunities far beyond the classroom, U of A, through its agreements with universities worldwide, allows students to grow on a truly global level. From learning Portuguese in Brazil to studying European politics in Lille and taking media studies in Germany, the study-abroad options at the U of A have the power to make you grow at various levels.
Study at Alberta
Are you interested in studying at the University of Alberta? Arrange a free consultation with SI-Canada to begin your application today.