Canada's high-quality education system, diverse culture, and welcoming environment make it an ideal place for students to pursue higher education and further their academic goals. Thousands of students choose to study in Canada every year, but to achieve that goal, they need to clear a few hurdles, including entrance exams (where applicable).
Most exams for international students are essential for admission to Canadian universities and colleges, as they help assess your academic qualifications, language proficiency, and eligibility for specific programs. Learn more below, and if you have any questions about Canadian entry requirements, book a free consultation with SI-Canada today.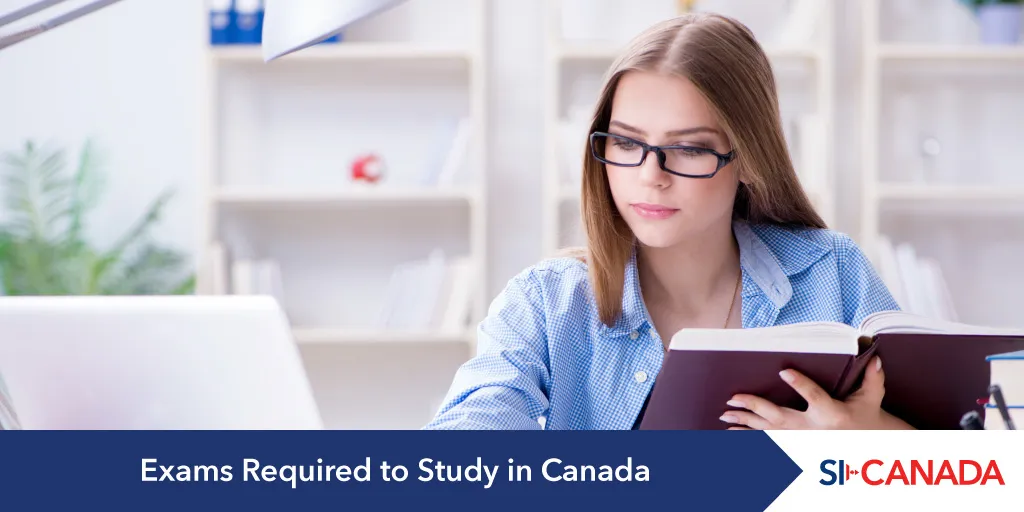 Exams Required to Study in Canada
- English Language Proficiency Tests
One of the primary requirements for studying in Canada is demonstrating your proficiency in English. You would need to take this exam, particularly for taking up programs that are taught in English. Most Canadian institutions accept scores from standardized tests, and each university or program would need you to have different language proficiency levels. Some of the most popular English language tests that students must take before applying to the university are:
TOEFL (Test of English as a Foreign Language): A widely accepted test, TOEFL, evaluates your English proficiency through reading, listening, speaking, and writing.
PTE (Pearson Test of English): PTE is another globally recognized English language proficiency test that evaluates your relevant skills in listening, reading, writing, and speaking. CAEL (Canadian Academic English Language Test): Explicitly developed for Canadian academic environments, CAEL assesses your readiness for university-level English.
- French Language Proficiency Tests
If you plan to study in a French-speaking province like Quebec, you may be required to demonstrate your proficiency in French. Many institutions in the province provide courses in French, apart from language courses. Some universities have English and French as languages of instruction, while some only have French. The most common test that you can give to show proficiency in the language is
TEF (Test d'évaluation de français): This test measures your French language skills in reading, writing, speaking, and listening.
- Academic Qualification Tests
Depending on the level of education you're pursuing (undergraduate, graduate, or doctoral), you might also need to provide evidence of your previous academic achievements. This could include submitting your high school transcripts, bachelor's degree certificates, or relevant test scores like:
SAT (Scholastic Assessment Test): Often required for undergraduate admissions, the SAT measures your readiness for college and is widely accepted in Canada.
GRE (Graduate Record Examination): For graduate and doctoral programs, the GRE assesses your verbal reasoning, quantitative reasoning, and analytical writing skills.
- Specific Program Admission Tests
Many Canadian universities have world-renowned programs in medicine, business and law. These programs might ask candidates to provide scores of the specific program admission tests that must be given before applying to the program. Some of the major ones include:
GMAT (Graduate Management Admission Test): The test holds significant importance for admission to graduate business programs in Canada, as many universities and business schools consider GMAT scores a key factor in evaluating applicants' readiness for their MBA and other management-related programs.
MCAT (Medical College Admission Test): This specific test is critical for gaining admission to medical schools in Canada. Canadian medical institutions recognize it and assess applicants' knowledge of scientific concepts, critical thinking abilities, problem-solving skills, and understanding of medicine's social and behavioural aspects.
LSAT (Law School Admission Test): This test plays an important role in the admission process for law schools in Canada. Recognized and accepted by many Canadian law programs, the LSAT assesses applicants' critical reasoning, logical thinking, and analytical skills, which are essential for legal studies and practice success.
- Visa Language Proficiency Tests
You must demonstrate language proficiency when applying for a Canadian study permit. This is typically done through an interview with an immigration officer, but in some cases, you might also be asked to take a test.
It is important to note that the specific requirements usually vary between institutions and programs, so it's crucial to check the admission guidelines of the university or college you're interested in. Plan and research the specific requirements and give yourself ample time to complete the exams and application process. With determination and thorough preparation, you can fulfil your dream of studying in Canada and enjoying all its benefits.
Study in Canada
Do you need help applying to study in Canada as an international student? Contact SI-Canada today for a free consultation and we can assist with your application.
Exam Preparation for Canada FAQ
Does Canada have entrance exams?
Generally, Canadian universities do not have a standardized national entrance exam. However, specific programs, especially at the graduate level or in specialized fields like medicine (MCAT) or law (LSAT), may require applicants to take standardized tests as part of the admission process.
Which exams are required to study in Canada?
Generally, for undergraduate programs, institutions require completion of secondary education or its equivalent and proof of English or French language proficiency. For graduate programs, universities may request standardized tests like the GRE (for certain programs) or the GMAT (for business-related programs). For specific fields like medicine and law, programs may require the MCAT or LSAT, respectively.
What are the competitive exams in Canada for international students?
For international students aspiring to study in Canada, exams often depend on the level and field of study. Language proficiency tests such as IELTS, PTE or TOEFL are common at the undergraduate level, especially if English or French isn't the student's first language. For graduate programs, specific standardized tests like the GRE (Graduate Record Examination) for non-business fields, the GMAT (Graduate Management Admission Test) for business-related programs, and in some cases, the MCAT (Medical College Admission Test) for medical programs or the LSAT (Law School Admission Test) for law schools might be required. These exams play a vital role in demonstrating the applicant's readiness and qualifications for their chosen program, adding to the competitiveness of their application in the Canadian education system.
Which exam is easy for a Canadian student visa?
There isn't a single "easy" exam specifically for a Canadian student visa, as the requirements for obtaining a study permit (student visa) in Canada are primarily based on factors beyond standardized testing. To apply for a study permit, prospective international students typically need an acceptance offer from a Designated Learning Institution (DLI) in Canada, proof of funds to cover the tuition fees and living expenses, and meeting specific language proficiency requirements.
How can I study in Canada?
To study in Canada, first, choose your desired program and research universities offering it. Review the admission requirements, including academic prerequisites, language proficiency tests (such as IELTS, PTE or TOEFL), and any necessary standardized exams (e.g., GRE, GMAT, MCAT, LSAT). Complete the application process by submitting the required documents, transcripts, and letters of recommendation. Explore funding options, scholarships, and grants available to international students in Canada. Upon acceptance, apply for a study permit (student visa) through the Immigration, Refugees, and Citizenship Canada (IRCC) website. Make travel and accommodation arrangements, familiarize yourself with Canadian culture, and prepare for university life. Upon arrival, attend orientation, register for classes, and begin your educational journey in Canada.
Who is eligible to study in Canada?
Generally, international students must have a valid acceptance from a DLI-Designated Learning Institution in Canada, proof of sufficient funds for covering tuition fees, living expenses, and return transportation, and meet language proficiency requirements.