When international students search for the best Canadian cities to study in, Vancouver consistently ranks among the leading choices. Nestled on the breathtaking west coast of Canada, Vancouver offers a unique environment that makes it highly appealing to students in search of a comprehensive academic experience. Most students who study abroad have specific criteria in mind when choosing their destination. Vancouver aligns with many crucial factors international students seek, including high-quality education, globally renowned universities, stunning natural landscapes, vibrant student life, and promising career opportunities.
Vancouver isn't just a place to further your studies; it's a city that allows you to simultaneously embark on exciting personal and professional adventures, ensuring an unforgettable experience. Learn more below, and to begin your study in Canada application, contact SI-Canada today.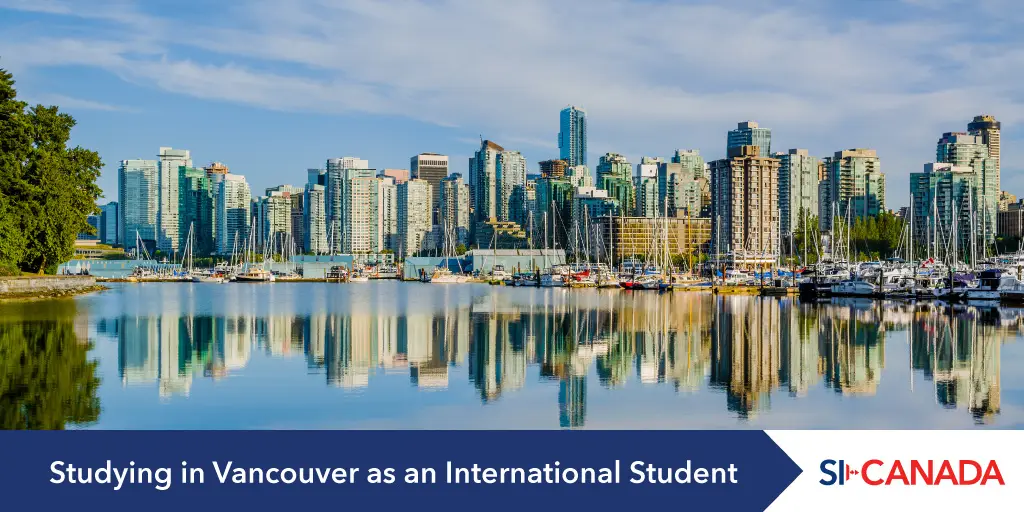 Four Reasons to Study in Vancouver
1. Outstanding educational institutions
Vancouver has some of Canada's leading universities and colleges, many known for their academic excellence and globally recognized educational programs. Students can access various fields of education and benefit from world-class teaching and research infrastructure at these institutes.
2. Multicultural hub
Vancouver's multiculturalism is a defining feature that gives the city a unique identity. The city embraces diversity, creating a welcoming environment for international students to thrive. You'll find people from several cultures and backgrounds, making it easier for you to connect and learn from them.
3. Natural beauty
The natural beauty of Vancouver is unparalleled. The city offers various outdoor activities year-round, with the Pacific Ocean on one side and majestic mountains on the other. From hiking and skiing to kayaking and biking, you will have many adventures waiting just outside your door when studying in Vancouver.
4. Robust job market
Vancouver's diverse and thriving economy means students can access numerous job opportunities during and after their studies. This makes the city attractive for those seeking work experience while pursuing their education.
Best Colleges and Universities in Vancouver for International Students
University of British Columbia
UBC is one of Canada's most prestigious universities, consistently ranked among the top institutions worldwide. It is ranked the 34th best university in the world for 2024 in the QS World University Rankings and is 41st in the Times Higher Education World University Rankings. The university has a wide range of undergraduate and graduate programs in subjects such as engineering, healthcare and medicine, business and management, and arts and sciences, to name a few.
Popular courses: MBA, Social Sciences, Clinical Medicine, Biotechnology, and Engineering.
Acceptance rate: 50%
Percentage of international students: 28%
Simon Fraser University
SFU is another well-regarded institution known for its research and academic excellence. The public research university has a diverse selection of programs and campuses in and around Vancouver. Through its eight faculties, the university offers endless opportunities for students to develop skills and pursue exciting career options.
Popular courses: Social Sciences, Psychology, Physics, and Mathematics.
Acceptance rate: 59%
Percentage of international students: 22%
Langara College
Langara College is a well-respected community college in Vancouver, offering various diploma, certificate, and degree programs in multiple fields. It's mainly known for its transfer programs to universities, career-focused and continuing studies programs. Students can benefit from the small class sizes and competitive tuition rates at the college.
Popular courses: Computer Science, Engineering, Biology, Health and Business Management.
Acceptance rate: 85%
Percentage of international students: 37%
British Columbia Institute of Technology
BCIT is a polytechnic institution in Vancouver recognized for its hands-on training and career-focused programs in fields like engineering, technology, and business. The university offers over 300 programs and 1,000 part-time courses through a flexible and applied approach to education that lets students gain real-world experience.
Popular courses: Business and Media, Computing & IT, Health Sciences and Engineering.
Acceptance rate: 89%
Percentage of international students: 18%
Emily Carr University of Art + Design
Specializing in art and design, Emily Carr University of Art + Design is a world-class institution that nurtures creativity and innovation among students by offering undergraduate and graduate programs in arts, media, and design. It was ranked the 25th best Art & Design school in the world by QS World University Rankings by subject in 2023.
Popular courses: Fine Arts, Media Arts, 3D Computer Animation, Ceramics, and Photography.
Acceptance rate: 48%
Percentage of international students: 23%
Popular Courses to Study in Vancouver
Although Vancouver offers a variety of courses across its colleges and universities, some are more in demand among international students due to the quality of education and career opportunities.
Business and management: Programs in business administration, management, and entrepreneurship are highly sought after in Vancouver, given the city's thriving economy and business environment.
Computer science and information technology: With the technology sector growing in Vancouver, courses in computer science, software engineering, and IT are in demand among international students.
Environmental science and sustainability: Vancouver's commitment to sustainability makes it an ideal place to study environmental science, sustainable development, and related fields.
Health and life sciences: The healthcare sector is significant in Vancouver, making health-related programs, including nursing and life sciences, popular choices among students.
Arts and creative: Vancouver has a vibrant arts and entertainment scene, making courses in fine arts, design, film, and multimedia highly relevant for a thriving career.
Student Life in Vancouver
Studying in Vancouver offers a truly enriching experience that can leave a lasting impression. Student life in the city extends beyond the classroom, encompassing many experiences that enhance the overall journey.
Vancouver's multicultural environment facilitates interactions with people from various backgrounds, fostering lifelong friendships and connections. Students can also engage in recreational activities and immerse themselves in a rich cultural scene. Vancouver features numerous museums, art galleries, theaters, cultural festivals, and famous landmarks like Stanley Park, the Vancouver Opera, MacMillan Space Centre, and the Vancouver Maritime Museum. Accessing these attractions is a breeze thanks to the city's advanced public transportation system.
Moreover, Vancouver's stunning natural landscapes provide ample opportunities for outdoor enthusiasts. Whether you enjoy hiking through lush forests, skiing down pristine slopes, kayaking on the Pacific Ocean, or cycling along scenic routes, the city offers many outdoor activities to complement your academic journey.
Cost of Living in Vancouver
As Vancouver is among the major Canadian cities with many amenities for a comfortable student living, the cost of living for international students is relatively high compared to other cities. The specific cost of living in Vancouver will vary depending on your lifestyle and housing choices, but we can give an estimate that can help you determine your overall budget to live in the city.
Regarding accommodation costs, you can either go for on-campus housing, which can cost around CAD 10,000-15,000 per term, or rent an apartment, which can range anywhere from CAD 1,500-2,500 per month. The cost of groceries and food can be around CAD 300-800 per month, and as international students, you may have to pay for health insurance, which can cost around CAD 800-1000 for a year. Transportation costs can be around CAD 100-150 per month. Apart from these general expenses, you may also need to keep some amount for miscellaneous costs needed for clothing, entertainment, phone, and internet bills, among other things.
Career Opportunities after Studying in Vancouver
Vancouver has a diverse and thriving economy, which is excellent for students seeking career opportunities in the city after study. Over the past few years, the city has become a hub for industries like software development, video game development, information technology, aerospace, television, and film.
Important companies based in Vancouver or have local offices include Hootsuite, Tenke Mining, Telus Corp, Pixar Canada, Citizens Bank of Canada, HSBC Bank, and the Jim Pattison Group, among others. Besides these popular options, Vancouver has opportunities in other fields, such as medicine and healthcare, sustainable industries, tourism and hospitality, and business and management.
Because many universities provide industry-relevant degree courses in popular fields, students' chances of finding relevant jobs in their fields of study increase as they are trained with the skills needed to excel in those fields. Most institutions also provide co-op programs and internships, which further help students gain experience and later find exciting career opportunities in Vancouver.
Study in Vancouver
If you you want to begin your application to study in Vancouver, arrange a free consultation with SI-Canada today and we can discuss your academic future.