Nestled in the heart of Canada's picturesque province of Alberta, the University of Calgary is a leading Canadian university that offers students a unique and innovative learning experience. With a proud history dating back to 1966, Calgary has grown to be among Canada's leading research-intensive universities, attracting some of the brightest minds worldwide.
The university boasts a vibrant community of over 30,000 students, including 6,000 international students from over 150 countries. All students are empowered to take charge of their education and pursue their dreams with the help of world-class faculty, cutting-edge research facilities, and state-of-the-art technology. Whether you are interested in pursuing a career in business, engineering, medicine, or any other field, the University of Calgary is the perfect place to start your journey. With a commitment to innovation, research, and entrepreneurship, the University of Calgary offers students many opportunities to explore their passions and achieve their goals.
Are you interested in joining the international student community at the University of Calgary? Book a free consultation session with SI-Canada to learn more about the scholarship options, best courses, and other relevant information.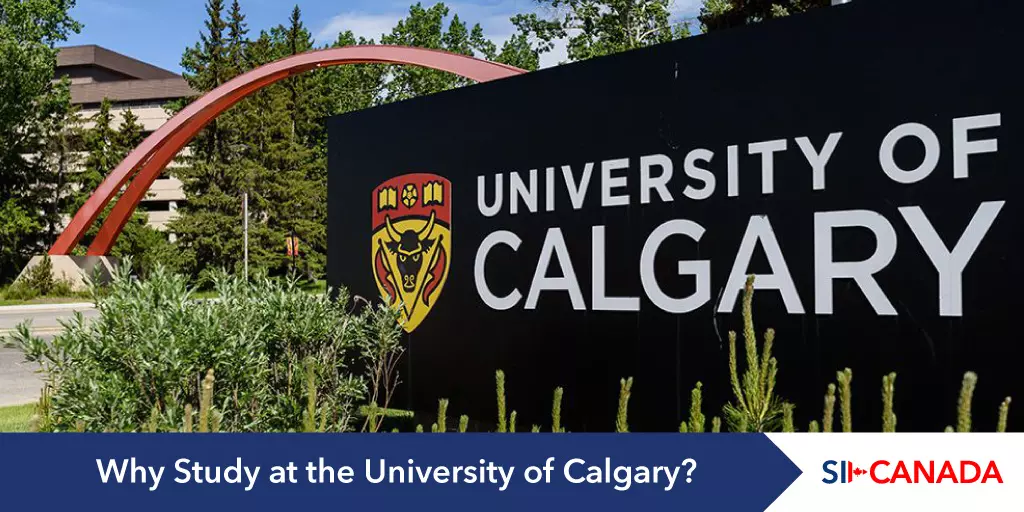 Nine Reasons to Study at the University of Calgary
1. World-class academic programs
Widely recognized for providing high-quality education, there are over 250 University of Calgary programs across its 14 faculties, including the faculties of Arts, Science, Engineering, Business, and Medicine, to choose from. Calgary's programs are renowned for their quality and are recognized both nationally and internationally. The educational programs have been designed to provide students with theoretical knowledge and practical understanding of their fields and prepare them for a successful career in their chosen industry. The University of Calgary strongly emphasizes experiential learning, allowing students to gain hands-on experience through co-op programs, internships, and research opportunities. Students can easily find the perfect program to suit their academic interests and career aspirations at the university, giving them a great learning experience.
2. Exceptional research
The University of Calgary offers exceptional research opportunities to students, making it an ideal destination for those pursuing research in various fields. UCalgary has been consistently ranked as one of Canada's top research institutions and is home to over 50 research centers and institutes, providing students with access to cutting-edge research facilities and world-renowned researchers. Whether in the biotechnology, environmental sciences, or social sciences, the university offers a platform for students to engage in groundbreaking research output and contribute to advancing their respective fields. The university also offers various research programs, such as the Undergraduate Research Program, which provides students with opportunities to work alongside faculty members and gain hands-on research experience.
3. Vibrant student life
UCalgary offers a vibrant and exciting student life that is full of opportunities for students to explore their varied interests and passions outside of the classroom. With around 300 student clubs and organizations, this university has something for everyone.
Students can participate in intramural sports teams, attend music and art events, join academic or cultural clubs, and much more. The university has a stunning campus in the heart of one of the most dynamic cities in the country. There are a variety of on-campus amenities to enhance student life, including the Olympic-size swimming pool, fitness center, and recreational facilities. The main campus of UCalgary is also home to many cafes, restaurants, and shops, providing students with easy access to food and supplies.
4. Lively and friendly location
Calgary is a vibrant and diverse city that provides many opportunities for students to explore. The city is well-known for its friendly and welcoming community and is, in fact, consistently ranked among the most livable cities at the global level. It also has a thriving business community, providing students with internships and job opportunities. Additionally, the city is surrounded by natural beauty, with the mighty Rocky Mountains just a short drive from the city. This allows students to enjoy various outdoor activities, like hiking, skiing, and camping. With its combination of urban amenities and stunning natural scenery, Calgary offers a unique and rewarding experience for students who choose to study at the University of Calgary.
5. Career opportunities
The University of Calgary is committed to preparing students for successful and thriving careers in their chosen fields. The university's Career Services offers a range of valuable resources and support to help students develop their career skills and connect with potential employers. From resume and interview preparation to job search strategies, students can access several resources to help them achieve their career goals. The university also offers a co-op program, which provides students with hands-on work experience and helps them build valuable industry connections. The university also prides itself on being Canada's entrepreneurial university and has been recognized as the top startup creator amongst research institutions. With a focus on innovation and entrepreneurship, UCalgary encourages its students to develop and implement their ideas. This culture of innovation has led to the creation of numerous successful startups that have benefited the local economy and had a global impact.
6. Ranking
201-250th at the global level in the Times Higher Education World University Rankings of 2023
42nd in the Impact Rankings by Times Higher Education in 2022
242nd at the QS World University Rankings 2023
175th in the Best Global Universities category at the US News Rankings
7. Scholarships
University of Calgary scholarships support student's academic pursuits. These include:
President's Entrance Scholarships: These scholarships are awarded to high-achieving students entering their first year of studies at the University of Calgary. They are based on academic excellence, leadership, and community involvement.
Schulich Leader Scholarship: This prestigious scholarship is awarded to exceptional students pursuing undergraduate studies in science, technology, engineering, or mathematics (STEM) fields. The recipients receive a significant amount of financial support for their higher studies.
International Entrance Scholarships: These scholarships are available to international students entering their first year of undergraduate studies at the University of Calgary. They are awarded based on academic achievement and can help offset tuition costs.
Graduate Scholarships and Fellowships: The University of Calgary offers a range of scholarships and fellowships for graduate students pursuing master's or doctoral degrees. These awards can provide financial support for tuition fees and living expenses.
8. Accommodation
The University of Calgary provides residence halls on campus for students, including single and double rooms, offering amenities such as dining facilities, communal spaces, study areas, and access to various services and programs. There are apartment-style and townhouse-style residences, as well, on the campus. These options provide more independent living with private bedrooms, shared living spaces, kitchens, and bathrooms. Students may also choose to live off-campus in private rental accommodations, and the university's Off-Campus Housing website provides resources and listings to help students find suitable off-campus housing options.
9. Commute and Transportation Options
The University of Calgary provides several transportation options to facilitate commuting to and from the campus. The Calgary Transit system includes buses and the CTrain (light rail transit), and the university has direct access to CTrain stations, making it convenient for students and staff to commute to campus using public transportation. The UPass program allows students to access unlimited transit services throughout Calgary by purchasing a discounted transit pass. The university promotes cycling as a sustainable mode of transportation and provides designated bike lanes and racks throughout campus for cyclists. Students can also carpool to reduce the environmental impact of commuting. Calgary also has various car-sharing services, such as Car2Go and Zipcar, which provide short-term vehicle rentals. These services can be helpful for students who occasionally require a vehicle for specific purposes.
Study at Calgary
If you want to study in Canada at this leading university, arrange a free consultation with SI-Canada today.
University of Calgary FAQ
Why should I study in Calgary?
Calgary offers a leading education and dynamic city experience, making it an excellent choice for studying. At esteemed institutions like the University of Calgary, students can receive a world-class education from accomplished faculty members. Calgary's strong economy, especially in sectors like energy, technology, finance, and healthcare, presents abundant career opportunities for graduates. The city also boasts a high standard of living, a vibrant cultural scene, and close proximity to stunning natural landscapes, offering a well-rounded and enriching experience for students.
What is special about the University of Calgary?
The University of Calgary stands out for several reasons. Firstly, it is a leading research-intensive institution that fosters a culture of innovation and academic excellence. It boasts world-class facilities, state-of-the-art research centers, and a strong emphasis on experiential learning, allowing students to gain practical skills and real-world experience. The university is known for its supportive and inclusive community, encouraging collaboration and engagement among students and faculty.
What is the living cost in Calgary for an international student?
The living costs for international students in Calgary can vary based on individual choices and lifestyle preferences. On average, accommodation expenses range from CAD 600 to CAD 1,500 per month, which depends on the type and location of housing. Transportation costs can include using public transit or owning a car, which can amount to approximately CAD 100 per month. The monthly food expenses in the city typically range from CAD 200 to CAD 400, while healthcare costs may include health insurance premiums. Personal expenses can also vary based on individual preferences and activities.
Does the University of Calgary offer scholarships to international students?
Yes, the University of Calgary offers scholarships and financial aid opportunities to international students. These scholarships are designed to attract and support talented students from around the world. These scholarships can be merit-based, need-based, or specific to certain fields of study. The eligibility criteria, application process, and deadlines can also vary for each scholarship.
What are the admission requirements at Calgary?
For undergraduate admissions, you will typically need to have completed senior secondary education. Some University of Calgary programs may require additional documents such as standardised test scores (SAT or ACT), a personal statement or essay outlining your academic and career goals, and letters of recommendation. For graduate admissions, you will need a relevant bachelor's degree earned from a recognized university or institution. You may need to demonstrate English language proficiency through standardized tests like IELTS or TOEFL if English is not your first language.