Canada is an increasingly popular global study destination due to its fantastic universities and colleges, great standard of living and comparatively lower tuition fees than the USA. Today, Canada has become one of the top five countries in the world that attracts international students.
Some Canadian programs and degree options are ranked among the best globally, and most students tend to choose them when considering options for higher education. Take a look at the most popular undergraduate and graduate degrees offered by universities in Canada that are also among the top 200 educational institutions today below and if you wish to begin your application, arrange a free consultation with SI-Canada today.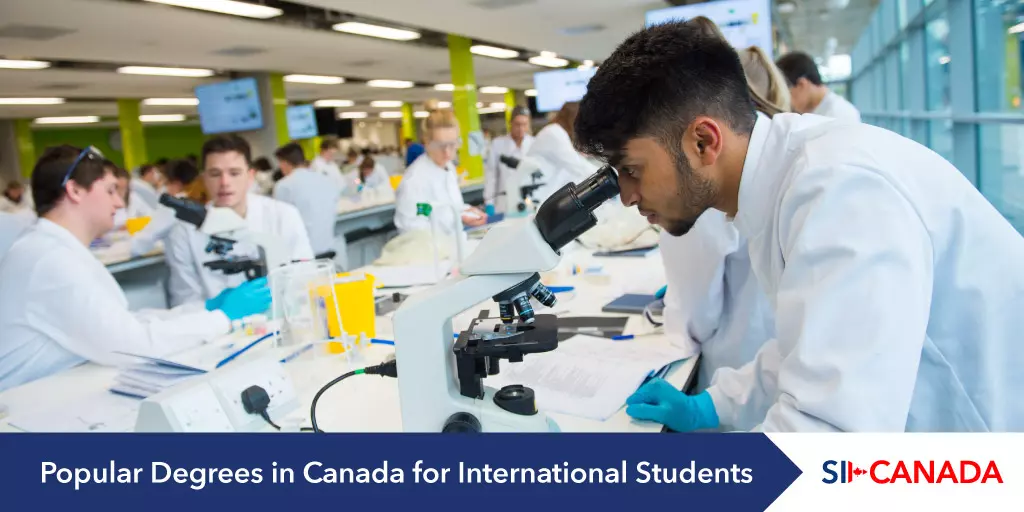 Popular Undergraduate Degrees in Canada
Medicine
Canada's medicine and healthcare industry highly demand educated and compassionate graduates who can care for patients. Medical degree programs in Canada are recognized worldwide and known for the quality of education imparted to students. Attractive income opportunities with high job security make medicine a preferred option for higher education.
Nursing
Undergraduate nursing programs in Canada are in demand among students with specialized education recognized internationally in the healthcare sector. A nursing degree helps to have a fulfilling and prosperous career, as the nurses in Canada are paid well in various work settings in the country and other parts of the world.
Engineering
Engineering education is a much sought-after option for all students who want to pursue a career in science background. With various career options available after graduation that can be pursued in Canada and other parts of the world, students choose the subject to have high-paying jobs and an exciting career.
Business
A business degree can be an exceptional start to a career in managing business administration. With subjects such as finance, marketing, administration and human resource management as parts of the course structure, a business degree opens many doors for prospective students who wish to excel in the subjects of commerce.
Finance
Undergraduate degrees in finance involve a better understanding of the theoretical and practical aspects of the core finance profession. Finance courses in Canada help students gain unique perspectives on mathematics, economics, psychology, political science and sociology. With topics like bookkeeping, credit, statistics and financial analysis, students can prepare and interpret financial information.
Popular Postgraduate Degrees in Canada
Health
Health degrees in Canada enable students to choose from a wide range of professions, including the medical industry, dentistry, nursing, optometry and much more. The country has universities with state-of-the-art facilities to impart an education that enhances students' knowledge. Pursuing careers in the healthcare industry lets people have a deeper understanding of managing the well-being of the concerned parties.
Pharmacology
A postgraduate program in pharmacology in Canada can be taken as a course and a thesis-based degree program. Being offered to students having a strong background in pharmacy, pharmacology or other pure sciences, this two-year program is much in demand among international students. Some universities also offer dual degrees, including Toxicology or Therapeutics with Pharmacology.
Medicine
Postgraduate medical degrees help students gain a more profound knowledge of professional development while perfecting the various skills required for a successful medical career. It is also the pathway to go ahead in research that enables discoveries to emerge, which are always needed in medicine.
MBA
The Master of Business Administration (MBA) is among the most chosen degree programs undertaken by international students in most countries. Students can build a solid career through the high-calibre programs designed to prepare them for leadership and career development. Most postgraduate programs in the country also allow working while learning, which makes students ready to take the job market as soon as they complete their MBA.
Psychology
A postgraduate degree in psychology is often required to be professionally certified and practice as a psychologist. The advanced degree helps students with specialized knowledge that fine-tunes their analytical skills and critical thinking. Most students need it for the practice of psychology on a professional level, but may also take the route of research, academics and marketing as career options.
Study in Canada
Arrange for a free consultation call with education experts at SI-Canada today to learn more about the Canadian university and college application process.