Mathematics as a field of study is a very useful and fascinating option for students as it can give opportunities in various careers. One of the most valued subjects that have implications in all areas of life and many professional sectors, maths remains a top choice for students. Learning mathematics helps in everyday problems like navigating percentages and mortgage rates and enables scientists to launch rockets, architects to build houses, and researchers to come up with solutions to almost all problems facing mankind in today's times.
Canada has some of the best mathematics universities in the world that offer interesting programs to excel academically and research. High-quality education and a strong economy also enable students to pursue enriching careers in various professional fields. The opportunities after getting a degree in the subject are immense and also help earn handsome salaries.
A Master in Mathematics degree holder in Canada can earn between CAD 42,000 to CAD 153,000, according to Payscale. If you truly understand the power of numbers and deeply like mathematics, going for higher education options in Canada can be one of those decisions that give you a solid foundation for a promising career. Keep reading ahead to know about the best Canadian universities offering maths programs as per the latest subject rankings by QS World University Rankings.
Learn more about the best universities in Canada for Maths below (QS World University Rankings by Subject 2022), and if you wish to learn more or begin your application, book a free consultation with SI-Canada today.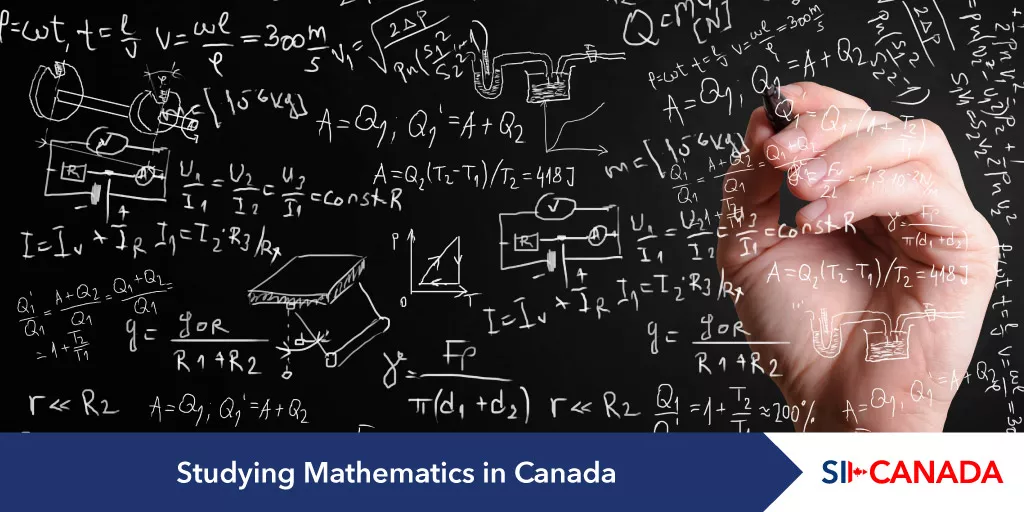 Top Five Canadian Universities for Mathematics
The Department of Mathematics at the University of Toronto is considered the best in Canada as it offers a variety of options to take up mathematics at both undergraduate and graduate levels. Programs offered by the university are flexible and are available as minor and major programs with other subjects apart from eight specialist programs at the undergraduate level.
While the minor and major programs are intended for students who wish to combine their mathematical skills with work in other disciplines, the specialisations allow students to have in-depth knowledge and expertise in the language of mathematics and mathematical reasoning. At the graduate level, students can study unique courses such as Masters of Science in Applied Computing and Master of Mathematical Finance Programming.
The University of British Columbia's Department of Mathematics is among the best in Canada and offers more than 131 programs each year that are taught by 73 award-winning faculty members. Maths programs are available at undergraduate and graduate levels, including PhD options. The undergraduate degrees are offered through three faculties in the form of B.A. The program, B.Sc. Program with major and honours in Mathematics, the B.A.Sc. Program and the Math (B.Sc.) & Education (B.Ed.) Program.
At the graduate level, UBC offers M.Sc. and PhD degrees which can be pursued in the pure and applied branches of the subject. Apart from the programs by the Department of Mathematics, students also have the option to go for other programs offered by the Department of Statistics and the Institute of Applied Mathematics.
One of Canada's most prestigious research-intensive universities, the University of Waterloo is known for its experiential learning programs and solid employer-student connection. The university has North America's only dedicated Faculty of Mathematics, recognised nationally and internationally as one of the top-ranked schools for Mathematics and Computer Science.
Students get the option to choose from a variety of programs at the undergraduate and graduate levels, including opportunities to conduct research. The university offers 23 undergraduate programs in three categories: Honour Mathematics, Computer Science and Math and Business. Most of the programs are available as co-op programs, which help students learn by applying their skills through real-world experiences. At the graduate level, students can go for Master's and PhD degrees in various subjects as specialisation, including Pure Mathematics, Data Science, and Applied Mathematics, among others.
The McGill University Department of Mathematics and Statistics was established in 1846 and has made giant strides, particularly in research fields such as number theory, algebraic geometry, combinatorics, and mathematical physics.
The department offers undergraduate programs with majors in mathematics and various subjects, including biology, physiology, physics, computer science, and statistics. Specialised programs with pure and applied mathematics as the focus are also available. At the graduate level, McGill provides excellent teaching and research training wherein the students can choose from an extensive curriculum with both fundamental and advanced courses that are offered in every subject branch.
The University of Montreal is among the most popular French universities in the world and offers most of its programs in English and French languages. The Department of Mathematics and Statistics come under the Faculty of Arts and Science at UdeM. It offers undergraduate and graduate programs in mathematics.
Apart from offering courses in Pure and Applied Mathematics, the department also has program options in combination with other subjects, such as Statistics and Computational Finance, among others. Being one of the best mathematics universities in Canada, UdeM has state-of-the-art facilities and the latest technology, such as specialised software like Mathematica, Maple, MATLAB, Sage, Maxima, Octave, and GNU. These technologies are accessible to students during their studies, enriching the experience in all aspects. The university also has a rich scientific environment that enables researchers to innovate in areas like Differential Geometry and Topology, Number Theory, and Spectral Geometry and Theory.
Study Mathematics in Canada
If you are interested in studying at one of the best mathematics universities in Canada, book a free consultation with SI-Canada to learn more about the application process and other relevant information.