Studying in Canada presents an incredible opportunity to receive a fantastic education whilst also immersing yourself in a rich and diverse cultural landscape. With its stunning landscapes, diverse culture, and excellent education system, it's no wonder that Canada has now become a prime destination for international students seeking to further their education.
Canadians are known for their friendly and warm demeanour towards overseas students, and many of them even welcome students in their homes, allowing them to live in the homestay setup and experience the culture first-hand. These aspects are like the tip of the iceberg, and there is so much more to learn about Canada, especially if you want to study there and possibly dream of settling there. By understanding the country's cultural nuances, preparing for its climate, and appreciating its educational and social offerings, you'll be well-equipped to embark on a rewarding academic journey in the Great White North.
So, before you pack your bags and head to the land of maple leaves and mountains, read about the things we will discuss here for you to make the most of your academic experience.
If you have decided to study in Canada, and want to know more about the application process, consider booking a consultation with SI-Canada today.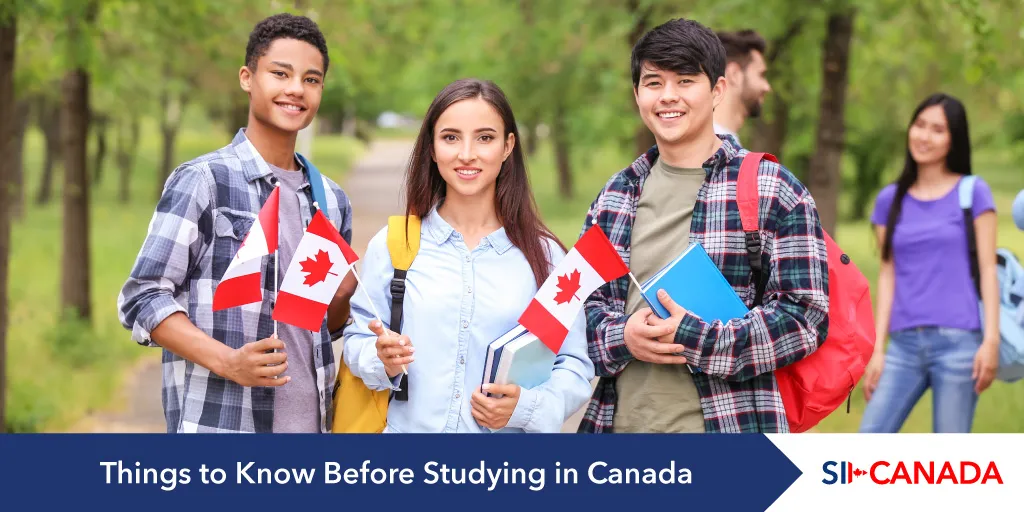 10 Things to Know Before Studying in Canada
1. Cultural Diversity
Canada prides itself on being a multicultural nation, a true mosaic of various ethnicities, languages, and traditions that co-exist together. As an international student, this multiculturalism means you will be exposed to multiple perspectives and experiences inside and outside the campus. Interacting with people from all corners of the world can be enriching and eye-opening for anyone. The Canadian society's welcoming nature will undoubtedly make you feel at home as you contribute to this diverse tapestry.
2. Breathtaking Natural Beauty
Canada is the land of breathtaking landscapes. From the stunning Rocky Mountains in the west to the charming maritime provinces in the east, Canada boasts some of the most awe-inspiring natural landscapes on the planet. Before you embark on your academic journey, take some time to explore the country's natural wonders. Whether hiking through lush forests, kayaking on crystal-clear lakes, or experiencing the mesmerizing Northern Lights, Canada's natural beauty will leave a mark on your memories that you will cherish forever.
3. High-Quality Education
Many Canadian universities consistently rank among the top institutions globally, offering diverse programs and research opportunities to students from across the globe. Professors are often approachable and encourage critical thinking, fostering an environment conducive to personal and intellectual growth. Furthermore, you will also benefit from cutting-edge facilities and resources that facilitate learning and exploration while studying, apart from the experiential learning opportunities that help you build the relevant skills for a prosperous future.
4. Cold Climate and Seasonal Changes
Canada is notorious for its cold winters, especially in regions like Alberta and Quebec. Before you pack, make sure to prepare for the frigid temperatures with warm clothing and accessories and the mindset to tackle the harsh winters. But don't let the cold deter you in any way; the changing seasons bring unique experiences, from vibrant fall foliage to invigorating winter sports.
5. Bilingual Environment
Canada offers a unique bilingual environment due to its status as a bilingual country with English and French as its official languages. This linguistic diversity creates a vibrant cultural atmosphere where both languages co-exist harmoniously. In provinces like Quebec, French is predominant, while English is widely spoken across the country. This bilingualism fosters cultural exchange and provides opportunities for language learning and cross-cultural understanding. Students studying in Canada can truly immerse themselves in this vibrant linguistic landscape, enhancing their language skills and gaining insights into different cultures, apart from benefiting professionally.
6. Scholarships
Most universities offer a diverse range of scholarships for international students, catering to various fields of study, academic achievements, and backgrounds. These scholarships include merit-based awards, need-based grants, research fellowships, and government-funded programs. Notable examples include the Vanier Canada Graduate Scholarships, Canada-ASEAN Scholarships, Educational Exchanges for Development (SEED) program, and the Canadian Commonwealth Scholarship Program. These opportunities help offset tuition costs and living expenses for the students. You should explore these options to find financial support that aligns with your academic aspirations and personal circumstances.
7. Student Work Opportunities
Canada offers excellent student work opportunities to international students, contributing to their academic journey and cultural experience in the country. International students with a study permit can work part-time (up to 20 hours per week) during the academic year and full-time during scheduled breaks. This can help you gain valuable work experience and supplement your finances while living in Canada. These opportunities are available both on-campus and off-campus, and you can find the best options to gain valuable work experience even before your graduation is completed.
8. Student Support Services
Canada offers robust student support services to ensure a fulfilling academic experience for all students and universities provide extensive resources such as academic advising, counseling, and wellness programs to address students' mental health and well-being. International student offices at institutions assist with orientation, visa queries, and cultural integration. Learning centers offer tutoring and skill-building workshops. Libraries and research centers provide access to comprehensive resources. Health services cater to medical needs; career centers offer job placement and resume workshops. This holistic approach to student support creates a nurturing environment that helps students academically and personally thrive.
9. Post-Graduation Work Permit (PGWP)
The Post-Graduation Work Permit (PGWP) in Canada is a valuable opportunity for international students, as it allows recent graduates from eligible institutions to work in Canada for up to three years after completing their studies. This permit is not job-specific, which makes it possible for graduates to gain practical experience in their field and contribute to the Canadian workforce. The PGWP also provides a pathway for those considering permanent residency in Canada, as work experience gained during this period can increase eligibility for most immigration programs, including the federal express entry program.
10. Public Transportation
Public transportation in most major cities of Canada is well-developed and plays a significant role in people's daily lives. Cities like Toronto, Vancouver, Montreal, and Calgary offer comprehensive transit systems, including buses, subways, light rail, and commuter trains, known for their efficiency, cleanliness, and safety. Canada's commitment to public transportation contributes to a high quality of life for its residents and offers international students an accessible and efficient way to explore their new surroundings and truly enjoy their university experience while pursuing their higher education.
Studying in Canada FAQ
What is the first step to studying in Canada?
The first step to studying in Canada is researching and identifying the programs and universities that align with your academic and career goals. Once you've selected your preferred institution and program, you must check your chosen course's admission requirements, application deadlines, and any specific prerequisites before applying.
Is it worth moving to Canada to study?
Moving to Canada to study can be a highly worthwhile decision, but it will ultimately depend on your individual goals, preferences, and circumstances whether you want to study in Canada or not.
What subjects are best to study in Canada?
The best subjects to study in Canada depend on your interests, career goals, and the current demands of the job market. However, the subjects most in demand in Canada are computer science and IT, engineering, health sciences, and business and management.
How much money do you need to study in Canada?
The amount of money needed to study in Canada varies depending on several factors, such as the chosen program, the city of study, and the lifestyle you plan to maintain. On average, international students should budget around CAD $20,000 to $30,000 per year for tuition fees. Living expenses, including accommodation, food, transportation, and other miscellaneous costs, can range from CAD $10,000 to $15,000 annually.
What is Canada most popular for?
Canada is renowned for its high-quality education, diverse, multicultural environment, stunning natural landscapes, and welcoming communities.