Canada has long been recognized as a top destination for international students seeking high-quality education and diverse cultural experiences. Not only does Canada provide a welcoming environment for students, but it also offers a unique opportunity to extend your stay and gain valuable work experience after completing your studies.
It was an accepted norm that a post-graduate work permit (PGWP) was issued for a length equivalent to the duration of one's program of study. A one year course, for example, would lead to a year's PGWP, while a maximum of three years stay back was allowed for a program of two or more years. But, as Canada's employers are currently facing challenges in finding and also retaining the workers they need during this period of economic recovery after the Pandemic, the Government announced in March 2023 that international graduates are qualifying for an extended work permit.
As Canada grapples with labour shortages in many industries, this move has enabled the companies to retain the skilled workforce from around the world for a more extended period of time. Keep reading ahead to know more about the Post Graduate Work Permit Extension Program.
Are you dreaming of studying in Canada? Book a free consultation with SI-Canada now to start your application process.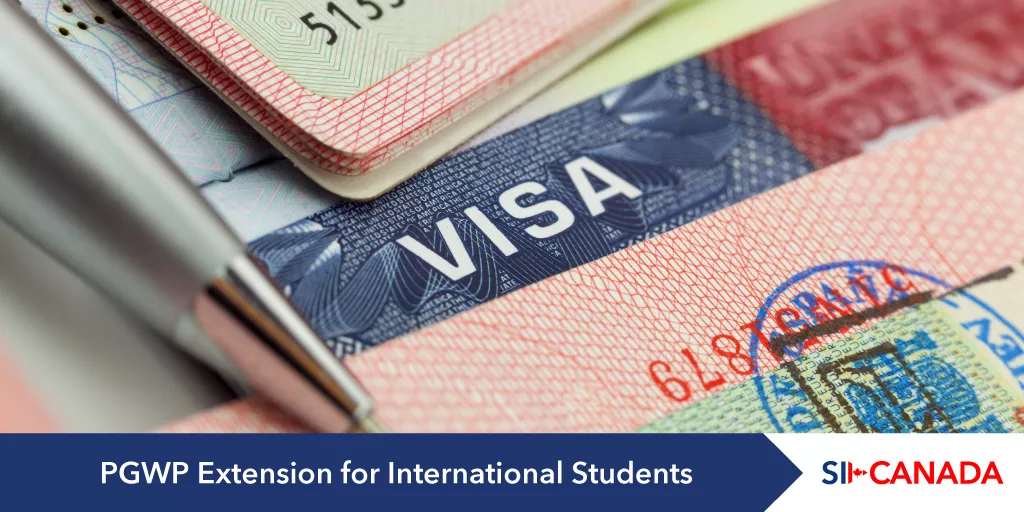 What is the Post-graduation Work Permit Extension?
The Post-graduation Work Permit Extension program has been designed to allow international graduates with a recently expired or soon-to-be expiring PGWP to apply for an additional or extended work permit. They will be allowed to stay longer and gain additional work experience in Canada for up to 18 months. The process of applying for an extended PGWP started on 6th April 2023 and has enabled Canada to retain high-skilled talent for a longer duration.
Who is eligible to apply to the extension program?
According to the official updates, foreign nationals whose PGWP will soon expire in 2023 and whose permit has already expired in 2023 can apply for an additional 18-month work permit. Additionally, people who were eligible for the 2022 PGWP facilitative measure will be able to apply for the same this year. In fact, the workers whose permits have expired and are beyond the 90-day restoration period will also receive an interim Work Authorization while awaiting the processing of their new work permit.
Benefits of the Post-graduation work permit extension for students
As an international student who graduated from a Canadian university, the opportunity to stay for a longer duration to gain work experience in the country is an excellent choice.
This extension program gives graduates 18 extra months to keep working and living in Canada.
The increased work experience enables them to earn more than returning to their home country and finding relevant job opportunities.
The higher the working experience in Canada, the better the chances of getting permanent residence in the country after the expiry of the PGWP.
The increased duration means they get more time to network and create meaningful professional connections in the country, which overall help in the future plans of graduates who wish to settle in Canada.
For Canada, the opportunity to retain high-skilled talent is crucial, as it faces labor shortages, and by allowing people already familiar with the Canadian culture and work environment, the Government has given the companies a better chance to grow.
Post-graduate Work Permit Extension FAQ
Will there be another PGWP extension in 2023?
The measure came as a move to retain high-skilled talent in Canada and is usually not the routine procedure, so there is no guarantee that this extension program will again be launched or not.
Can I extend my 1-year post-graduate work permit in Canada?
Under the current scheme, one can extend their post-graduation work permit for up to 18 months, but this is not the usual case. So, when a graduate's PGWP expires, they must apply for a proper work permit, permanent residence or enrol in another study program to stay back in the country.
How long does it take to get a PGWP extension of 18 months?
According to the 2023 processing times as outlined by Immigration, Refugees and Citizenship Canada, paper-based applications take approximately 60 days to process, and online applications take around 159 days.
Will PGWP be extended in 2024?
As of now, there is no notification on whether this program will be extended in 2024.
What is the maximum length of PGWP?
Usually, the maximum length of a Post-graduation Work Permit is three years. This is given to students who have completed their education through a study program that was of two or more years through a Designated Learning Institution.
Can I get 3 years of PGWP after 1 year of study?
No, after one year of study, you will get only one year of PGWP. According to the rules, a PGWP for a program that is between 8 months and two years is equivalent to the duration of the program.