Studying abroad is truly an exciting and life-changing experience, and Canada has been one of the top destinations for foreign students due to its high-quality education, diverse culture, and welcoming environment. Students who want to study in Canada are attracted due to these reasons as well as one other important factor.
That reason is the opportunity to work in Canada after completing your education. Although students are eligible to work during their studies, that is mostly part-time, and only during vacations can they work full-time. However, the post-graduation work permit (PGWP) is a special permit that allows students to work after completing their studies. This allows the students to gain valuable international experience by finding jobs relevant to the educational program they attended in Canada.
If you are interested in studying in Canada, book a consultation session with SI-Canada and take advantage of the expertise of a global team that has been working to make study-abroad dreams of students a reality for more than 17 years.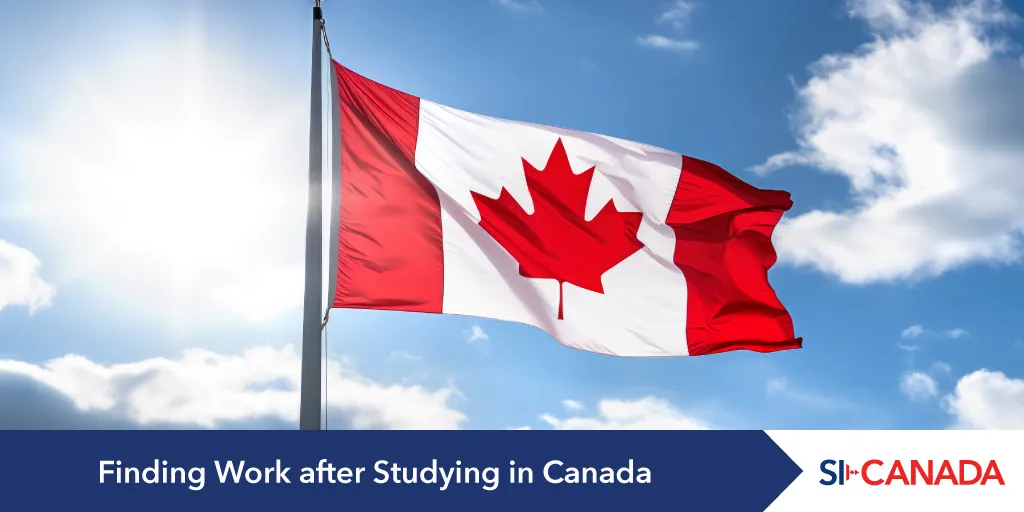 Working After Studying in Canada | What You Need to Know
Duration
The post-graduation work permit (PGWP) in Canada is a fantastic opportunity for international students to gain valuable work experience after completing their studies.
The duration of the PGWP varies depending on the length of the program the student has completed, but no work permit is usually issued for programs with a duration of less than 8 months. However, for programs between 8 months and 2 years, students are eligible for a work permit equivalent to the length of their program. For programs that exceed 2 years, graduates can obtain a work permit for up to three years. This extended work permit duration gives students ample time to gain practical experience in their field of study.
Eligibility
To be eligible for the PGWP, international students must meet certain criteria. First and foremost, they must have completed a full-time education program at a designated learning institution in Canada. Additionally, they must have a valid study permit when applying for a work permit. Also, the program that they have completed should be a minimum of 8 months and should lead to a degree, diploma, or certificate.
Meeting these eligibility criteria is essential to ensure a smooth transition from a student to a worker in Canada.
Application
Applying for the PGWP is a relatively straightforward process, but it requires attention to detail and timely submission. Students can apply for the PGWP online through the Immigration, Refugees, and Citizenship Canada (IRCC) website. The application will require proof of completion of the study program, such as a transcript or official letter from the institution, as well as a valid passport and study permit. It's essential to ensure that all the required documents are provided accurately to avoid any delays in processing the work permit application. Students have up to 180 days after their graduation to apply for a PGWP.
7 Reasons to Pursue a Post-Graduation Work Permit in Canada
After studying in Canada, having a post-graduation work permit offers numerous benefits for international students, making it a highly attractive option for those who wish to gain valuable work experience after completing their studies.
Work experience: The PGWP provides international students with a great opportunity to gain valuable Canadian work experience, which is highly regarded by Canadian employers and can significantly enhance a graduate's resume, making them more competitive in the job market.
It's an open work permit: The PGWP is an open work permit, meaning that graduates can work for any employer in Canada without the need for a specific job offer. This flexibility allows them to explore various job opportunities and industries, helping them to find a role that aligns with their career goals.
Flexible length of stay: Depending on the length of the program completed, the PGWP can be issued for up to three years. This extended duration gives graduates ample time to gain valuable work experience, build professional networks, and increase their chances of being eligible for other Canadian immigration pathways, such as the Canadian Experience Class.
Pathway to permanent residency: Canadian work experience is often a crucial factor in the Canadian immigration process. The work experience gained through the PGWP can contribute to eligibility for permanent residency through programs like the Express Entry system. Having Canadian work experience can earn additional points in the Express Entry Comprehensive Ranking System and eventually increase the likelihood of receiving an invitation to apply for permanent residency.
Continuation of life in Canada: For international students who have grown accustomed to life in Canada during their studies, the PGWP allows them to continue living and working in the country. This continuity can be particularly beneficial for individuals who have established social connections, adapted to Canadian culture, and wish to explore further opportunities within the country.
Skill development: The work experience gained during the PGWP allows graduates to develop and enhance their skills in a real-world work environment. This practical experience complements their academic knowledge and prepares them for future career growth.
Financial independence: The ability to work in Canada after graduation allows international students to become financially independent. Graduates can earn a competitive salary, which can help them cover living expenses, repay any student loans, and gain a sense of financial stability.
By taking advantage of this great opportunity, students can maximize the benefits of studying in Canada and build a strong foundation for future endeavors in this welcoming and diverse country.
Work Permit in Canada FAQ
How much time does it take to get a work permit after studying in Canada?
The official processing time for a PGWP application is typically around 90 days, but it's essential to note that this timeframe can change based on various factors.
Can I apply for a work permit after 1 year of study in Canada?
Yes, you can definitely apply for a work permit after studying in Canada for at least one year.
How long can I work after applying for PGWP?
The post-graduation work permit (PGWP) allows you to work in the country for a duration equivalent to the length of your qualifying academic program, up to a maximum of three years. The exact duration of your PGWP will depend on the length of the program you completed in Canada.
What happens after applying for PGWP in Canada?
After applying for the PGWP in Canada, there are several steps that you can expect in the process. Once you get the confirmation of application, you may be asked to provide your biometrics, depending on your nationality. After your PGWP application has been processed and approved, you'll receive a Port of Entry (POE) Letter of Introduction, which will include important details about your work permit, such as the validity dates and any conditions.
If you are outside of Canada when your PGWP is approved, you'll need to travel to a Canadian port of entry (airport or land border) to activate the work permit. You'll have to present your Letter of Introduction, and the immigration officer will issue the actual work permit.
Can I remain in Canada while waiting for PGWP?
Yes, you can remain in Canada while waiting for your post-graduation work permit (PGWP) application to be processed as long as you meet certain conditions.
Does work experience count while waiting for PGWP?
Yes, work experience gained while waiting for your PGWP in Canada can be valuable and will count toward future work opportunities there.