The University of Waterloo, also known as UWaterloo, is one of the most reputed and innovative universities in Canada, located in the city of Waterloo, Ontario. Established in 1957, the university has grown to become a leading institution for higher education, offering many undergraduate and graduate study options to students from across the world.
Waterloo's mission is to foster a unique culture of innovation and entrepreneurship, where focus is given to creating a positive impact on the world through research and education. The university is also known for its strong partnerships with industry and government, providing students with unparalleled opportunities for hands-on learning and professional development. Students get the chance to have an unforgettable academic experience, leading to a meaningful career in the long run and with a highly skilled faculty, world-class facilities, and a commitment to excellence, the University of Waterloo is a top choice among many students seeking a transformative and impactful education experience in Canada. No wonder 19% of the undergraduate students and 41% of the graduate students at the university are from other parts of the world.
Are you also interested in pursuing higher education at the University of Waterloo? If so, book a free consultation with SI-Canada to start your Canadian university application today.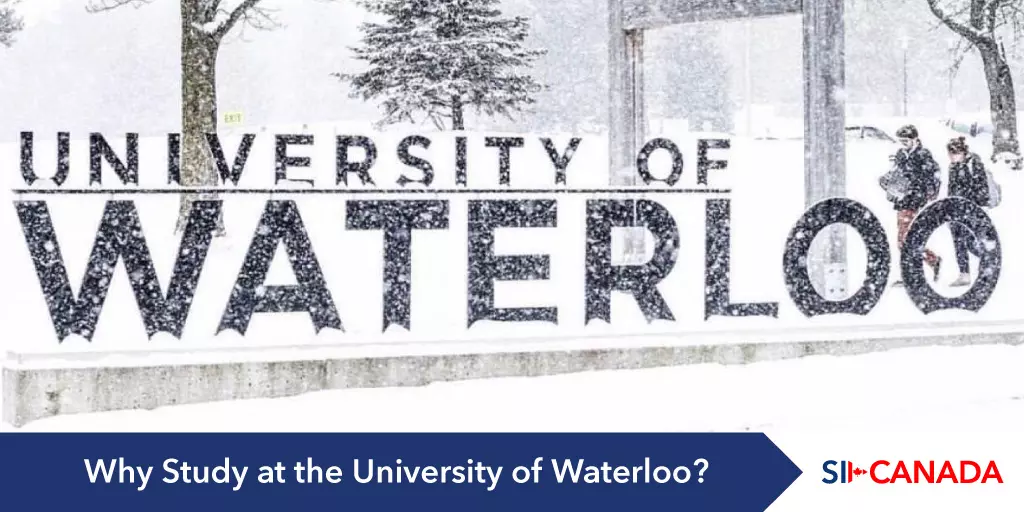 Nine Reasons to Study at Waterloo
1. Strong Focus on Co-op Programs
One of the unique features of UWaterloo is its strong focus on co-operative education (co-op) programs. The university was the first in Canada to introduce co-op education back in 1957, and it has since become a national and global leader in this type of education.
The university has more than 7,000 co-op employers worldwide, giving students access to various job opportunities, and University of Waterloo programs allow students to alternate academic terms with paid work terms in their field of study. Co-op students gain valuable work experience, develop professional skills, and often earn enough money to offset the cost of their education. This focus on experiential learning sets the university apart from others and gives students a distinct advantage in the job market after graduation.
2. Reputation for Innovation
The University of Waterloo ranks as Canada's most innovative university and is recognized as a leading institution for advancing knowledge, creating new technology and commercializing innovations. The University of Waterloo's commitment to innovation is reflected in its pioneering Waterloo degrees, research initiatives and industry partnerships. It is home to world-renowned research institutes, including the Centre for Applied Cryptographic Research and also the Institute for Quantum Computing, among others. The university also has an outstanding track record in the commercialization of technology and start-up creation, ranking as Canada's top university for innovation and entrepreneurship. This reputation is further strengthened by the Velocity program, a comprehensive entrepreneurship initiative that provides support, mentorship, and funding for start-ups and social enterprises.
3. Wide Range of Academic Programs
UWaterloo offers a wide range of academic programs, including over 100 undergraduate and 190 graduate programs. The university has a strong reputation in fields such engineering, computer science, mathematics, and science but also offers programs in business, arts, social sciences, and health sciences. This breadth of University of Waterloo courses allows students to explore different fields and pursue interdisciplinary studies.
Another important feature of the programs at the university is that even the most structured of study options can be optimized by students according to their interests in special areas. This allows them to have a unique combination of subjects while they are studying and graduate with various subjects as minors or specializations and certifications along the way.
4. Support for International Students
The University of Waterloo is committed to supporting its international student population and creating a welcoming and inclusive community. The management offers a range of support services to help them adjust to a new university life in Canada, including airport pickup, orientation programs, and academic support. There is a dedicated International Student Office that provides advice and assistance on issues such as immigration, housing, and cultural adjustment. The University of Waterloo's commitment to international students is reflected in its diverse student body, which includes students from over 120 countries.
5. Location and Lifestyle
UWaterloo is located in the vibrant and welcoming city of Waterloo, which is part of the larger Kitchener-Waterloo region. The region is majorly known for its high quality of life, with a strong economy, affordable cost of living, and access to a range of cultural and recreational activities. The region is also a base for several technology companies, making it an ideal location for students interested in careers in technology and entrepreneurship. Waterloo offers students a perfect blend of urban and suburban lifestyles. The city has a number of shopping centres, restaurants, and entertainment options to keep students busy. The university's location also provides students with ample opportunities to participate in extracurricular activities. With easy access to the city's downtown core, students can enjoy cultural events, music festivals, and sporting events.
6. Ranking
201-250th at the global level in the Times Higher Education World University Rankings of 2023
53rd in the Impact Rankings by Times Higher Education in 2022
126-150th in the World Reputation Rankings by Times Higher Education in 2022
154th at the QS World University Rankings 2023
191st in the Best Global Universities category at the US News Rankings
7. Scholarships
Waterloo scholarships include:
President's Scholarship of Distinction: This is the university's most prestigious scholarship, awarded to outstanding Canadian and international students entering undergraduate programs, and covers full tuition costs, plus additional benefits.
International Master's and Doctoral Awards: These scholarships are available for international students pursuing master's or doctoral degrees. They provide funding to cover tuition and living expenses.
Entrance Scholarships: The university offers a range of entrance scholarships based on academic excellence. These specific scholarships are available to both domestic and international students entering undergraduate programs.
David Johnston – Lebovic Foundation International Experience Awards: These awards provide financial support to undergraduate students participating in international learning experiences, such as study abroad programs or co-op placements.
Faculty-Specific Scholarships: Each faculty at the University of Waterloo may have its own scholarships for students in specific disciplines. These scholarships are often based on academic performance and other criteria specific to the faculty.
8. Student Housing
The Waterloo campus has several student housing buildings with a range of room types, including single rooms, double rooms, and suite-style living. They provide convenient access to campus facilities and offer a vibrant community experience. Students also have the option to explore off-campus housing near the University of Waterloo residence, and the city of Waterloo has a variety of rental options available, such as apartments, townhouses, and shared houses. The University of Waterloo has affiliated university colleges, including Conrad Grebel University College, Renison University College, and St. Jerome's University, most of which offer residence options for their students, providing a smaller, close-knit community within the larger university setting.
9. Commute and Transportation Options
The University of Waterloo is well-served by various transportation options, making it convenient for students to travel to and from campus. The Grand River Transit system operates throughout the city of Waterloo, offering bus routes that connect to the university. Students can use their student ID as a bus pass, allowing unlimited travel on GRT buses. The ION Light Rail Transit system also provides a fast and efficient way to travel within the Waterloo Region. The university also promotes cycling as a sustainable and healthy mode of transportation. Students who prefer driving can participate in carpooling programs to share rides with fellow students.
University of Waterloo FAQ
1. What are the benefits of Waterloo University?
The University of Waterloo is renowned for its strong academic programs and emphasis on experiential learning. Secondly, Waterloo has a vibrant and diverse campus community, fostering a rich cultural and social environment for students to engage in. Additionally, the university has strong connections with the industry and offers extensive co-op and internship opportunities, enhancing students' career prospects. Lastly, Waterloo's location in the heart of Canada's technology hub provides students with access to a thriving innovation ecosystem, several networking opportunities, and potential job prospects.
2. What is special about Waterloo University Engineering?
Waterloo University's engineering program is renowned for its excellence and innovation. It offers a unique co-operative education model, where students alternate between academic study and paid work terms, gaining valuable industry experience. The program also emphasizes teamwork, problem-solving, and critical thinking, fostering a collaborative learning environment.
3. Is the University of Waterloo good for Indian students?
Yes, the University of Waterloo is a popular choice for Indian students. It is highly regarded for its academic excellence, its strong reputation in research and innovation, and its welcoming and inclusive campus environment. Indian students at the University of Waterloo benefit from a supportive community, cultural organizations, and resources tailored to their needs. Additionally, the university has a strong network of Indian alumni who have achieved success in their respective fields, providing valuable mentorship and networking opportunities.
4. Do the University of Waterloo offer scholarships to international students?
Yes, the University of Waterloo offers a variety of scholarships and financial aid options to international students. Some of the major scholarships available to international students at the university include the President's Scholarship of Distinction, International Master's and Doctoral Student Awards, and the Ontario Graduate Scholarship. Additionally, there are scholarships specifically designated for students from certain countries or regions, including India.
5. What are the admission requirements at the University of Waterloo?
The admission requirements at the University of Waterloo may vary depending on the program and level of study. Generally, for undergraduate programs, applicants are required to have completed secondary education or its equivalent, with specific course prerequisites depending on the program of interest. For graduate programs, applicants are typically required to hold a relevant undergraduate degree in a related subject or its equivalent. Scores on major standardized tests such as the GRE or GMAT may also be required for certain programs.