Trinity Western University (TWU) is Canada's largest privately funded Christian university, with a broad-based sciences, liberal arts, and professional studies curriculum. The university is a member of the Royal Society of Canada and Universities Canada, and students from more than 80 countries choose to study at Trinity Western University each year as they experience an authentic and engaging community of students, faculty members and staff.
As a Christian university, TWU integrates faith and learning in all of its academic courses. The university is committed to providing a Christ-centered education that prepares students for lives of service and leadership. TWU is known for its high academic standards, and the university is committed to creating a safe and welcoming environment for all students; and offers a wide range of support services, including academic advising, career services, counselling, and disability services. The Trinity Western University acceptance rate is around 55% and Trinity Western University tuition is reasonable for international students.
Trinity Western University's campus is located on over 150 acres of land in Langley, British Columbia. The campus features beautiful green spaces, modern facilities, and state-of-the-art technology.
Learn more about Trinity Western University below, and if you would like to apply book a free consultation with the SI-Canada today.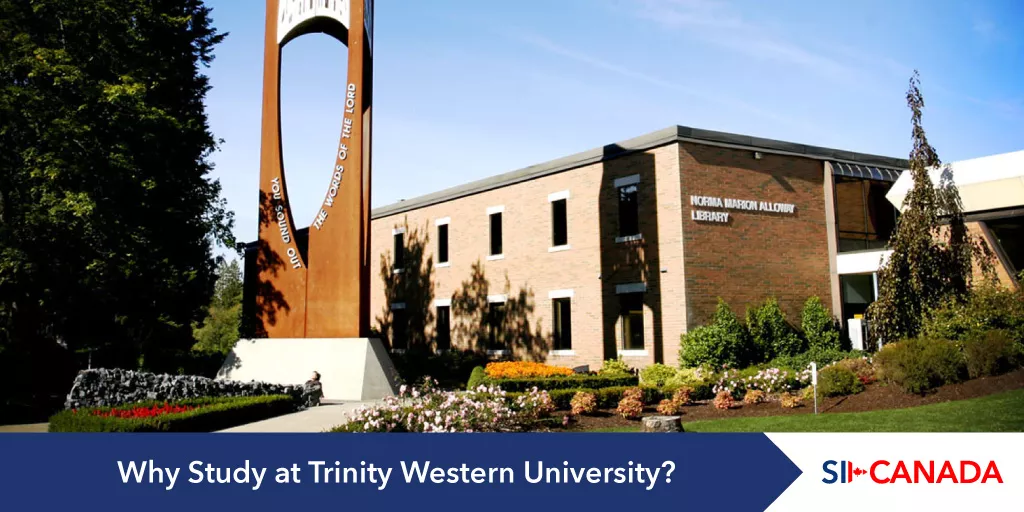 Four Reasons to Study at Trinity Western University
1. Leading Christian-faith university
Although the university was established in 1962, Trinity Western University's roots can be traced back to 1957 when the Evangelical Free Church of America set up a committee to consider the possibility of a liberal arts college on North America's Pacific Coast.
Since then, the university has grown to be one of the most prominent universities in Canada and has centred its work on Christ. Everything done at the university is rooted in the commitment to providing a whole-person education -the type in which students develop a character through which they can find and fulfil their purpose in life. The university takes seriously the call to pursue and understand everything true, noble, excellent, and praiseworthy. The robust academic programs are delivered through a nurturing campus community that provides life-changing services and research opportunities.
2. Campus and facilities
Trinity Western University has three major campuses. The main campus is in the Township of Langley, British Columbia, just 45 minutes from Downtown Vancouver. This campus houses undergraduate and graduate programs and includes residences, food and health services, fitness centres, a bookstore, a library, and an ecosystem study area. The Richmond campus in the province of British Columbia has two locations within the city and provides programs in Richmond and Metro Vancouver. Here, students can enjoy the expansive and modern spaces of the campus to pursue Bachelor's and Master's degrees. Another campus is present in the country's capital city, Ottawa, which has the Laurentian Leadership Centre.
The Norma Marion Alloway Library at TWO is a five-story building that houses more than 400,000 volumes of books, journals, and multimedia materials, as well as study spaces, computer labs, and research assistance. TWU has a number of athletic facilities, including the David E. Enarson Gymnasium, the David E. Enarson Athletic Centre, the Langley Events Centre, and the Fort Langley Golf Course.
TWU has several on-campus residences, including dorm-style residences, townhouses, and apartments, which provide housing for over 1,200 students. The Freedom Hall is a state-of-the-art performing arts centre that houses a 400-seat theatre, a music rehearsal room, and a dance studio. Outdoor spaces: TWU has several outdoor spaces available for students, including athletic fields, a track, and trails for hiking and biking.
3. Small class sizes and individual attention
Trinity Western University prides itself on its small class sizes and a student-to-faculty ratio that allows for personalised attention and interaction between students and faculty.
The average first-year class size at the university is around 25 students, with some classes having as few as 10-15 students and others having up to 50 students. The low student-to-faculty ratio of about 16:1 means that there are typically 16 students for every faculty member, which allows for more individual attention and mentoring opportunities.
These small class sizes are a part of the commitment of TWU to provide high-quality education that emphasises student engagement, critical thinking, and personal growth. The system also enables students to develop strong relationships with their professors, who can often serve as mentors and provide the right guidance and support throughout their academic careers.
4. Career Preparation
Trinity Western University prepares students for a successful career by providing a comprehensive and holistic education that includes academic excellence and career preparation through experiential learning programs.
Academic courses have been designed according to the needs of the current job market, enabling students to get the knowledge and skills necessary to excel in their careers. Trinity Western University offers many experiential learning opportunities, including internships, research projects and service-learning programs, allowing students to apply their learnings in a real-world setting and build a professional network.
TWU provides comprehensive career services like resume and cover letter writing assistance, interview preparation, job search strategies, and more through the Centre for Calling and Career Development. The Centre helps students develop a personalised career development plan right through their initial days and supports them even after graduation in discovering who they are and how they can connect their professions to lead a purposeful life.
Study at Trinity Western University
If you want to study at Trinity Western University, arrange a free consultation with SI-Canada today.