Studying accounting in Canada means learning how to create financial statements, such as balance sheets, income statements, and cash flow statements, how to create budgets, forecast financial performance and make financial decisions based on data, and becoming an expert in tax laws and regulations, including how to prepare tax returns for individuals and businesses.
Studying finance in Canada means learning how to analyze financial statements and financial data to evaluate the financial health of companies and make investment decisions, learning how to manage investment portfolios, including stocks, bonds, and other assets, as well as learning about financial decision-making in corporations, including capital budgeting, capital structure, and dividend policy.
Many accounting and finance degrees in Canada offer opportunities for internships or practical experience in the field. Graduates of accounting programs may go on to work as accountants, auditors, financial analysts, or tax professionals in a variety of industries.
Canada is among the best English-speaking countries in the world for the study of accounting and finance courses. Studying in Canada increases your chances of grabbing the best opportunities in the sector and Canada has some of the best accounting and finance universities that offer programs at various levels. Once a student can find the right program, they can be sure of receiving top-quality education, as programs in the subject are highly valued not just in the Canadian economy but also across the globe. Keep reading further to know which are the best universities for accountancy and finance.
If you are interested in studying at the best Canadian universities for accounting and the best Canadian universities for finance, learn more below (QS World University Rankings by Subject 2022). Begin your application or have any further questions answered about accounting and finance courses in Canada by booking a free consultation today.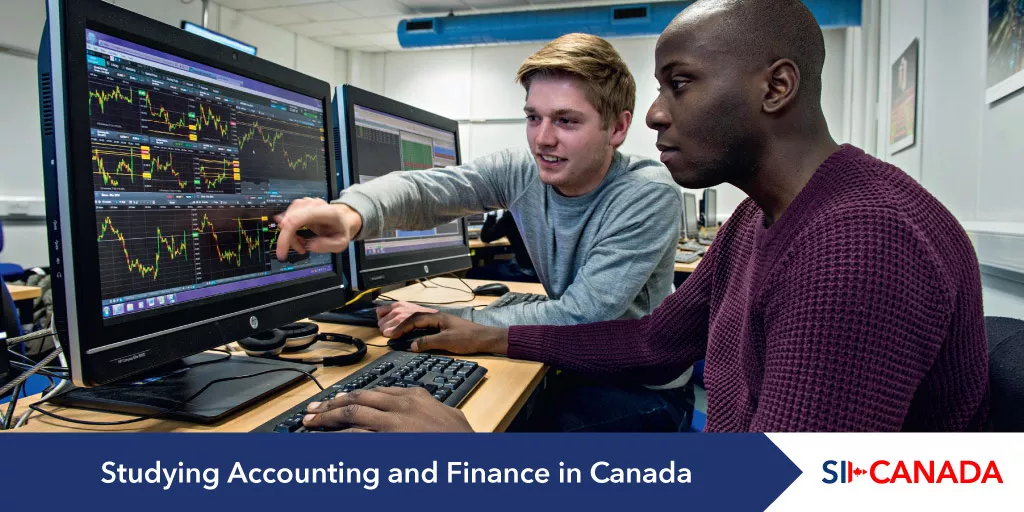 Top Five Canadian Universities for Accounting and Finance
Among the best accounting and finance universities in Canada, the University of Toronto, which is also the top-ranked university the country, provides high-quality education and research opportunities in various fields. U of T offers undergraduate and graduate degree programs in accounting and finance, and subjects can be taken at undergraduate level while pursuing a Bachelor of Commerce in Accounting and the Bachelor of Business Administration in Management and Accounting.
At graduate level, students have more options regarding the kind of programs, including Masters in Accounting and Finance, Master of Mathematical Finance, Master of Management and Professional Accounting, and Master of Finance. One of the most sought-after courses currently being offered by the University of Toronto is the Master of Accounting and Finance program, which is North America's first degree including both disciplines in one program and provides a world-class and practical educational experience through co-op learning to train the students to excel in their careers.
The University of British Columbia is recognised as one of the top research educational institutions in Canada and at the global level in various disciplines. It is also among the best Canadian universities for finance and accounting and offers courses through its Sauder School of Business that delivers specialised knowledge on topics such as taxation, financial reporting and analysis, auditing, business operations, and other accounting information.
The School is ranked among the top business educational institutions in the world, providing knowledge, driving innovation, and leading change. It offers various courses at different levels, including undergraduate degrees, postgraduate degrees, including Masters and PhD, diplomas, and dual degrees.
The UBC Sauder School of Business also provides co-op learning to the students enabling them to have real-world experience even before graduation. Students can take advantage of the various courses that open up many opportunities for a lucrative career in accounting and finance.
McGill University is one of Canada's most popular educational institutions, known for excellence in innovative teaching and research. Through its Desautels Faculty of Management and School of Continuing Studies, McGill University offers various accounting and finance programs at the undergraduate and graduate levels, apart from certification and diploma programs. The courses have been designed to equip students with knowledge of corporate finance, risk management, investment banking, financial planning, portfolio management, and sustained financial management, among other topics.
The Desautles Faculty of Management is among the top business schools in the world, which makes McGill among the best accounting and finance universities in Canada. Most of the courses at the school provide internship opportunities and chances to participate in exchange programs with business schools in other countries. The university also offers corporate programs to local and international partners at various levels.
The University of Alberta is among the most prominent public research universities in Canada that provides top-notch education in various fields. To pursue education in accounting and business subjects, students take up admission at the Alberta School of Business, which offers undergraduate and graduate degrees through its Departments of Accounting and Business Analytics and Finance. Both departments have specific programs at different levels to suit the interests of students.
The most popular programs offered by the Alberta School of Business include Bachelor of Commerce, Master of Accounting, and Master of Business Administration. The undergraduate courses provide students with in-depth knowledge regarding the subjects, while at the master's level, they can develop more advanced skills in accounting and finance. Many of the courses are based on group and project-based learning.
Queen's University is a top ranked university in Canada that is known for providing an exceptional student experience. The accounting and finance programs at the university are taught through a distinct school called the Smith School of Business, which offers undergraduate and graduate programs with unique options for students.
At undergraduate level, students can take up the four-year Bachelor of Commerce program and a Certificate in Business. Students who finish the BCom degree can also go ahead with a Graduate Diploma in Accounting to enhance their knowledge and skillsets. At the Graduate level, students can take up MBA programs apart from other research-based and professional programs. With specific fields of accounting and finance integrated into different programs, students get the opportunity to study the courses they are most interested in, making the learning at Smith School of Business truly unique compared to some of the best accounting universities in Canada.
Study Accounting and Finance in Canada
Do you want to take admission to the best accounting and finance universities in Canada and advance your career? If so, book a free consultation session with SI-Canada today to discuss your study options.