Do you want to broaden your horizons for a better future and study at a university or college in Vancouver, British Columbia?
Home to universities such as Vancouver Island University, University of British Columbia and Fairleigh Dickinson University, and Colleges such as Vancouver Community College, Douglas College and Columbia College, thousands of international students visit this fantastic city every year.
Learn more below about what you can get up to as an international student in Vancouver below and if you would like to begin your Canada study application, arrange a free consultation with SI-Canada today.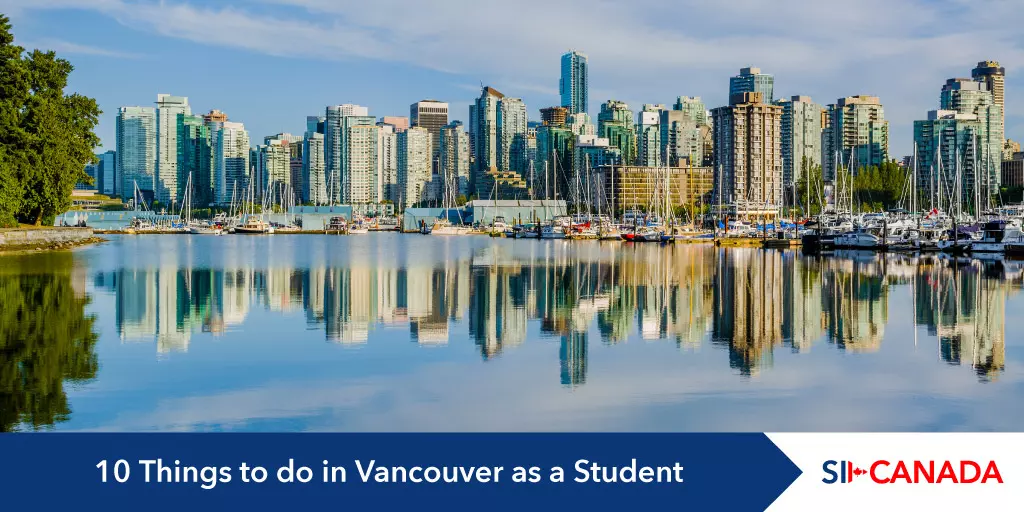 Ten things to do as a student in Vancouver
1. Visit Granville Island
Granville Island is where locals and visitors come together to be inspired, to be entertained or simply to breathe in some of its unique atmosphere. Catch a show, shop at the market or let the kids loose at the adventure zone - it'll be a day to remember!
2. Explore Stanley Park
Stanley Park took top spot in TripAdvisor's 2014 Top 25 Parks of the World list, and it is easy to see why. Explore the 405 hectares of space by hiking or riding a bike, play golf or tennis, and then sit on the beach and enjoy dinner!
3. Do the Grouse Grind Hike
The Grouse Grind is a 2.9-kilometre trail up the face of Grouse Mountain, commonly referred to as "Mother Nature's Stairmaster and the peak of Vancouver. Bring your walking boots!
4. Visit the Christ Church Cathedral
Christ Church Cathedral may not look anything special on the outside, but once inside, it transforms into one of the most stunning cathedral interiors in North America.
5. Mountain Bike on the North Shore
With different routes proving an enjoyable challenge for beginners and a huge test of more experienced riders, mountain biking on the north shore will get the adrenaline pumping.
6. Visit the Contemporary Art Gallery
The Contemporary Art Gallery is Vancouver's only public art gallery dedicated exclusively to contemporary art, and it is free!
7. Explore the Olympic Village
Built for the 2010 Winter Olympics, the park and village is now a fantastic spot to take in on your walks and hikes around the city, with plenty of places to eat and drink in between.
8. Visit Free Museums
Keep your budget in check by visiting cultural highlights such as the Vancouver Art Gallery, Space Centre and Burnaby Village Museum free of charge!
9. Relax on the Beach
Vancouver's location lends itself to stunning vistas, and their beaches are all perfectly positioned to give you the best forest, mountain and skyline views.
10. Walk the Lynn Canyon Suspension Bridge
Not afraid of heights? Visit the Lynn Canyon Suspension Bridge, a 50-metre-high bridge which stretches across a canyon boasting raging waters, waterfalls and deep pools below.
Study in Vancouver
If you are interested in studying at a university or college in Vancouver, apply to study in Canada with the support of SI-Canada today and arrange your free consultation.