The best universities in the world are global by nature, home to diverse communities of students, scholars and teaching professionals. Many factors go into a campus feel international, including:
Diverse student demographic
International faculty and staff
Global university partnerships
Study abroad courses
Multicultural events and activities
Support services for international students
Canada has some of the world's most international universities, attracting many overseas students, and research shows that a diverse community of students improves the institution's teaching and learning experience. When students (both local and international) get the opportunity to study abroad, they are better equipped to be true global citizens.
Times Higher Education has compiled data from the "international outlook" pillar of its global rankings to identify the most international universities globally. Four Canadian universities were placed in the ranking, and the following factors were used to produce the results: international staff score, international student score, international reputation and international co-authorship in journal publications. Equal weightage was given to all these factors while compiling the list of most international universities by the survey.
If you wish to study at the most international universities in Canada, book a free consultation call with SI-Canada today to discuss your study in Canada options.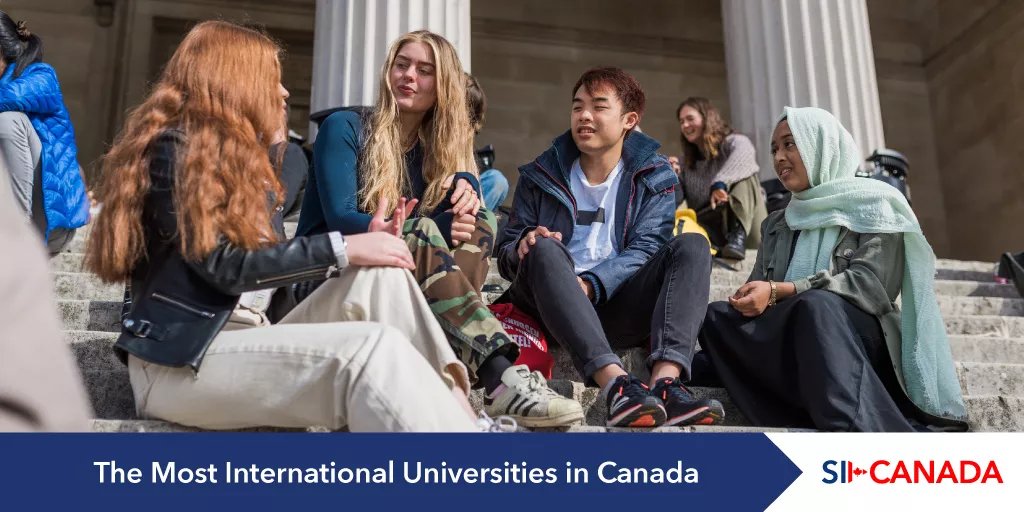 Most International Universities in Canada
1. University of British Columbia
With the largest number of overseas students in Canada, the University of British Columbia (UBC) stands out as the most international university in the country. Around 30% of the master's students and 44% of doctoral students at the university are international students. By offering professional and research-based courses through 85 academic units, UBC also provides guaranteed tuition awards of up to $3,200 to all international students pursuing the research-based programs. As a global university, UBC values diversity and encourages students worldwide to apply to the various undergraduate, graduate and doctoral study programs.
UBC offers support services for international students, including assistance with visas and immigration, English language support, and cultural adjustment programs. The University also has numerous international partnerships and exchanges, allowing students to study abroad and gain a global perspective on their fields of study. All these efforts at different levels have made the university the top international university attracting the highest number of foreign students in Canada.
Times Higher Education World University ranking: 40th
Number of international students at British Columbia: 34%
British Columbia acceptance rate: 53%
2. McGill University
McGill University has more than 12,000 international students, making up almost 30% of the entire student body. McGill offers diplomas and degrees in over 300 fields under the six main faculties. McGill is also the most internationally diverse institution in Canada for medical-doctoral research programs, with students from over 150 countries.
International Student Services at the University are top-notch, giving foreign students various non-academic resources and services to help them settle in the new country. To help in the transition, there is also the provision of an Internation Student Buddy Program that connects new international students with returning university students. McGill University has partnerships with over 150 universities in 39 countries, giving students a unique opportunity to study abroad while being a part of McGill. McGill students can also take up internships at international locations and make their degrees truly global in all senses of the term.
Times Higher Education World University ranking: 46th
Number of international students at McGill University: 30%
McGill University acceptance rate: 45%
3. University of Toronto
The University of Toronto is the top-ranked public research university in Canada, with almost 26% of the entire student population international. U of T is also ranked highest in global graduate employability, making it the university that trains its students to be job-ready in a global scenario. The range of services given by the university to its students makes it among the best in the country. Health and Wellness services, Career Learning Networks, Experiential Learning opportunities, study abroad options, community-engaged learning, and international development internships help students get diverse experiences with their degrees.
Internationally-recognized degrees earned by students through the state-of-the-art infrastructure and world-class faculty members give students the edge they need to pursue a motivated academic and professional career. The University of Toronto has partnerships with more than 140 international institutions in over 40 countries, which helps students gain international experience and be global citizens even before graduation.
Times Higher Education World University ranking: 18th
Number of international students at the University of Toronto: 26%
University of Toronto acceptance rate: 43%
4. McMaster University
McMaster University is also one of the top universities in Canada that operates through six academic faculties. Located in the diverse community of Hamilton in Ontario, the University's main campus is spread across 300 acres of land. With the international student body comprising almost 20% of the students, McMaster is dedicated to making their time at the university worthwhile.
International students have access to accredited staff members offering extra support and guidance on immigration, housing, finance, health and wellness, and the cultural matters that truly matter to the students coming to a new country. Through its International Student Services, the Student Success Centre provides all the relevant resources and services to international students to help them better transition to a new country. The university has international student exchange programs with more than 70 universities that enable all students to earn credits while studying in other parts of the world.
Times Higher Education World University ranking: 85th
Number of international students at McMaster University: 20%
McMaster University acceptance rate: 58%
Study In Canada
Arrange for a free consultation with SI-Canada today to begin your application to study in Canada.