Pursuing an MBA in Canada is particularly attractive for international students as they are exposed to a diverse business environment of a growing economy, and after completing their education, there are many opportunities for internships and jobs with the option to stay for up to three years.
However, the cost of studying MBA in Canada can be a significant barrier for many. To make this dream a reality, various universities and organizations in Canada offer fully-funded MBA scholarships tailored explicitly for international students enrolling at the best MBA colleges.
If you want to study for an MBA in Canada, our team can help you apply. Book a free consultation with SI-Canada today and we can help you find the right MBA scholarship for your studies.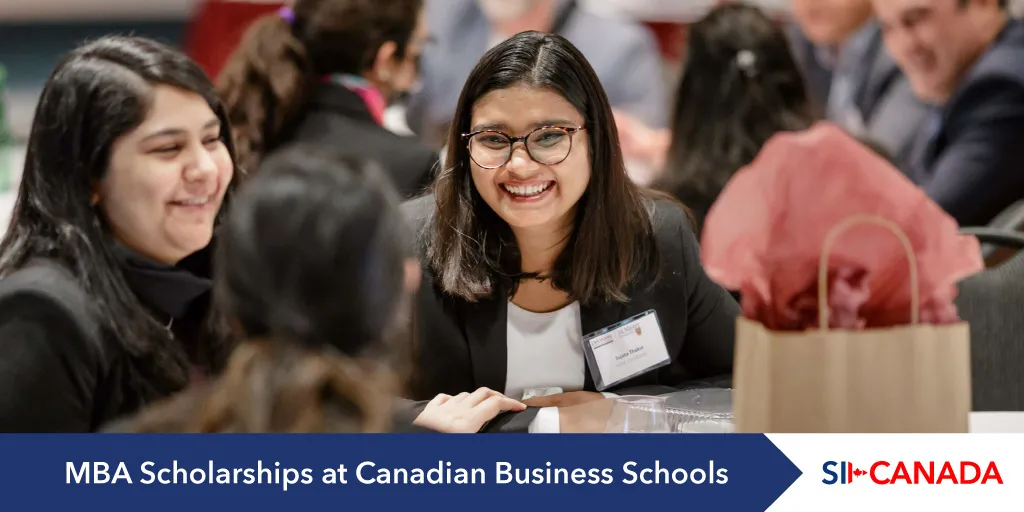 MBA Scholarships for Foreign Students in Canada
1. Rotman School of Management Scholarship
The Rotman School of Management at the University of Toronto is known for its high academic standards, and the university offers various scholarships to overseas students. These include the Rotman Entrance Scholarships, Joseph L Rotman Scholarship and the Forte Fellowship Program. All of these scholarships are non-governmental, and the first one doesn't need a separate application as all students who apply to the program are eligible for an application, and the exceptional students get that scholarship.
The Joseph L Rotman Scholarship is the most prestigious, as it covers the entire tuition fee and is given to only two students each year. The last one is for women candidates, and all applicants become a part of the process, after which deserving students receive a rebate of around CAD 30,000.
2. Ontario Graduate Scholarship Program
The provincial government and the participating universities administer the Ontario Graduate Scholarship Program. It is a merit-based program that leads to students receiving CAD 5,000 per academic session. Many universities of the province participate in the scholarship program, such as the University of Guelph, McMaster University, Western University, University of Toronto, Wilfrid Laurier University, University of Ottawa, Lakehead University and Carleton University, among others.
Each university has its own admission criteria, but the common ones include students having a valid study permit and the MBA program, which runs for two years.
3. Sauder School of Business Scholarships
The Sauder School of Business is affiliated with the University of British Columbia and is also a part of the Global Network for Advanced Management. Scholarships offered by the Sauder School of Business include Regional Top Talent Scholarship, Hari and Madhu Varshney MBA Entrance Scholarship, and Dean's International Scholarship. The first one is for exceptional students from particular regions of the world, such as South and Latin America, Asia, Europe, Africa, the Middle East and Canada. It leads to students receiving CAD 10,000-60,000 to deserving candidates. The second one leads to a 50% scholarship on tuition fees, and the last one leads to students receiving CAD 20,000-60,000.
4. Schulich School of Business Scholarships
The Schulich School of Business at York University is among the top business schools in Canada and offers several scholarships which are entrance based and non-governmental. Major options include the Robert Krembil Scholarship of Merit, Seymour and Tanna H Schulich MBA Entrance Scholarships and the Mira and Bhabani Charan Pattanaik Award for Excellence in Finance.
Each of these scholarships has different criteria and award amounts, which are given to deserving candidates. The first one leads to two students receiving CAD 40,000, while the second scholarship gives six students CAD 27,104. The last option is for students who are pursuing a finance education and are in the second year of their course.
5. Alberta MBA Scholarships
The University of Alberta imparts high-quality MBA education through the Alberta Business School, which is known for its high employability rate of over 94%. The university offers the Alberta Entrance Awards and the Alberta Graduate Excellence Scholarship, both of which are non-governmental. Each scholarship has a different set of criteria and scholarship amount that is given to deserving candidates.
6. Ivey MBA Scholarships
Ivey Business School is part of the Western University in London, Canada. The scholarships by Ivey Business School are available for Canadian and international study, making them receive CAD 10,000-65,000 for pursuing higher education. The students must fill out the scholarship section in the application form to become eligible for the scholarship and must have a minimum of two years of experience apart from an impression GRE or GMAT score and a bachelor's degree.
MBA Scholarships in Canada FAQ
How can I get a full scholarship for an MBA in Canada?
To secure a full scholarship for an MBA in Canada, you can start by researching various universities and MBA programs that offer scholarships. Look for institutions that have specific scholarships for international students, as well as those that cater to your academic and professional background. Maintaining a strong academic record, obtaining excellent GMAT/GRE scores, and showcasing exceptional leadership and extracurricular achievements will increase your chances.
Additionally, try to build a compelling application essay that highlights your goals, aspirations, and reasons for pursuing an MBA in Canada. Don't forget to apply for multiple scholarships and grants, and keep an eye on deadlines to ensure you don't miss any opportunities.
Can an international student get a scholarship in Canada?
Yes, overseas students can get scholarships in Canada. Many Canadian universities and organizations offer scholarships and financial aid to international students, including those pursuing undergraduate, graduate, and postgraduate studies.
Can international students get scholarships in Canada for a master's?
Yes, international students can get scholarships in Canada for master's programs. Many Canadian universities and institutions offer scholarships specifically for international students pursuing master's degrees.
What CGPA is required for a scholarship in Canada for a master's?
The required CGPA for a scholarship in Canada for a master's can vary depending on the specific scholarship program and the university offering it. Each scholarship may have its own eligibility criteria, which can include factors like academic performance, leadership qualities, research potential, and extracurricular activities. However, most programs require 3.0 to 3.5 on a 4.0 scale for scholarships in Canada.
Can international students study for a master's in Canada?
Yes, international students can study master's in Canada. Canada is actually a popular destination for international students seeking higher education, including master's programs across various fields of study.