Canada's most prestigious and oldest universities are world-renowned for their quality of education and are often ranked among the best in the world. Entry at many is highly competitive, though.
This doesn't mean that Canada is not open to international students. The country still has higher acceptance rates than US universities, making it popular among students wanting to study abroad. Some popular universities have higher acceptance rates than top universities, which are much more selective and competitive. These universities with high student acceptance rates have low GPA requirements and a lenient approach to admission. The programs at these universities, too, are recognised worldwide and help gain employment in Canada and other parts of the world.
What does a High Acceptance Rate mean?
A high acceptance rate for a university or college means that many applicants are being successfully admitted to the course, meaning the university or college is accessible or has lower entry requirements than other schools. This is not always a quality parameter, often meaning that institutions have larger class sizes or bigger campuses.
If you are seeking guidance in getting admitted to Canadian universities, contact SI-Canada today to arrange a free consultation call. Our experts will help you in the admission process at all levels.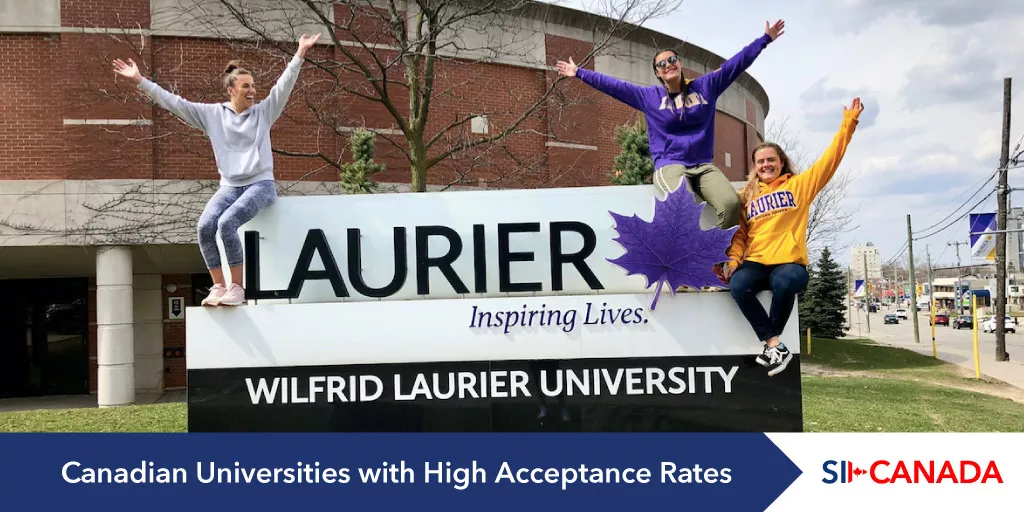 Canadian Universities with High Acceptance Rates
Wilfrid Laurier University
Wilfrid Laurier University, also referred to as Laurier or WLU, is a public university with campuses in Waterloo, Milton and Brantford, in the province of Ontario. The University proudly describes itself as a multi-campus multi-community university and offers students various undergraduate and graduate programs worldwide. It has among the highest acceptance rates in the country and readily welcomes students to pursue their education.
Wilfrid Laurier acceptance rate: 55%
Average accepted GPA: 2.0
Lakehead University
Lakehead University, located in Thunder Bay, Ontario, offers various undergraduate and graduate programs. The University is provincially supported and has the Bora Laskin Faculty of Law, apart from being the only internationally accredited business school in northern Ontario.
The University offers a blend of academic excellence and an opportunity to participate in various social and recreational activities. Lakehead also has excellent research facilities with 11 Canada Research Chairs.
Lakehead University acceptance rate: 55%
Minimum accepted GPA: 2.0
Toronto Metropolitan University
Toronto Metropolitan University is a public research university famous for its research and innovation. Located in Toronto and operates seven academic faculties which provide full-time programs in arts, sciences, design, management and business. The University's location makes it even more popular among students, who readily take admission to the educational institution.
Toronto Metropolitan acceptance rate: 55%
Average accepted GPA: 2.0
University of Guelph
The University of Guelph is one of the prestigious public research universities in Canada, located in Guelph, in the province of Ontario. The comprehensive university was established in 1964 after the amalgamation of MacDonald Institute, Ontario Agricultural College and Ontario Veterinary College. The University offers 94 undergraduate, 48 graduate and six associate degrees in multiple disciplines. Today, the university has over 30,000 students and employs almost 830 full-time faculty members.
University of Guelph acceptance rate: 50%
Average accepted GPA: 3.0
University of Montreal
The University of Montreal is a French-language public research university located in Montreal, Quebec. It was founded as a satellite campus of the Universite Laval in 1878 and became a secular institution in 1967. The University is sometimes also known as the Harvard of Canada and has a high acceptance rate even after the admission process is competitive. The city of Montreal also makes the university a chosen option for international students.
University of Montreal acceptance rate: 50%
Accepted GPA: 3.0
Study in Canada
Do you wish to study at one of these leading Canadian universities? If so, book a free consultation call with SI-Canada today to discuss your study options regarding programs and institution selection.