Established in 1967, Durham College offers a range of certificate, diploma, degree, and postgraduate programs in engineering technology, business, health sciences, skilled trades, media, art and design, community service and science and information technology, among others.
Durham College programs are known for their hands-on, experiential learning approach, which combines theory and practical training to prepare students for successful careers in their chosen fields. Durham College has modern facilities, state-of-the-art equipment, and experienced faculty members who are experts in their field and are dedicated to providing a supportive and stimulating learning environment. Durham College has various partnerships with industries and organisations, offering students opportunities to gain real-world experience through internships, co-op programs, and work placements. With a diverse student body and a range of programs, The College is committed to providing students with the skills, knowledge, and overall experience they need to achieve their career goals in Canada and other countries of the world.
If you are interested in studying a fantastic Durham College course, book a free consultation with SI-Canada to learn more about the steps you will need to study in Canada.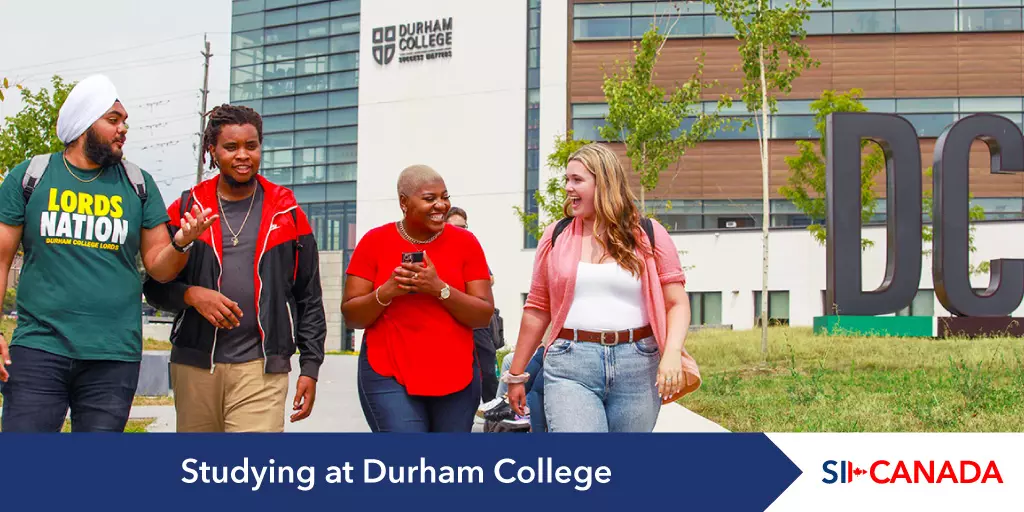 Five In Demand Courses at Durham College
1. Human Resources – Business
Durham College offers a diploma in Human Resources – Business, which has been designed to provide students with the knowledge and practical skills required to pursue a career in human resources management.
The program focuses on developing critical thinking and problem-solving abilities, communication skills, and knowledge of human resources principles and practices by covering various topics such as employment law, labour relations, recruitment and selection, training and development, compensation and benefits, and human resources planning. The program includes a work-integrated learning component, which allows students to apply their learned skills in real-world settings by participating in internships, co-op placements, or industry projects and working with employers to gain practical experience and build professional networks.
Upon completion of the study program, the graduates can pursue careers as human resources specialists, recruiters, training and development coordinators, or HR managers in a variety of industries such as business, finance, healthcare, hospitality, manufacturing, and government.
2. Mechanical Engineering Technician
Durham College offers a diploma in mechanical engineering technician, which has been designed to provide students with practical and theoretical knowledge in the field of mechanical engineering. The course focuses on developing the skills and competencies required to become successful technicians in this field. During the course, students learn to analyze and solve technical problems, apply mathematical and scientific principles, use computer-aided design (CAD) software, and operate and maintain equipment and machinery. The curriculum includes courses in engineering design, materials science, thermodynamics, hydraulics, and pneumatics, among others. The program also emphasizes hands-on experience, and students can access modern facilities and equipment in the college's engineering labs. The delivery of the courses is done by a combination of lectures, laboratory work, and industry placements.
3. Construction Management - Honours Bachelor
The Construction Management - Honours Bachelor at Durham College is designed to prepare students for a career in the construction industry. The course covers a diverse range of topics, including construction project management, building systems, construction law, and contract administration. Students learn how to plan, organize, and manage construction projects and gain the skills necessary to oversee project timelines, budgets, and quality control.
Throughout the program, students have the opportunity to work on real-world construction projects, both independently and as part of a team. They also develop strong communication and leadership skills, as well as learn how to effectively manage stakeholders and collaborate with other professionals in the construction industry. Graduates of the program become well-equipped to pursue multiple careers in the construction industry, including construction project manager, site supervisor, estimator, and project coordinator.
4. Critical Care Nursing
The Graduate Certificate in Registered Nurse Critical Care Nursing is designed for registered nurses who are looking to enhance their knowledge and skills in the field of critical care. This program provides an in-depth understanding of critical care nursing theory and practice, including advanced assessment and management of patients in critical conditions. The program offers a unique combination of classroom lectures, simulation-based learning, and clinical placements that prepare students for a career in critical care nursing. The curriculum covers various topics, including advanced cardiac and respiratory assessment, hemodynamic monitoring, pharmacology, and emergency management. Students also learn about managing patients with complex medical conditions such as sepsis, multi-organ failure, and traumatic injuries. The clinical placements provide hands-on experience in critical care units, allowing students to apply their knowledge and skills in a real-world setting. Graduates of this program are well-equipped to work as registered nurses in critical care settings such as intensive care units, cardiac care units, and emergency departments.
5. Web Development
The Diploma Program in Interactive Media Design – Web Development program at Durham College is designed to equip students with the necessary knowledge and the latest skills to develop dynamic, interactive, and responsive websites. Students learn programming languages such as HTML, CSS, and JavaScript and content management systems (CMS) such as WordPress and Drupal. The program also includes courses on web design principles, user experience (UX) design, multimedia, and digital marketing. Through hands-on projects and assignments, students gain experience in website development, design, and maintenance. After completion of the program, graduates can take up careers as web developers, web designers, and front-end developers in a variety of industries.
Student Experience at Durham College
Durham College provides a welcoming and supportive environment for all students, including international students. A variety of services and resources to support students in succeeding academically and personally is available and International students, in particular, can take advantage of various programs and services designed to help them adjust to life in Canada. The International Office provides support for students with immigration and visa-related issues, as well as cultural transition and academic advising. The college also offers language support services to help international English speakers improve their language skills.
Apart from academic support, the College also has a range of extracurricular activities that the students can participate in, including sports, clubs, and cultural events. These activities provide an opportunity for students to make new friends, learn new and relevant skills, and experience Canadian culture.
Study at Durham College
If you want to study a Durham College course and get a head start in your career, arrange a free consultation with SI-Canada today.