Studying in Canada is a dream for many international students for many reasons, but the high cost of living in some cities can be a concern, especially in times when inflation is high and the cost of living has been on the rise. As an international student, you have to consider tuition fees and other living costs, including the house rent or the on-campus living option, transportation costs, expenses on groceries, utilities and other recreational aspects.
The Canadian government also mandates that a student must be able to show proof of sufficient funds when applying for a study permit. Considering all these factors, students have started looking for affordable study opportunities in and around cities. Major provinces and cities in Canada usually have higher costs of living, particularly the provinces of British Columbia and Ontario, known to have some cities like Vancouver and Toronto that have the highest living costs, including higher rents and grocery prices. These provinces also have smaller cities wherein the students can have affordable housing. Other provinces, such as Nova Scotia, Saskatchewan, and Prince Edward Island, have reasonable living costs.
If you need guidance on where to study in Canada, book a free consultation with SI-Canada today and start your academic journey.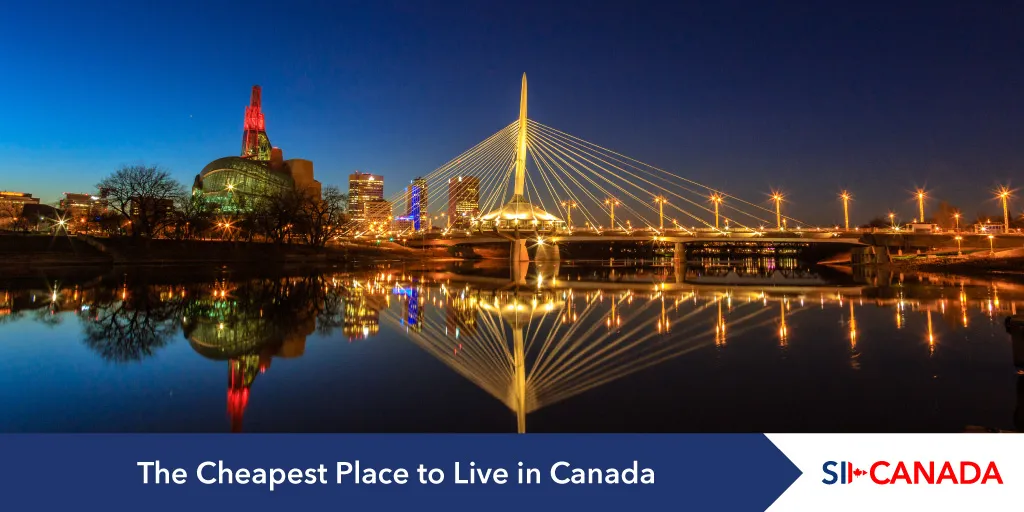 Top 10 Cheapest Places to Live for Students in Canada
1. Winnipeg, Manitoba
Winnipeg is known for its reasonable living costs, making it a top choice for budget-conscious students. It is the largest and the capital city of Manitoba, but it still offers affordable accommodation options and reasonable transportation expenses. Winnipeg is known to be the location for the University of Manitoba and the University of Winnipeg, apart from other colleges and universities, making it an excellent place for students who can also enjoy the vibrant cultural scenes, festivals, and recreational activities available in the city. Manitoba is the cheapest province to live in Canada.
2. Halifax, Nova Scotia
Another capital city, which is also the largest in the province of Nova Scotia, Halifax, offers a balance of affordable living and a rich maritime culture for the students. The city's cost of living is relatively lower than larger metropolitan areas like Toronto and Vancouver. With universities like Dalhousie University and Saint Mary's University, students can study at renowned public institutions and enjoy beautiful landscapes, historical sites, and a lively arts and music scene, apart from living in an affordable city.
3. Saskatoon, Saskatchewan
Saskatoon is a friendly and affordable city with a strong sense of community. Being the largest city in the province of Saskatchewan, it offers a great living environment and a reasonable living cost, allowing students to benefit from various discounts and free events. The city provides high-quality education options through the University of Saskatchewan and Saskatchewan Polytechnic, apart from other colleges and universities that provide a wide range of academic programs. The city's parks, river valley, and cultural festivals also offer students ample recreation opportunities.
4. Regina, Saskatchewan
Regina, the capital city of Saskatchewan, is another affordable city that is known for its lower cost of living. Students can study at the University of Regina, and the vibrant and welcoming city allows students to have a safe environment and save on rent and daily expenses as the high costs are lower than in other major Canadian cities. Regina also offers a blend of modern amenities and natural beauty, including Wascana Park and diverse cultural attractions.
5. St. Catharines, Ontario
You may know Ontario because of Toronto, but the country's most populous province has other cities known to have affordable living costs. Situated in the Niagara region, St. Catharines offers reasonable housing options and a relaxed lifestyle for students who can choose Brock University or Niagara College, among other higher education institutions. As the city is close to scenic attractions like Niagara Falls, students can also take advantage of outdoor activities, festivals, and local markets to have a good time while pursuing higher education.
6. Guelph, Ontario
Another city from Ontario known for its affordable living costs, Guelph, is a beautiful place named the Royal City. It is renowned for its strong sense of community and student-friendly atmosphere; who can study at the University of Guelph, which offers more than 100 graduate programs to choose from. The overall cost of living is manageable for most students, and they also get to experience a unique city growing with business opportunities.
7. Charlottetown, Prince Edward Island
Charlottetown is PEI's capital city, which offers a quaint and affordable living environment for students. Having the only university in the province, the University of Prince Edward Island, Charlottetown is known for being the "Birthplace of Confederation." The historically significant city also has beautiful beaches, parks, and a strong sense of community, which allows students to enjoy a peaceful and budget-friendly lifestyle in the city due to the reasonable cost of living, including accommodation, daily expenses and transportation.
8. Lethbridge, Alberta
Lethbridge is a thriving city in southern Alberta known for its affordable cost of living and quality education. Home to the University of Lethbridge, students can pursue various academic programs while enjoying a friendly community and stunning natural landscapes. The cost of living, including housing, transportation, and everyday expenses, is relatively lower compared to larger Canadian cities. This makes it easier for international students to manage their budgets and enjoy a comfortable lifestyle while pursuing their studies.
9. Prince George, British Columbia
Prince George is a vibrant city in northern British Columbia with a lower cost of living and a welcoming atmosphere. The University of Northern British Columbia in the city offers diverse educational opportunities, and students can explore outdoor activities, cultural events, and local markets in the close-knit community. The city has lower living costs at all major levels, making it an attractive option for students who want to enjoy a comfortable lifestyle without straining their overall budgets while studying in Canada.
10. Trois-Rivières, Quebec
Located in the province of Quebec, Trois-Rivières combines French Canadian culture with affordability. The city's lower living costs and unique attractions make it an appealing choice for international students. The city is home to several reputable educational institutions, including the Université du Québec à Trois-Rivières (UQTR). Another unique aspect of the city is its rich cultural heritage and historical significance, and the students can explore historic sites, museums, and several cultural events that showcase the city's heritage and artistic expressions.
Cheap Places to Live in Canada FAQ
Which city is affordable for students in Canada?
Many cities in Canada are affordable for students, such as Winnipeg, Halifax, London, Prince George and others.
What is the cheapest rural place to live in Canada?
Brandon, Manitoba, is one of the most affordable rural places to live in Canada. It is a small city located in the southwestern part of the province and is known for its friendly community, picturesque landscapes, and relatively lower cost of living.
Where do most students live in Canada?
Vancouver is where most students live in Canada, as it has some of the best Canadian universities, including the University of British Columbia, which hosts more than 18,000 international students alone.
Which province in Canada is most student-friendly?
Several provinces in Canada are known for being particularly student-friendly due to their welcoming atmosphere, quality of education, affordability, and range of opportunities for both academic and personal growth. Nova Scotia and Ontario, specifically, are known to be student-friendly.
Where is the best place to live as a student in Canada?
Choosing the best place to live as a student in Canada depends on various factors, including your preferences, academic program, lifestyle, and budget. According to all these factors, some of the major cities you can consider include Toronto, Vancouver, Montreal, Halifax, and Waterloo.