Nursing is one of the most in-demand courses worldwide, with wide opportunities and career prospects for graduates who choose this noblest of professions.
Canada is one of the best countries in the world to study nursing courses due to the high standard of living, placement opportunities, scholarship options and, of course, a huge selection of fantastic universities. Canadian universities offer many specializations, so whether you wish to focus on mental health, traditional nursing or midwifery, there is something to suit all applicants. As Canadian universities have some of the most sought-after nursing programs in the world, students have been choosing to opt for these and take advantage of a flexible Post Study Work Permit system in the country.
Look at the best nursing universities in Canada, ranked by Maclean's Magazine, below and if you want to pursue a nursing career by getting an education from the best nursing universities in the world, book a free consultation with SI-Canada today.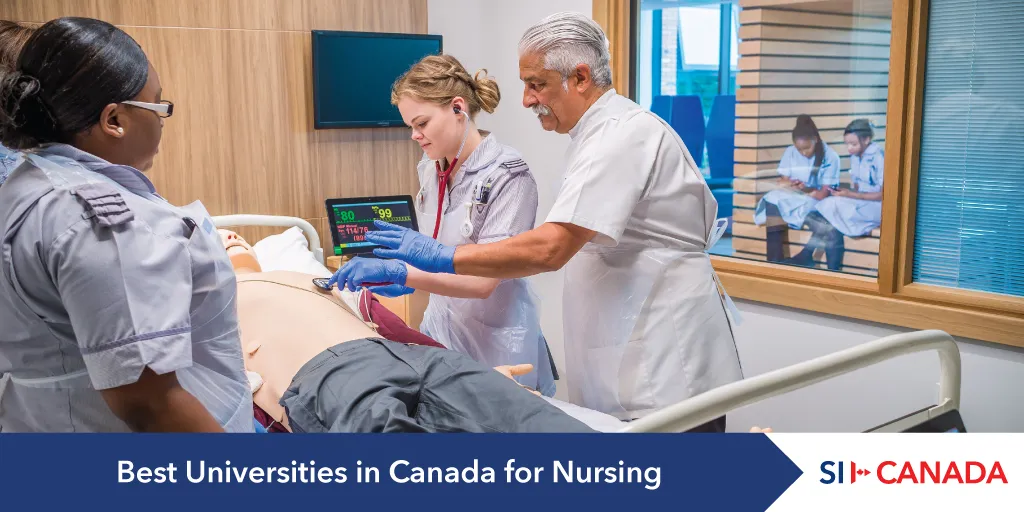 Top Five Nursing Courses in Canada
1. University of British Columbia
The University of British Columbia School of Nursing offers the BSN program, an accelerated program with students entering in year three after completing a bachelor's degree. Modules in the program include theoretical and professional foundations of nursing, health impacts of climate change, and basic principles of pharmacology, along with the theoretical perspectives of people living with mental health issues and their families, promoting the health of indigenous people.
The School of Nursing has an international reputation for providing scholarships and conducting research characterized by excellence and social relevance. Canadian students, permanent residents of the country and students with refugee status are only eligible to apply for the BSN program.
2. University of Toronto
Among the best nursing universities in Canada is the University of Toronto. The Lawrence S. Bloomberg Faculty of Nursing offers a full-time two-year Bachelor of Nursing (BScN) program. This internationally recognized program provided students with the intensive training needed to care for patients with various needs. The employment rate of the program six months after graduation is 93 %, and 94% after two years.
Nursing education at the University ensures that professionals practice safely, ethically and competently. They are taught health assessment and relational and therapeutic skills to care for people and promote health. After two years of study, students must also complete an 11-week integrative clinical practicum. The job placements are also done in collaboration with the faculty and considering the student's strengths, challenges and career goals.
3. University of Alberta
The University of Alberta's internationally reputed Faculty of Nursing was ranked #1 in the QS World University Rankings by Subject 2022. The school offers undergraduate programs that lead to achieving a Bachelor of Science in Nursing degree. These programs include a collaborative course with Keyano College (Fort McMurray), Grand Prairie Regional College, and Red Deer College.
The nursing course includes physiology and anatomy, medical microbiology for healthcare professionals, statistics and knowledge management, mental health and wellness in nurses, and community engagement in the context of healthcare, among others.
4. McGill University
The Ingram School of Nursing at McGill has provided nursing degrees with impeccable education and training since 1920 through the Faculty of Medicine and Health Sciences. The school offers five formal programs at various levels. The BScN is a 3-4 year program that allows one to study abroad in the final year.
The faculty's approach at Ingram School of Nursing seeks to inspire and challenge students in their educational journey to become healthcare professionals. They are taught to develop the strengths nurses need to promote health and facilitate healing.
5. McMaster University
The School of Nursing at McMaster University is among the country's top-ranking and global schools. It was established in 1846 and became a part of the Faculty of Health Sciences when it moved to the McMaster University Medical Centre in 1974.
The four-year degree program in nursing is offered in collaboration with Conestoga and Mohawk College. The program is offered as an accelerated one and also in the form of a post-diploma RPN stream. The employment rate is 95.5% after six months and around 97% after two years.
Study Nursing in Canada
If you wish to study at one of the best nursing universities in Canada, arrange a free consultation with our experts today to discuss your best options.