Chemical engineering is a science discipline that works on the transformation of unusable chemical substances and raw materials into the finished products that we use on a daily basis. It applies a set of ideas and techniques that change the world almost every day, as chemical engineers increase food production, protect the environment, and generate energy, among other activities essential for people's lives on a global scale.
Many universities in Canada offer leading chemical engineering programs, including the University of Toronto, the University of British Columbia and McGill University. These programs typically cover core topics such as thermodynamics, process design, and reaction engineering. Many Canadian universities also offer co-op programs or internships for chemical engineering students, allowing them to gain hands-on experience in the field while earning academic credit.
Chemical engineering is a growing field in Canada, with opportunities in industries such as oil and gas, pharmaceuticals, and food and beverage production. According to the Government of Canada's Job Bank, chemical engineers can expect a strong job outlook in the coming years.
Learn more about the best places to study chemical engineering in Canada below (QS World University Rankings by Subject 2022) and book a free consultation with SI-Canada today to begin your study in Canada application.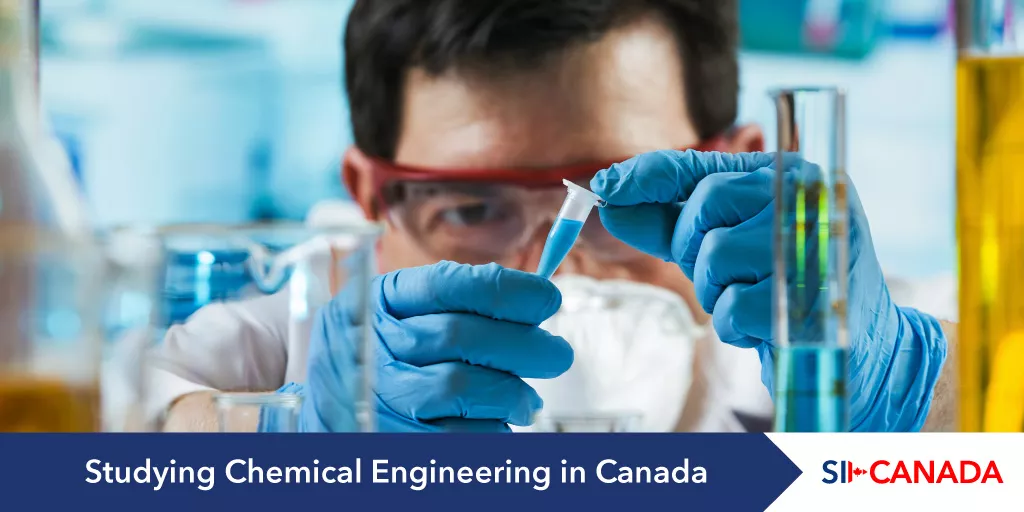 Top Five Universities for Chemical Engineering in Canada
U of T's Department of Chemical Engineering and Applied Chemistry was established in 1904 and is among the largest in the country. It offers undergraduate and graduate degrees in the subject, and as a chemical engineering student, one will be able to address issues with a large impact on society through training and research endeavours. The department is led by world-renowned professors and has state-of-the-art facilities that challenge students to reach their full potential through various academic and non-academic programs.
The university also has partnerships with major industrial players that benefit the students in terms of experience while pursuing their education and after graduation.
The Department of Chemical Engineering at McGill started offering courses in 1908 and currently provides students the option of taking up various accredited undergraduate and postgraduate degrees that include professional and
The university's research and innovation initiatives address the challenges society faces, including the environment, sustainability, and human health. The department has renowned faculty members who have developed internationally recognized research programs in various disciplines, including biomedical engineering, materials and polymers, environmental technology, biotechnology, and plasma sciences and engineering.
UBC is one of the most prestigious Canadian universities that has been providing a world-class education to students from across the world in multiple disciplines. The UBC Chemical and Biological department under the Faculty of Applied Science offers accredited undergraduate courses and various graduate degrees, including Masters and PhD options.
Students learn how to design and operate the industrial and manufacturing processes that are used to create products and services essential for everyday living through theoretical and practical training. The department engages in innovative research to provide solutions to the world's most pressing issues in clean energy, food, green technologies, drinking water, and much more. The department at UBC has achieved international recognition for improving society through its innovations.
The Department of Chemical Engineering at Waterloo is a part of one of the largest engineering schools in Canada. It offers undergraduate and graduate degrees in chemical engineering apart from providing academic support and expertise to the university's multidisciplinary biomedical and nanotechnology engineering departments.
The university engages in interdisciplinary research enabling students to find solutions to the world's biggest problems. All the students get to participate in the co-operate work and study program, where they alternate between work and study during the course. There is a large faculty at the university having expertise in fields ranging from polymers and material sciences, biotechnology, and nanotechnology to environment and energy topics.
The Department of Chemical and Materials Engineering at Alberta has been internationally recognized for its teaching, academic, and research excellence. The undergraduate and graduate courses in the department are taught by leading materials and chemical researchers from across the globe who have won awards for their contributions to the field.
Students have access to state-of-the-art technology and other facilities that help them in learning in a better way. As the programs are available through a department consisting of chemical and materials engineering disciplines, the curriculum is one of a kind in North America and the entire world, providing synergies that are not available elsewhere.
Study Chemical Engineering in Canada
Book a free consultation with SI-Canada today to begin your study in Canada application for chemical engineering.