How a university ranks from an academic perspective is not the only important thing which is considered when ranking Canada universities and colleges, it is also the voice of the student via student satisfaction rankings.
In order to gauge the prevailing sentiment among students, a different kind of ranking system has been devised by Maclean's. This comprehensive ranking system takes into account the parameters that are important to students while studying at a Canadian university, factoring in the quality of parameters such as:
Course instructors
Student life staff
Academic advisors
Mental health services
Extracurricular activities
Experiential learning
Residence living
All of the above factors into how a university performs in the student satisfaction rankings for Canadian institutions. Over 19,000 students recently gave their opinions on Canada's best universities by student satisfaction, with the below universities ranking in the top five.
If you wish to study at any of these universities or need guidance on the application process to study in Canada, arrange a free consultation with SI-Canada's international education advisors today.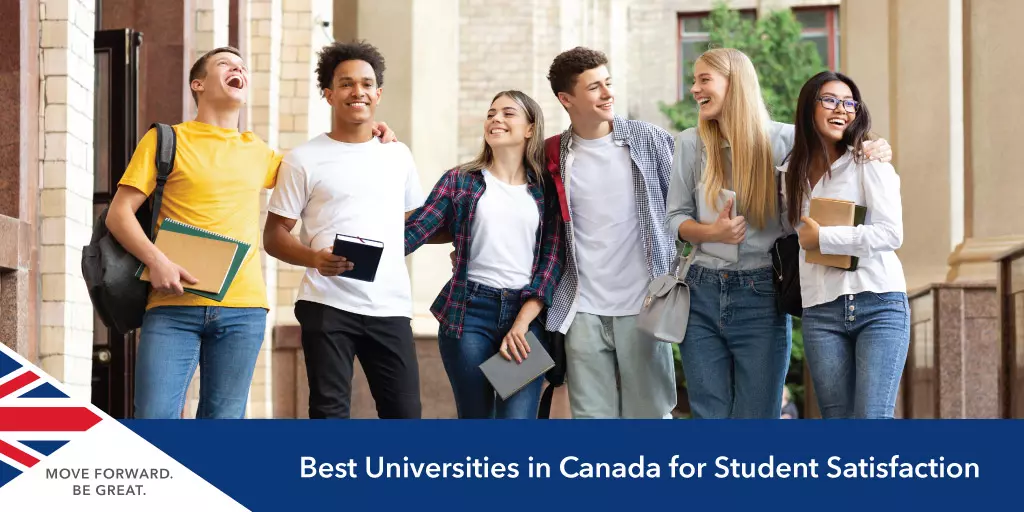 Best Canadian Universities for Student Satisfaction
1. University of Quebec in Montreal
The University of Quebec in Montreal (UQAM) is a French-language public university that ranked first in 3 of the 10 parameters set by Maclean's: course instructors, academic advisors and sexual assault prevention.
The University offers more than 300 programs, providing quality educational support with teachers giving importance to practical training. The overall liveliness on the campus with a mix of native and foreign students is also one of the factors that make UQAM the top-ranked Canadian university for student satisfaction
2. University of Victoria
Located in the municipalities of Oak Bay and Saanich, British Columbia, the University of Victoria is a public research university. UVic was founded in 1963, but its roots can be traced back to 1903 with the establishment of the predecessor institution, Victoria College. Ranking first overall for admin staff and promoting indigenous visibility, Victoria also enjoys the reputation of being the top academic institution that prepares career-ready students.
3. Brock University
Brock University is one of Canada's top-ranking post-secondary institutions, located in Ontario in the historic and beautiful Niagara region. Brock garnered the top rank as being the institution having the best mental health services in the country as voted by the students.
The University has more than 19,000 students on campus who have the option of joining a variety of clubs and extracurricular activities apart from academic learning. Being located in a beautiful and community-minded city gives an edge to the University that makes it popular among students.
4. Wilfrid Laurier University
Wilfrid Laurier University (WLU) is a public university having campuses in Waterloo, Brantford and Milton, and Ontario. It has been named after Sir Wilfrid Laurier, the seventh Prime Minister of Canada.
The University ranked #1 on the student life staff and extracurricular activities in Maclean's survey. According to the University's Mission Statement, education at Laurier builds the whole person: the mind, body, and spirit. They believe that a university career must lead to more than just a job to be considered as successful, thus the University takes pride in creating engaged and aware citizens in a diversified culture that inspires lives of purpose and leadership.
5. University of Waterloo
Another University from the region of Ontario, the University of Waterloo was founded in 1957 with 74 engineering students having co-operative education as its cornerstone. Today, it has more than 42,000 students taking admission each year.
The University leads in providing experiential learning opportunities with more than 7,100+ active co-op employers. This has been the reason why it came up as the top-ranked university in the survey on the parameter of 'Experiential Learning.'
Study in Canada
Register today for a free consultation with SI-Canada's education consultants to learn more about the application and visa process in order to start your academic journey at Canadian university and colleges.