Anthropology is an exciting discipline that delves into the comparative study of humankind, human societies, cultures, and their overall development at all levels. It is one of those interdisciplinary fields of study that draws upon biological and social sciences knowledge. Pursuing anthropology opens up many opportunities for students who can either take up higher education in fields that benefit from majors in anthropology, such as law, business, teaching, health care, journalism and much more. Taking up career options in the subject also provides various opportunities to work at governmental and international organizations, universities, big corporations, and other places where a deeper understanding of humans is needed.
Canada has many top-ranking universities that offer exciting courses for students who want to study anthropology. By earning an anthropology degree, students acquire a unique and valuable combination of cultural awareness and analytical, communication, and problem-solving skills that not only help in their study years but also in the professional world that has increasingly become global in today's times. Traditionally, four subject branches are studied while pursuing higher education, including archaeology, socio-cultural anthropology, linguistics, and biological anthropology.
If you want to study anthropology at renowned Canadian universities and find rewarding career opportunities, book a free consultation with SI-Canada today to learn more about the application process and other relevant information.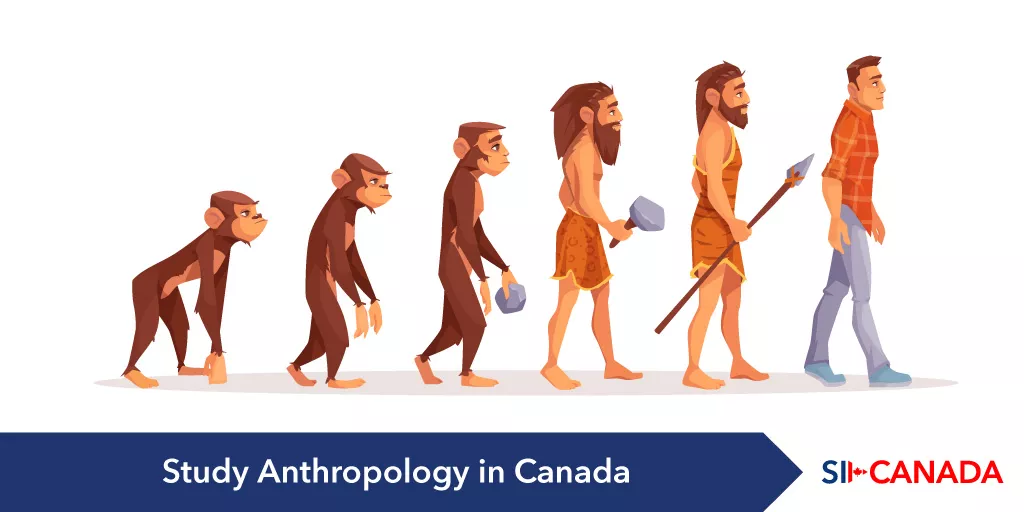 Top 10 Universities for Anthropology in Canada
University of British Columbia's Department of Anthropology offers undergraduate and graduate programs to develop knowledge and skills in anthropological theory, ethnographic work and research methods. The department engages in teaching, research, community collaboration, and field-based inquiry to advance the study and constructive understanding of human diversity. The graduate program at UBC is competitive and accepts only 10-14 students each year, who are given access to outstanding faculty guidance and research resources at the Laboratory of Archaeology and the Museum of Anthropology.
The top-ranked university in Canada, U of T, is known for imparting high-quality education in various disciplines, one of them being anthropology, which was ranked 16th in the world in QS World University Rankings by Subject in 2022. The Department of Anthropology, which is a part of the Faculty of Arts and Science, offers undergraduate and graduate courses and covers various subject issues through its curriculum. Students can choose from General Anthropology, Evolutionary Anthropology, Archaeology, and Social, Cultural and Linguistic Anthropology majors at the undergraduate level. The department offers MA, MSc, and PhD degrees at the graduate level and allows students to collaborate with other disciplines during the study years.
York University offers specialised skills in reading, research, communication, writing, and critical thinking. Offered by the Department of Anthropology under the Liberal Arts and Professional Studies branch of the university, the courses available at the university lead to certifications and undergraduate and graduate degrees in the subject. Students can also take up placement courses that can help them prepare for a professional career in education, law, health, public policy, advocacy, corporations, and research.
The Department of Anthropology at McGill University was founded in 1966, and today it is one of Canada's most dynamic academic and research communities dedicated to anthropological inquiry. The university offers minor, major, honours, and joint honours concentrations in the subject at the undergraduate level with interesting course options. Graduate degrees can be earned at the Master's and Doctoral levels, allowing students to get highly specialised knowledge on the subject and conduct research in a vibrant and nurturing environment.
The Department of Anthropology at the University of Alberta offers undergraduate and graduate degrees in the subject with specialisations in the fields of archaeology, biological anthropology, and cultural and linguistic anthropology. Students and faculty of the department conduct original research throughout the country and globally. The award-winning faculty at the university engages in in-depth ethnographic research to explore the diversity of societies. The graduate students are given an integrated 4-field approach to learning, which enhances their knowledge base.
Among Canada's top research-intensive universities, Western University is known for providing a vast range of academic and research opportunities. The Department of Anthropology at the university offers undergraduate and graduate degrees in the subject. It is one of the most balanced four-field departments in the discipline in Canada. The faculty members also come from across the subfields and contribute to the collective research strength of the university in various fields, including human relations, individual, social, and cultural identities, bodies and health, among others. Western University aims to build an understanding and acceptance of differences among humans at the global level through teaching and research works on the subject.
Queen's University offers courses in the subject as part of the bachelor's and master's programs in Arts. At undergraduate level, students comprehensively understand anthropology as a discipline and its various subfields. Students can also pursue courses that provide an in-depth study of the subject at the graduate level. The research work and thesis-related courses at the graduate level enable students to get specialised knowledge and skills through the learning process. The university also gives opportunities to students to engage in fieldwork through initiatives such as the Cultural Anthropology Research Group.
Carleton University's Department of Sociology and Anthropology is one of the oldest and most regarded departments in the discipline in Canada. It offers undergraduate and graduate programs in the subject, along with sociology. The department is a lively hub of academic research, learning and teaching. Apart from the full-fledged degree options in the subject, the university also offers interdisciplinary courses that make the choices all the more interesting for students. The department gives various opportunities for experiential learning and community engagement through events and other activities to help students learn the application of their knowledge for professional success.
The Department of Anthropology at UVic provides various options for students to take up archaeology, biological anthropology, cultural anthropology, visual anthropology and the anthropology of sound. The university gives theoretical and methodological insights into contemporary anthropology and its subfields through its undergraduate and graduate degree options. The department has connections with local communities and field schools, enabling students to learn firsthand about the topics taught in the courses. The university also provides on-the-job experience through co-op placements that prepare students for their professional careers.
The University of Calgary's Department of Anthropology and Archaeology offers undergraduate and graduate-level courses with a cross-cultural perspective to understand human beings. The department focuses on the different fields of the subject, including biological anthropology, archaeology, and social and cultural anthropology. The curriculum provides an integrative approach to learning, leading to academic and research excellence. Students can also pursue independent research under the guidance of a supervisor and go for thesis-based programs to enhance their knowledge of the subject.