The University of Ottawa, or Université d'Ottawa in French, is a bilingual public research university located in the heart of Canada's capital city. Established in 1848, it is one of Canada's oldest and most prestigious universities. With a vibrant and diverse community of students coming from across the globe, the University of Ottawa is a top destination for international students seeking an exceptional education and a unique cultural experience.
What makes the University of Ottawa stand out among other universities in Canada is its strong commitment to bilingualism and multiculturalism. As the largest bilingual university at the global level, U of O offers students the opportunity to study in both English and French, giving them an edge in the international job market. It is also known for its world-class academic programs, cutting-edge research facilities, and top-notch faculty. Apart from its academic offerings, the University of Ottawa also boasts an exceptional student experience. The campus is vibrant and lively, with plenty of opportunities for students to engage in extracurricular activities, clubs, and organisations. With its strong commitment to bilingualism, innovation, social justice, and community engagement, it's no wonder that the university is a preferred option for international students seeking a truly unique and transformative educational experience.
Are you also interested in pursuing higher education at the University of Ottawa? If so, book a free consultation with SI-Canada to learn more about available courses, scholarships, and other relevant information.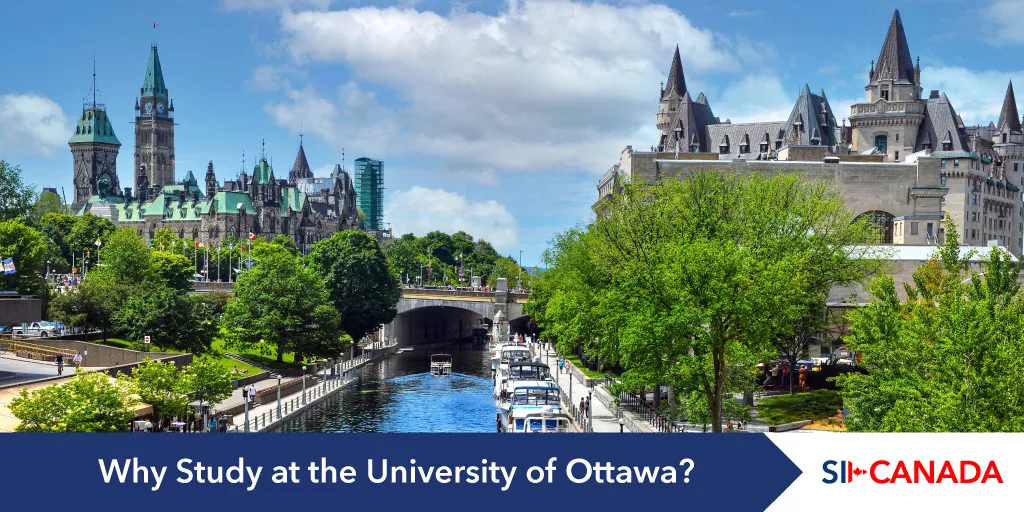 Nine Reasons to Study at the University of Ottawa
1. Bilingual Education
One of the unique aspects of the U of O that sets it apart from other universities in Canada is its bilingual education system. Ottawa is the largest bilingual educational institution in the world, where students can study in both English and French, making the university a great choice for foreign students who want to learn a new language in the country or enhance their overall language skills.
The university's commitment to bilingualism is reflected in its academic programs, where students have the opportunity to take courses in both English and French. The university also offers bilingual support services to students, including language training and tutoring, to ensure that they can succeed academically. In addition to the academic benefits of bilingual education, students at the University of Ottawa can immerse themselves in a diverse and multicultural environment. As the educational institution is located in Canada's capital city, where English and French are official languages, students can practice their language skills outside the classroom by exploring the city's many cultural and historical landmarks.
2. World-Class Research
U of O is a renowned research institution with a rich history of world-class research initiatives. As one of the top-most research institutes in Canada, the university is dedicated to fostering a culture of discovery and innovation in various fields. With a commitment to pursuing research that benefits society at large, it provides students with unique and exciting opportunities to engage in cutting-edge research and contribute to advancing knowledge.
At the University of Ottawa, students have access to state-of-the-art research facilities, cutting-edge technologies, and top-notch researchers, most of whom are national and international leaders in their respective fields. Some areas of research excellence include health sciences, engineering, social sciences, and humanities, among others. It also has strong partnerships with a variety of organisations, both locally and internationally, and encourages students to engage in research projects that have a real-world impact.
3. High-quality education through the diverse programs
The University of Ottawa is renowned for offering quality education and diverse programs to students from all over the world. With over 450 University of Ottawa programs available at undergraduate, graduate, and doctoral levels, the university caters to a wide range of academic interests. The university prides itself on its innovative approach to education, which emphasises critical thinking, research, and hands-on learning, and this approach enables students to gain valuable experience and develop the relevant skills needed to succeed in their careers.
U of O is deeply committed to providing a high level of support system to the students and also has a dedicated team of academic advisors, counsellors, and career development professionals who work closely with all the students to help them achieve their goals. The expertise of its faculty members further enhances the quality of education at U of O. The university boasts over 2,500 professors and researchers who are leaders in their subject areas and are also dedicated to supporting students to achieve their full potential.
4. Career Development
U of O is well-known for offering a variety of career development opportunities for its students. The university's Career Development Centre provides a range of services, including job search strategies, career counselling, and resume writing workshops. Students also have access to a cooperative education program, which allows them to gain practical work experience while earning academic credit. U of O also has a strong alumni network that provides networking opportunities for current students.
Ottawa has partnerships with local and national employers, which helps to facilitate job placements for its graduates. It also offers a number of entrepreneurship and innovation programs, which provide students with the right skills and resources to start their own businesses. These programs include the Entrepreneurship Hub, which offers workshops, mentorship, and funding opportunities to aspiring entrepreneurs, and the MakerLaunch program, which provides students with access to prototyping tools and resources to help bring their ideas to life.
5. Prime Location
The location of a university can play a significant role in a student's experience, and the University of Ottawa's campus is no exception. Situated in the heart of Ottawa, the nation's capital, the University of Ottawa offers students a unique and enriching experience. One of the major advantages of the university's location is its proximity to the federal government, which provides students with access to various federal agencies, departments, and ministries, which can be valuable for those pursuing careers in fields such as public policy, law, and international relations.
The University of Ottawa campus is within walking distance of the Supreme Court of Canada, Parliament Hill, and many other federal institutions. The city of Ottawa is a hub for cultural events and activities and also offers various outdoor recreational activities, including hiking, cycling, and skiing, which can be enjoyed in nearby Gatineau Park. The city's diverse and vibrant population allows for lively exposure to various cultures and perspectives. Students can engage in various multicultural events and activities, such as the annual Ottawa International Animation Festival and the Winterlude Festival.
6. Ranking
137th at the global level in the Times Higher Education World University Rankings of 2023
101-200th in the Impact Rankings by Times Higher Education in 2022
237th at the QS World University Rankings 2023
215th in the Best Global Universities category at the US News Rankings
7. Scholarships
There are a wide variety of University of Ottawa scholarships available to support international students in their academic journey. These include:
President's Scholarship: A prestigious scholarship that is awarded to high-achieving students entering their first year of study at the University of Ottawa.
Chancellor's Scholarship: Another esteemed scholarship that recognizes the academic excellence and leadership potential of incoming undergraduate students.
Faculty-specific Scholarships: Various faculties at the University of Ottawa offer scholarships to students based on their fields of study, such as the Telfer School of Management Scholarships, Faculty of Engineering Scholarships, and Faculty of Arts Scholarships, among others.
Entrance Scholarships: These scholarships are awarded to outstanding students based on their admission average or other specific criteria.
International Admission Scholarship: This is awarded to high-achieving international students who have demonstrated outstanding academic performance previously.
Differential Tuition Fee Exemption Scholarship: This scholarship helps international students offset the cost of higher tuition fees by providing a partial or full exemption.
International Doctoral Scholarship: This scholarship supports international students pursuing doctoral studies at the University of Ottawa.
8. Accommodation
The University of Ottawa offers several accommodation options for students. The university has several residence buildings on campus, providing students with a convenient and immersive living experience, as the residences offer various room types, including single rooms, double rooms, and suites. Amenities such as common lounges, study areas, and laundry facilities are usually provided.
Ottawa also provides resources and support for students who prefer to live off-campus through their Off-Campus Housing Service, which helps students find rental accommodations in the surrounding community. The university also has partnerships with several cooperative housing organizations in the area, providing students with an opportunity to live in a shared community setting. International students also have the option to participate in a homestay program, where they live with a local host family.
9. Commute and Transportation Options
The University of Ottawa is located in downtown Ottawa and offers a variety of transportation options for students to commute to and from the university campus. The city has an extensive public transit network operated by OC Transpo. Students can use buses and the O-Train, a light rail transit system, to conveniently travel around the city and to campus. The university is well-served by several major bus routes, making it easily accessible from various neighbourhoods in Ottawa. Ottawa is known for its cycling infrastructure, and the university encourages students to bike to campus. Some students may choose to carpool or use car-sharing services to commute to the university. Given its central location, many students who live in nearby neighbourhoods or within walking distance of downtown Ottawa also choose to walk to campus.
University of Ottawa FAQ
1. Why is Ottawa good for international students?
Ottawa is an ideal destination for international students due to its world-class educational institutions, multicultural environment, and safe city atmosphere. The city also offers a high quality of life, with ample career opportunities, affordable living costs, and a clean and green environment.
2. Why choose the University of Ottawa?
The University of Ottawa stands out for its renowned academic programs, distinguished faculty, and diverse campus community. As it is primarily located in the heart of Canada's capital city, students benefit from unique research and internship opportunities, as well as a vibrant bilingual and multicultural environment.
3. What are the benefits of living in Ottawa?
Ottawa as a city offers numerous benefits, including a high quality of life, access to top-notch education, a safe and welcoming environment, a vibrant cultural scene, and career opportunities. Its bilingualism, rich history, and proximity to natural beauty further contribute to the unique advantages of living and studying in Ottawa.
4. What are five interesting facts about Ottawa?
Capital City: Ottawa is the capital city of Canada and serves as the political and administrative centre of the country. It is home to numerous government institutions, including Parliament Hill, where the country's federal government is housed.
Bilingualism: The city is officially bilingual, with both English and French being widely spoken. This linguistic diversity is reflected in government services, educational institutions, and everyday life, making it a great place for language learning and cultural immersion.
Rideau Canal: The Rideau Canal, a UNESCO World Heritage Site, is a major attraction in Ottawa. In the winter season, it transforms into the world's largest naturally frozen skating rink, stretching over 7.8 kilometres. In the summer, it becomes a scenic waterway for boating and leisurely walks.
Tulip Festival: Ottawa hosts the Canadian Tulip Festival, an annual event that celebrates the friendship between Canada and the Netherlands. Over a million tulips bloom across the city, creating a stunning display of colours and attracting visitors from around the world.
Cultural Institutions: Ottawa is known for its rich cultural scene, having numerous museums, galleries, and performing arts venues.
5. What can I study in Ottawa?
Ottawa offers a diverse range of study options for students in a variety of disciplines. With its status as the capital city of Canada, it is an ideal place to pursue studies in fields such as public administration, political science, and international relations. Ottawa is also home to renowned universities and colleges offering programs in business, technology, engineering, health sciences, and arts and humanities.