McMaster University is a world-renowned public research university in Canada that is located in the vibrant city of Hamilton, Ontario. It was founded in 1887, and since then, it has become a top Canadian educational institution. Through its six faculties: Science, Humanities, Social Sciences, Business, Engineering and Health Sciences, McMaster courses are studied by over 37,000 students currently enrolled at the university at both undergraduate and graduate levels.
McMaster University is known for its innovative teaching methods and focuses on problem-based learning, emphasizing collaboration and critical thinking. It is also widely recognized for its world-class research facilities and faculty and has a strong reputation in fields such as health sciences, engineering, nursing and business.
Learn more below about McMaster University ranking, scholarships and courses, and book a free consultation with SI-Canada today to start your application to study in Canada.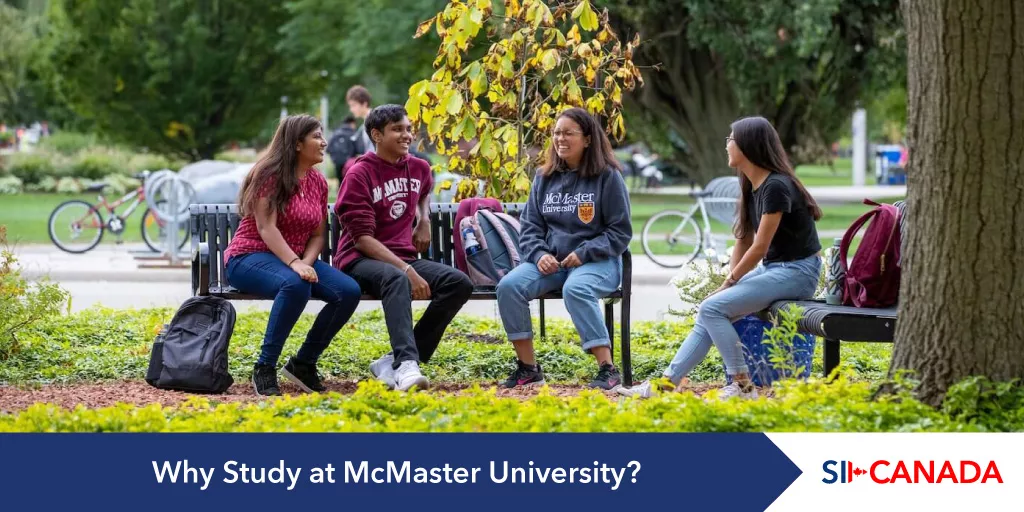 Why Study at McMaster University?
1. World-class rankings
McMaster University has consistently ranked among the top 100 universities in the world by major ranking systems due to its impactful research, teaching, and industry partnerships.
McMaster ranked 85th worldwide and was one of the four Canadian universities in the top 100 in the Times Higher Education World University Rankings 2023, and 37th in the roles for the impact it created in the country and at the global level. McMaster has also been one of the country's most research-intensive universities for more than five years. According to the rankings by 2023 QS Top Universities, it was placed 152nd globally. McMaster university also ranked 81st in the Graduate Employability Rankings 2023.
2. Excellent academic programs and innovative teaching
McMaster University is particularly known for its world-class academic degree programs, especially in the fields of engineering, health sciences, and business. McMaster University courses are available at undergraduate, graduate and doctoral levels across its six faculties.
The University pioneered problem-based learning through its medical school in 1969, and since then, the innovative approach has been adopted in other departments of the university and even other educational institutions across the world. The faculty at McMaster is also among the best globally and have received national and international recognition for their work in the classroom and beyond. The university is committed to equipping its students with the skills needed to make a transformation in the world.
3. Research intensity
McMaster University is one of the most research-intensive institutions in Canada and is a member of the U15 -Canadian Universities, a group of the best research universities in the country. Having state-of-the-art facilities and a large community of researchers working on diverse topics of global importance, the university has been driving its research engine impactfully.
According to the 2022 annual ranking published by Research Inforsource, McMaster was placed second in graduate student research intensity and faculty research intensity. It also gained the third spot in the corporate research income category, garnering over $78.5 million in investments from the private sector.
4. Vibrant student life and support services
As the number of students at McMaster is in the thousands, many of them also being international, the university is committed to making their experience one of the best. Over 300 clubs and organizations and various athletic facilities allow students to work on their personality development outside the classroom.
Students also get access to various support services through the Student Success Centre, making their life more comfortable. International students, in particular, get access to accredited experts in staff offering guidance on academics, wellness, health, finances, immigration, housing, and cultural and social matters. The staff and faculty at the university ensure that all students learn and grow to the best of their capabilities while also enjoying their university life. A variety of McMaster scholarships are also available for international students to help fund their studies in Canada.
5. Beautiful campus and location
McMaster University's main campus is located in the West end of Hamilton, a beautiful city on the shores of Lake Ontario. The campus itself is spread across 300 acres of parkland and green space, having stunning architecture and modern facilities for living and learning. Students at McMaster enjoy the best of both worlds: the natural beauty of Hamilton and the amenities of a thriving urban centre.
The city is also one of the safest in the country, having a friendly and welcoming community. Students can explore the various restaurants, outdoor recreational activities, and also various cultural events that take place in the city. It is also a short drive from Niagara Falls and Toronto, making it a great place to experience the best of Canada.
Study at McMaster
Begin your McMaster University application by arranging a free consultation with SI-Canada today.