McGill University is one of the most widely admired universities in Canada, with alumni including Justin Trudeau, Canada's 23rd prime minister since 2015 and novelist, poet, singer and songwriter, Leonard Cohen.
An English-language public university located in Montreal in Canada, McGill was founded in 1821. Today, McGill University has become a world-class institution of higher education attracting students from all over the world. The reasons why international students prefer to be known as McGillians are plenty, and here we will be discussing the top five reasons to study at McGill. These factors may help you to make an informed decision, or may even be the start of your consideration.
If you wish to know more about the exact application process to get admission to McGill University, you can arrange a free consultation with SI-Canada today.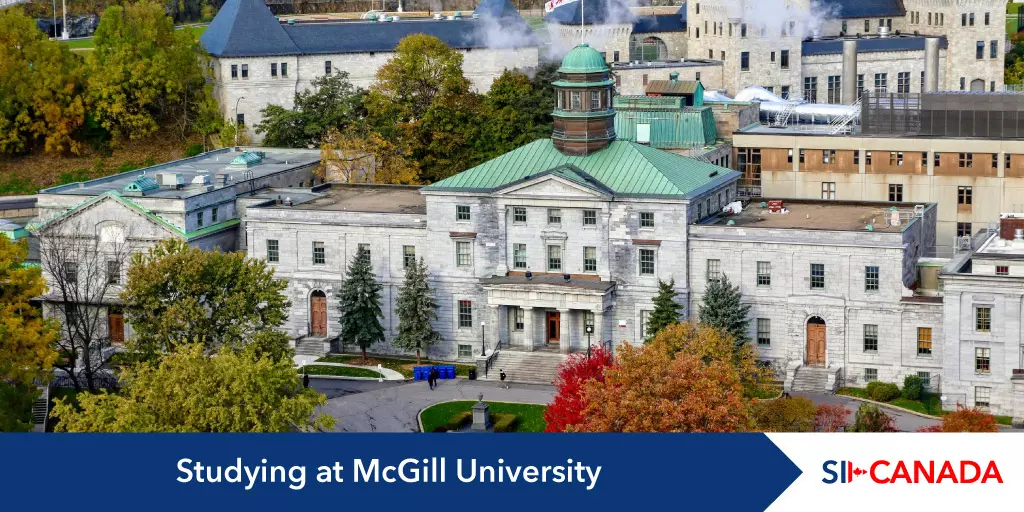 Five Reasons to Choose McGill University
1. Its a center of academic excellence
Offering degrees and diplomas in more than 300 fields of study, McGill University has the highest average entering grades for any Canadian University. Most of these talented students are enrolled across its six largest faculties in Science, Arts, Medicine, Engineering, Education, and Management.
McGill University has been ranked among the top universities in Canada and the world by major educational publications and ranking systems. It has been listed as one of the best 35 universities globally for more than 17 years. When it comes to Medical Education, McGill has been the number #1 ranked medical-doctoral university for 16 consecutive years.
2. A truly diverse university
With students coming from more than 150 countries to join the University at various levels, McGill is an institution that homes thousands of international students. Around 30% of the student population at McGill is of foreign descent with more than 41% born out of Canada.
McGill is also the most internationally diverse of all the medical-doctoral universities in the country as around 30% of the students hail from all parts of the world. It is actually very common for all students to have friends from various walks of life, and this makes the experience of learning all the more fun for everyone.
3. A rich legacy of notable alumni
McGill University proudly counts among its alumni and faculty members 12 Nobel Laureates along with 147 Rhodes Scholars, both of which are the highest for any Canadian university.
The current Canadian PM graduated from McGill and in total, McGill alumni includes 8 foreign leaders, 8 Academy Awards winners, 10 Grammy Award winners, and around 13 Emmy Award winners. It is also interesting to note that the inventors of the game of basketball, modern organized ice hockey, and the pioneers of gridiron football were also McGillians.
4. Leaders in research and innovation
With a vision to support and enhance a university-wide environment of research and innovation, McGill University remains at the forefront of groundbreaking innovation. It is a premier research-intensive university that partners with relevant stakeholders to achieve advancements in knowledge discoveries that are beneficial for the world at large
McGill researchers are affiliated with more than 75 major research centers and networks. The University also has one of the largest patent portfolios among the universities in Canada.
5. Scholarship opportunities
Carrying forward the legacy of academic excellence with responsible governing of student interests, McGill University has an array of scholarships that are awarded to native as well as international students. The Scholarships and Student Aid Office at the University ensure that qualified students from all geographic locations are financially supported in their goals to enter and complete their education at the University.
In 2019, McGill University received the largest gift in Canadian history in the form of McCall MacBain Scholarships to the tune of $200 million. These fully-funded scholarships became Canada's first comprehensive and leadership-driven scholarships for master's and professional degree students.
Study at McGill
Are you interested in studying at McGill University? Register today for a free consultation to talk to our education counselors about the available courses at the University.