Lakehead University is a world-renowned public research university in Thunder Bay, Ontario. It was established in 1965 and expanded to include Orillia and Downtown Thunder Bay campuses. Lakehead University offers a wide range of undergraduate and graduate programs across its nine faculties, including arts and humanities, education, engineering, business administration, science and environmental studies, law, natural resources management, and social sciences.
The university is committed to providing students with a high-quality education, hands-on learning, and various research opportunities. In the university's academic community, all students are given attention to the point that they can feel they matter in the diverse and vibrant community. The university provides a safe and friendly environment, apart from giving plenty of opportunities to grow academically and on the personality development front. Here, we discuss why you should consider studying at Lakehead University, with five compelling reasons.
Keep reading ahead to learn more about the university, and if you wish to study here, book a free consultation with SI-Canada today to start your application process.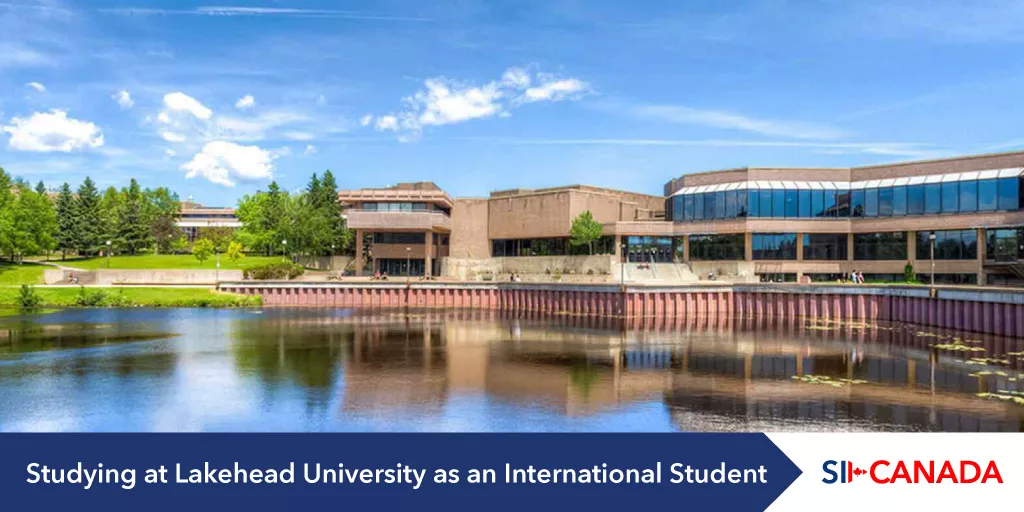 Five Reasons to Study at Lakehead University
1. Rankings and achievements
Leading Lakehead University rankings include being 16th in the comprehensive category in Maclean's 2022 Canadian University Rankings and 22nd out of 97 universities in Canada in the 2022 Times Higher Education (THE) World University Rankings.
In terms of awards, Lakehead University received the Gold Excellence in Advancement Award from the Council for the Advancement and Support of Education (CASE) District V for their "Building Critical Mass" fundraising campaign, won the "Outstanding Business Achievement Award" in the Education category in 2020, presented by the Thunder Bay Chamber of Commerce, and in 2019, Lakehead University was named one of Canada's Top 50 Research Universities in the annual ranking by Research Infosource.
2. High-quality programs
Leading Lakehead University programs include courses in anthropology, law, engineering, business, bioinformatics, computer science, economics, education, and health sciences. There is also the option of taking up interdisciplinary undergraduate programs that allow students to major in criminology, environment and media studies. Graduate-level studies include earning a diploma or master's and doctoral degrees. Lakehead University also has professional and continuing education programs enabling professionals to gain the latest skills relevant to the current job market.
Lakehead Additional Qualification courses are available to "allow certified teachers to expand their knowledge and skills in qualified divisions and subjects or to develop new knowledge in a specific area."
3. World-class facilities
Lakehead University provides a wide range of world-class facilities that support research and learning. The Advanced Technology and Academic Centre is home to several lecture halls, computer labs and research spaces and students from the computer science, physics and chemistry department study here. The Biorefining Research Institute is a research facility that focuses on the development of bio-based technologies, whereas the Paleo-DNA laboratory specializes in the analysis of ancient DNA.
Apart from these academic and research facilities, Lakehead has a Sports and Wellness Centre with a fitness centre, a running track, a swimming pool, a climbing wall and other sports facilities. These are open to the students, staff members and the local community.
4. Beautiful campus and a fantastic location
The Lakehead University location has stunning views of Lake Superior and the surrounding wilderness with various hiking trails and parks. Lakehead University's campus features a mix of modern and historic architecture, giving a unique feel to the environment all around. It is also committed to sustainability and has implemented many design features such as green roofs, rainwater harvesting and energy-efficient lighting.
The city of Thunder Bay is also perfect for students due to its natural beauty and rich cultural diversity. It is relatively affordable compared to the major Canadian cities, attracting students who are on a budget.
5. Exceptional research
Lakehead University is deeply committed to community-engaged research programs that solve vital issues that matter to people of the community and the planet. The research fields are wide-ranging, including health care, social justice, sustainability, and advanced technologies. The researchers at the university work with governments and institutions worldwide, contributing to more prosperous, healthy and sustainable communities.
Students are engaged in research and innovation opportunities from their undergraduate studies to postgraduate degrees. This integration of teaching and research also helps develop a culture of entrepreneurship among students, who can further take the zeal to create an impact on the world.
Study at Lakehead University
Begin your Lakehead University application and study in Canada at the next available intake by arranging a free consultation with SI-Canada today.