Canada's largest private university, Yorkville University, was established in 2003 and since then has expanded its reach and impact by opening campuses in Toronto, Ontario, and Vancouver, British Columbia. Currently, over 6,000 students are enrolled in all the campuses of the university.
What started with a simple idea of offering students rigorous, flexible, and career-focused programs has now expanded to include various study options for students looking to advance their careers with high-quality education in professional fields. The university is known to provide practitioner-oriented courses that enable students to gain skills for professional careers. One of the key features unique to the university is that most courses can be started at any time. There are year-round start dates, and students can explore other entry options apart from the Canadian education system's traditional fall and spring intakes.
If you want to study at Yorkville University and find out more reasons why you should study at Canada's largest private university, keep reading ahead. You can also book a free consultation session with our experts, who can guide you through the application process.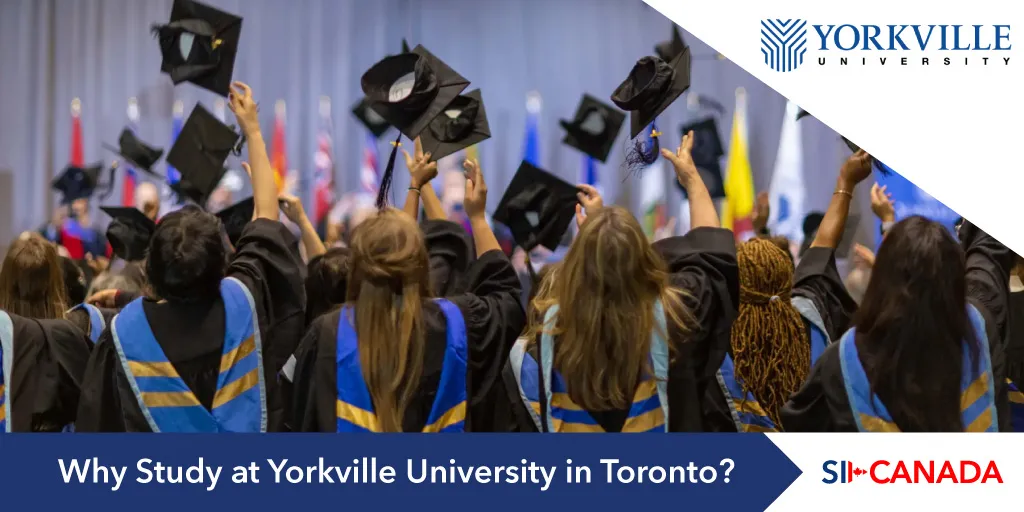 Four Reasons to Study at Yorkville University
1. Career-focussed programs
Yorkville University offers career-focused courses at the undergraduate and graduate levels, with students getting the chance to earn diplomas and degrees. Almost all of the courses have been designed in a manner that helps students achieve their personal and professional goals of excelling in their field of interest. Another aspect of prominence is that many courses are available through online modules and a hybrid system as well, allowing students to choose the way they want to study. Some of the most interesting courses are in the fields of creative arts, business administration, psychotherapy, education, and other disciplines.
2. Career Development Services
Yorkville University is committed to providing students with exceptional support services to develop their careers. The academic advisors guide students in finding the best program according to their goals and interests. The Student Success Centre provides one-on-one support and tutoring guidance with 24/7 online support. The Career Services team is there to help students create impactful resumes and cover letters, design the best portfolios, prepare for interviews, and also help find work opportunities that match their ambitions and career goals.
3. Enhanced Learning Opportunities
The faculty at Yorkville University are experts in their field of knowledge and help students gain the relevant skills and knowledge to excel in their careers. One of the best parts about studying at Yorkville University is that the class sizes are small, with almost 20 students in each class. This makes it possible for students to get personalized attention and learn through active participation taking place between the professors and students in the classrooms. The intimate environment also enables students to form lifelong friendships and connections that can help them build strong professional networks for the future.
4. Multiple Locations
The university started with a single location in New Brunswick, and in a short time, it has expanded to start operations in other provinces. Currently, the university is able to impart high-quality education coast to coast in Canada by having campuses in Ontario and British Columbia as well. Though Yorkville doesn't have a traditional campus, the office or business park setting campuses in Toronto and Vancouver give students the opportunity to feel real-world work environments. These campuses are equipped with the latest technology studios and labs that enable students to learn within the best academic settings.