Royal Roads University is a renowned public university located on Vancouver Island in British Columbia, with Royal Roads programs focusing on a student's career development.
The university was established in 1995 but has its roots in the institution founded in 1940. It offers applied and professional programs in various formats at the undergraduate, graduate and doctoral levels. Most of the courses at Royal Roads University are offered in a cohort model as a blended format wherein students are allowed to study on campus and online. Interestingly, the university intends to provide life-changing experiences to students as it focuses not only on academic excellence but also on the personal development of students. Even the university's motto states this intention through words, "Life Changing."
Find out why Royal Roads University is special in this article, where we explore the top four reasons to choose the university—interested in applying? Contact SI-Canada today for a free consultation on your application.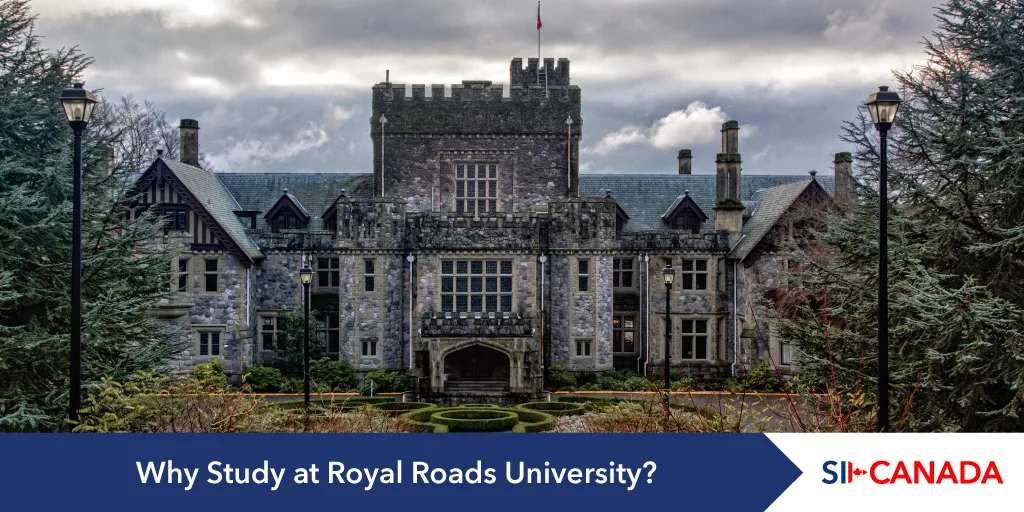 Why Study at Royal Roads University? Top Four Reasons
1. Flexible Academic Programs
Royal Roads University offers a diverse range of study programs, providing students with a wealth of options for their academic pursuits. These programs span across undergraduate, postgraduate, and professional continuing education levels, encompassing fields such as business, environmental studies, arts, sciences, communication, and more. What sets these programs apart is their industry-focused curriculum, equipping students with up-to-date skills essential for success in their chosen careers. Moreover, the university places a significant emphasis on experiential learning, offering students practical opportunities to engage in real-world projects, internships, and fieldwork experiences.
2. Exceptional Student Experience
The life-changing experience promised by the university enables students to learn, study and grow. The educational approach of Royal Roads University is such that it can transform a student's life through academic excellence and overall development of personality. It offers a vibrant community where students can join clubs, volunteer, take leadership roles, and study abroad. The International Students Services team at RRU is also present to support students from foreign nations to feel at home. English language proficiency programs are also given to students who need guidance to develop their language skills. Dedicated teams are also available to look after the well-being of students at physical and mental levels.
3. Career Development
Royal Roads University is committed to providing an exceptional experience to students at all levels, including career development. Career Learning and Development serves as the central resource for students to gain innovative career support through various events, professional planning, networking opportunities and specialized career advising. Catering to the needs of students, whether they are on campus or learning through online courses, the department offers several resources to help them advance their career goals. The department also provides career skills development to students so that they become confident and competent managers of their own career pathways through various skills.
4. Stunning Campus Experience
Royal Road's main campus is located on 260 hectares of parkland in Colwood. Situated on a National Historic Site against the backdrop of the Olympic Mountains and the Pacific Ocean, the environment at RRU is great for students to study, enjoy and relax while pursuing their education. The historic campus has also been featured in movies such as X-Men and Deadpool. The campus has world-class facilities for imparting education and conducting research, which is also done in living laboratories. The overall experience that students get while studying at this stunning university is simply breathtaking for more reasons than one, and this makes RRU a desirable option for students who wish to have the best time of their lives in university.
Study at Royal Roads University
If you want to study in Canada at Royal Roads University, arrange a free consultation with SI-Canada today.