Kwantlen Polytechnic University believes that international students should continue gaining theoretical knowledge when they harness the power of experience while pursuing higher education. Based on this philosophy, the university offers a range of diploma, certificate, degree, and citation programs, most of which have opportunities for experiential learning and hands-on experience in real-world situations.
KPU is one the most popular public universities in British Columbia, with five campuses with over 20,000 students enrolled in various courses. The university has a range of credentials on offer, many of which are unique to the institution. These specialized programs have been designed to meet the needs of the regional and global job markets and enable students to be career-ready while pursuing the fields of their interest. Interestingly, the students also have chances to bridge their certificate and diploma programs into bachelor's degrees, making them attain academic and professional development through the courses.
Book a free consultation with SI-Canada today if you wish to study at Kwantlen Polytechnic University.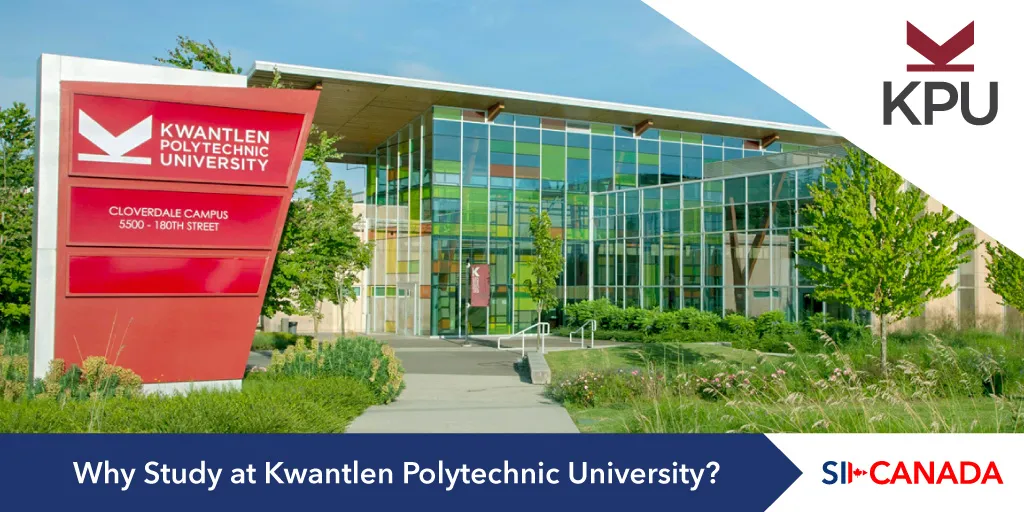 Five Reasons to Study at Kwantlen Polytechnic University
1. Innovative Post-secondary Programs
Kwantlen Polytechnic University offers over 140 programs, with students getting chances to earn certificates, diplomas, and associate degrees, citations, and degrees. Several study programs are unique to the university, making it even more prestigious in the eyes of prospective students. All of these specialized courses have been created following strict criteria, leading to confirmation of quality assurance. The professional courses at the university are accredited by their respective associations. The range of quality programs at KPU makes it possible for students to have extraordinary experiences and gain relevant skills and knowledge to progress in their careers.
2. Polytechnic Advantage for Students
Through the polytechnic approach to education, KPU can combine academic excellence with applied learning and hands-on experience to give students a unique learning environment. The university is committed to the development of each student, which is done by providing relevant knowledge and practical skills in their chosen fields of study. This kind of education has led the university to be a favorite among students who, in a recent survey, showed that almost 94% of the students would love to enroll at KPU again if given a chance. The university students' overall experience is also enhanced by the support services provided by dedicated teams. Students can receive guidance from admissions representatives, recruiters, staff, and instructors on all academic and non-academic issues.
3. Scholarships and Financial Aid
Kwantlen Polytechnic University offers scholarship opportunities to many new students entering the education system at the university, in amounts up to $20,000 CAD. The university invites students entering the admission cycle in the spring and fall semesters to apply for the KPU Entrepreneurial Leadership Degree Full Ride Entrance Scholarship, KPU Major Entrance Scholarships, and Donor-Funded Entrance Awards. There are certain criteria for scholarships to be awarded, the main among them being that students must have a CGPA of 3.0 or greater. It is advisable to go through the university website for other scholarship information.
4. Small Class Sizes and Student Services
Kwantlen Polytechnic University is known for its emphasis on smaller class sizes, with most courses having at most 35 students per class. Some classes may also have fewer students, enabling them to get personalized attention. With small class sizes, it becomes possible for professors to give better and individualized attention to each student. The classroom environment is kept interactive, and participatory learning becomes possible, wherein students can ask questions, start discussions, and collaborate with peers. The university also provides support services to students to help them get guidance on academic and non-academic issues.
5. Multiple Campuses
Kwantlen Polytechnic University campuses are spread across three major cities of British Columbia - Richmond, Langley, and Surrey. All these are Metro Vancouver cities with distinct personalities, and the region is generally known for having a diverse and multicultural environment, making it possible for students to have memorable experiences while studying at university. All these cities have countless opportunities to engage in fun and recreational activities, including outdoor concerts, cultural parades, air shows, sporting events, and much more.