Established in 2006, Alexander College is a private post-secondary institution offering quality education to students. More than 4,500 students are enrolled in the college, studying at various levels.
Alexander College is part of the BC Transfer System, as many of its courses serve the University Transfer Programs for students. Aside from these courses, the college offers undergraduate degrees, other transferable courses, and associate of arts and associate of science degrees. An integrated English for academic purposes program is also available for non-native speakers of the language to get assistance in transitioning to university-level studies in Canada.
If you wish to study at Alexander College, book a free consultation with SI-Canada today to start your application under the expert guidance of our team.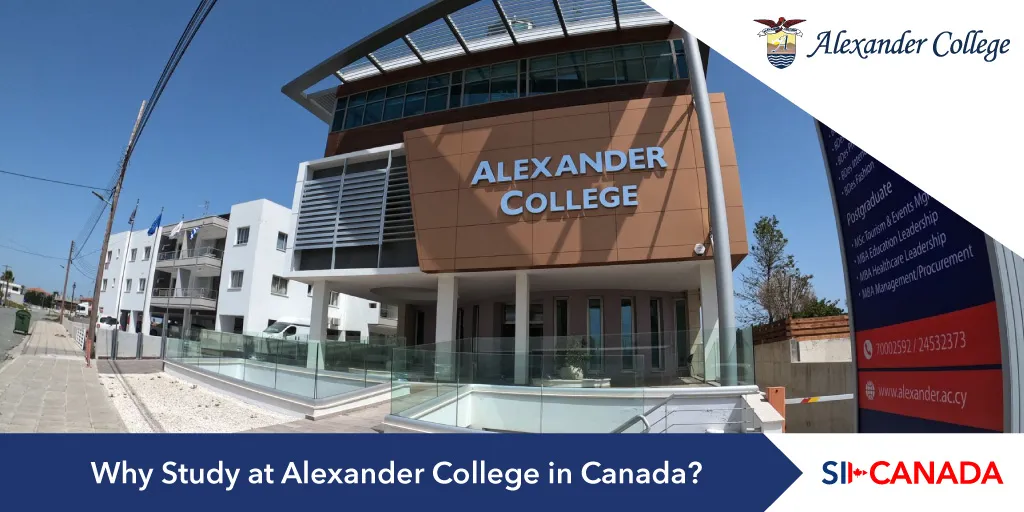 Top Five Reasons to Choose Alexander College in Canada
1. University Transfer Programs
Alexander College offers over 80 courses that can be transferred to university-level programs. The college is known to provide a high-quality curriculum that enables students to reach their desired institution in several disciplines, such as biology, commerce, chemistry, communication, psychology, history, computer science, and many more subjects of high interest among students.
Apart from these programs, the college also provides English courses for academic purposes, particularly for students whose language level needs improvement to pursue full-fledged courses in the top universities. With the popularity of transfer courses increasing each year, the college intends to keep adding more subjects and allow students to choose fields of interest.
2. Small Class Sizes
Alexander College has small class sizes, with most courses having a cap of 35 students. This aspect greatly helps students engage more freely and in-depth to clarify important subjects. They are able to establish better connections with the professors and forge long-lasting academic relationships. As the courses have theoretical and practical portions to cover, small class sizes make it possible for professors to give personalized attention, understand individual learning needs, and provide tailored support to students. With fewer distractions, the focus on learning intensifies as the teaching methods become more flexible.
3. Affordable Education
Alexander College usually keeps its tuition costs lower than other institutions, allowing students with constrained budgets to access high-quality education and meet their academic goals. For international students, the cost for undergraduate tuition is $610 per credit, while the university preparation courses can be undertaken for $3,480, and the English for Academic Purposes course can be completed within $3,000- $4,200.
The supplemental student fees are also minimal each term and give students access to specialized programs and extracurricular activities. The overall affordability reduces the burden of student loans and debt, allowing them to focus on their studies without excessive financial stress during their study years. In fact, when more students from diverse backgrounds come together due to the affordability factor, the environment enables them to have a unique learning experience.
4. Personalized Academic Planning and Services
The college ensures that students have a great time in all aspects. The Academic Advising Services are given to all students and include personalized plans for students who can explore program options and discuss other academic plans. The team offers various specialized services to help students decide on university transfer programs as well.
Students are able to connect with advisors either on-campus or can even book online sessions. The writing and learning center, academic advising, and career advising teams at the college are present to assist students and help with their major issues. Other services are also given as per the needs of students, and the college shows its commitment to providing students with a supportive environment.
5. Urban Campuses
Alexander College has two major campuses located in Vancouver and Burnaby. Both cities are situated in the province of British Columbia and provide urban settings for students to pursue their higher education. The Vancouver campus is in the center of downtown Vancouver and is just a few steps away from the city's major entertainment and shopping districts. It is located one block from the Vancouver Waterfront SkyTrain, enabling students to use the city's public transportation system to explore the various landmarks, libraries, cafes, and restaurants. The Burnaby campus is situated in the Greater Vancouver Regional District, with various recreational destinations for students, including a metropolitan shopping center and movie theatre.