Humber College is a public college of Applied Arts and Technology located in Toronto, Canada. It was established in 1967 and has since become one of Canada's largest and most respected colleges, offering over 220 programs across several areas of study, including business, technology, health sciences, media studies, and more. It has three main locations: Humber North Campus, Humber Lakeshore Campus Orangeville.
Humber College is committed to providing high-quality education that prepares students for successful careers. The college has six academic facilities and a strong focus on practical, hands-on learning. It works closely with industry leaders to ensure that Humber programs meet the needs of today's global job market and students from 130+ countries study at the college, making it a diverse community.
Learn more about why Humber College can be your higher education destination in Canada if you wish to study abroad. Book a free consultation with SI-Canada now to start your application.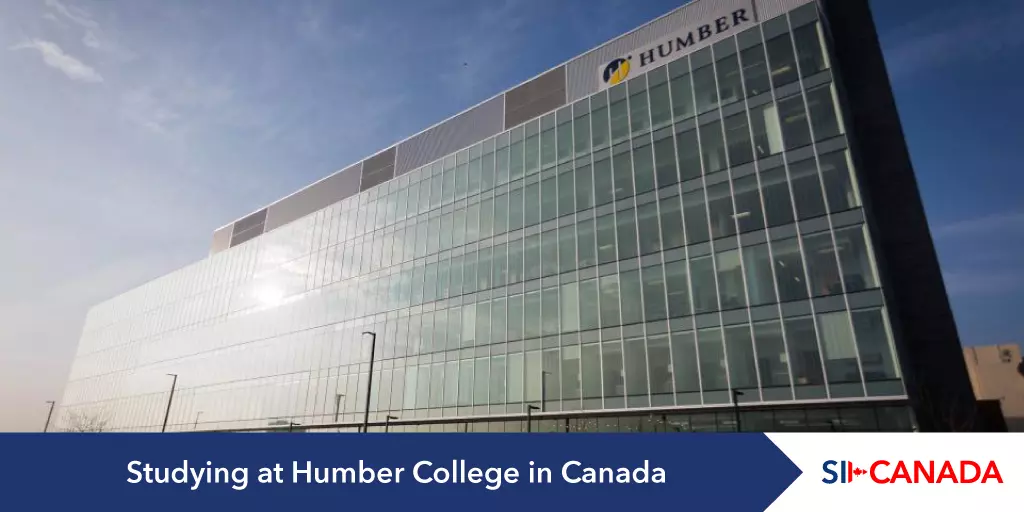 Why study at Humber College?
1. High-quality education
Humber College is known for providing high-quality education and preparing students for successful careers in their chosen fields of study. With over 220 programs at various levels, the college allows students to earn diplomas, certificates, advanced diplomas, and degrees in various disciplines. The college also provides working professionals with comprehensive and personalized learning pathways through Humber Corporate Training Solutions. These options can be taken by people who want to upskill their existing skills or even change their careers by gaining new up-to-date skills. High school students can take up dual credit courses that give them the opportunity to earn both a college course credit and also towards their secondary school diploma.
2. State-of-the-art facilities
Humber College has modern facilities and state-of-the-art equipment at the campus locations for various academic programs. These facilities include a new learning commons, a cutting-edge media production studio, and a fully-equipped fitness centre to help students stay fit while pursuing their education. The three college campuses have different facilities to provide specialized training in different programs. The North campus has dedicated labs for home renovation, construction, electrical, woodworking and cabinet-making programs. At the Lakeshore Campus, students can access the computer labs, an art gallery and multimedia production suites. The third campus has a dedicated International Graduate School and collaborative classrooms with adaptive technology.
3. Career-focussed learning
The college emphasizes career-focused learning by providing hands-on experience in its programs. The experiential learning opportunities enable students to cultivate entrepreneurial skills, and another practical training is also given in order to make them job ready. Humber's Advising and Career Services support them in finding jobs and also guide them towards a brighter future. There is also a dedicated Career connect Job portal that gives recent graduates access to various job opportunities in and around the area. They can also look for part-time work during their study years. The career-focused learning leads to high graduate employability, with 86.5% of students finding jobs six months after graduation.
4. Vibrant campus and student support services
Humber College has over 6,500 international students from more than 138 countries. The diversity of the college is one of the strong points that attract even more students who feel comfortable within a multicultural community. The college is also committed to creating an equal, inclusive and diverse environment for students and the staff, spreading the essence in all its operations. It also provides a range of support services that helps them in succeeding in their professional and personal lives. They are given academic advising, tutoring services, career counselling and guidance, and a host of mental and physical health services as well.
5. Campus locations
All three main Humber campus locations of the college are in Toronto, the largest and most multicultural Canadian city. When someone mentions Canada, then the city of Toronto is the one that comes first in mind. The North Campus is in Northwest Toronto and is known for its technology and business programs. The University of Guelph -Humber campus is also situated here. The Lakeshore Campus sits on the shores of Lake Ontario, while the Orangeville Campus is located in Downtown Toronto. Overall, Toronto is a great city for students who can access various job opportunities. They can also explore the city for its arts and culture scene through its robust public transportation system.
6. Humber scholarships
There are many types of Humber scholarships available for international students, recognizing academic achievement, community involvement, leadership and volunteer services. Enquire with an SI-Canada consultant to find out what you are eligible for.
Study at Humber College
Begin your application to study at Humber College by arranging a free consultation with SI-Canada today.