Every year, thousands of students from around the world embark on a journey to study in Canada, drawn by its exceptional educational offerings and a host of benefits for international students, including scholarships and post-study work opportunities.
For those who have made the decision to pursue their education abroad, it's common to experience a mix of excitement and nervousness, though. This pivotal choice to study overseas holds the power to reshape your life, from your approach to higher education to your living and working experiences. However, the path to accessing top Canadian universities can appear daunting, especially with the vast amount of information scattered across the internet.
On November 18th we are hosting the Canada University and College Fair, which can help ease any questions or concerns you have about studying in Canada. Meet 25 universities and colleges one-to-one and have your questions answered about studying abroad in one of the most beautiful and exciting countries in the world.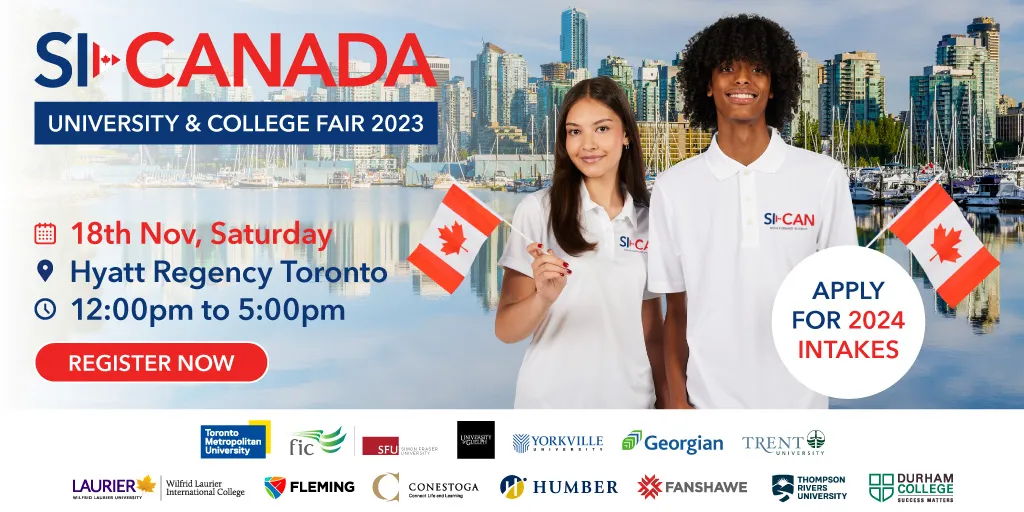 Five Reasons to Attend the SI-Canada University & College Fair
1. Official representatives
The primary advantage of attending a Canadian education fair is the opportunity to engage directly with official representatives from educational institutions. Many study-abroad aspirations remain unrealized due to insufficient information and resources. However, when you attend an educational fair, you can rest assured that the information provided is current and accurate.
Representatives from esteemed institutions participate in these fairs to personally interact with students and parents, addressing their inquiries firsthand. At the Canada University & College Fair, we are proud to host officials from renowned institutions such as Trent University, Toronto Metropolitan University, Fraser International College, Niagara College, Conestoga College, Georgian College, and many more.
2. Comprehensive guidance by experts
The most exceptional education fairs feature seasoned experts with extensive experience in the education industry, making them unparalleled authorities on current trends and developments. With their invaluable guidance, you can access up-to-date information on premier courses, universities, visa procedures, and all other pertinent aspects of your study-abroad journey.
At SI-Canada, we have dedicated ourselves to assisting students in achieving their educational aspirations for over 17 years, and our team of experts boast decades of experience, ensuring you receive the most informed and reliable guidance available.
3. Clarity on entry requirements
At the SI-Canada event, you'll have the opportunity to delve into the entry requirements of Canada's top colleges and universities, ensuring your path to your dream institution is well-guided. Engaging in one-on-one discussions with counselors is a wise approach to gaining clarity on specific entry criteria, particularly if you have unique academic breaks or a distinctive academic history that demands attention. Education fairs provide a platform to address your case with experts freely. Additionally, some institutions may even extend offer letters during these events, potentially accelerating your admission process and enabling you to secure a spot at your preferred university on the spot, bypassing weeks of waiting.
4. Scholarships and financial aid options
At the SI-Canada Fair, you can acquire comprehensive information about scholarships offered by participating universities. Discover your eligibility, application deadlines, and the specific scholarship application process at the Canada University & College Fair.
5. Educational seminars and workshops
Attending international education expos comes with the added benefit of engaging in seminars, workshops, and panel discussions featuring experts in the overseas education industry. These events are meticulously organized and attended by official representatives and study-abroad counselors, providing a rich source of information on subjects that pique your interest. Moreover, these expert seminars may very well address most of your inquiries, offering the clarity necessary to proceed with confidence toward your goal of studying in Canada.
Attend the University and College Fair
Don't hesitate to register now for this exclusive event and prepare to make your study-abroad aspirations a reality by meeting Canada international officer in person on November 18th.