Trent University was founded with the mission to provide interactive learning to students that's personal, purposeful and transformative for them in every way. It is a public research university with two campuses; one in Peterborough and another in Durham Greater Toronto Area. Considered the top university in the province of Ontario, Trent has over 12,600 students who have chosen from the 100+ programs across the arts, social sciences, sciences, and various professional courses.
Every year, around 1600 international students from across the world reach Trent University to fulfil their dreams of studying abroad and making a career by taking up courses that ensure career placements during their time at the university. Additionally, the fact that students can apply for a three-year post-study work visa makes Canada an attractive study-abroad destination. And what can be better than being around the most popular city (Toronto) and the country's capital (Ottawa). Trent University perfectly meets these aspects because of its location.
The Trent University acceptance rate is also around 33%, meaning many students can study a Trent University course if they meet the entry requirements.
If you wish to study one of the many amazing Trent University courses available to international students, arrange a free consultation with SI-Canada today.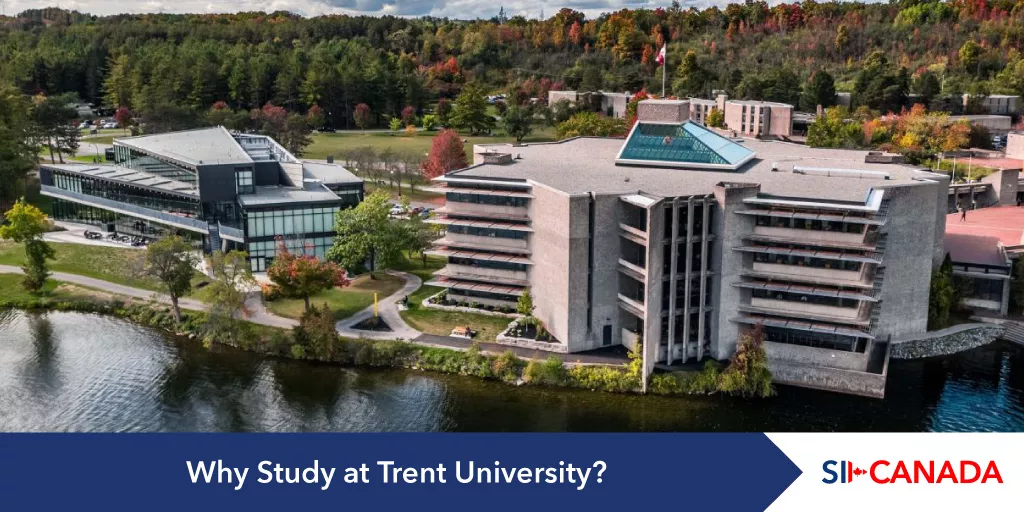 Five Reasons to Study at Trent University in Canada
1. Academic excellence and rankings
Trent University rankings are exceptional, and the university is consistently ranked among the best in Canada for its high quality of education and research initiatives.
Trent University has been ranked as Ontario's #1 undergraduate university for 12 years in a row and #4 in all of Canada, according to the Maclean's University Rankings of 2023. The university is also #1 in the province for scholarships and bursaries and faculty awards. Trent University continues to build a reputation as a world-leading environmental university and has been named #3 in Canada by the UI GreenMetric World University Rankings of 2021.
2. Small class sizes
Even though the total number of students at Trent surpasses 12,600, the class sizes are smaller. With the student-to-faculty ratio of 20:1, most classes have fewer than 30 students, giving the discussions held in class a lively and candid environment.
The academically rigorous curriculum is delivered through experienced faculty who engage in interactive teaching methodologies. The atmosphere is personal, and students get the required attention by studying in a close-knit community. The university also runs Mentoring programs that connect current students with graduates, allowing them to network about careers.
3. Graduate employment
Trent University is well-known for having outstanding graduate employability, with 93% of former students gaining meaningful jobs within six months of completing their degree. This is because all students get to have a guaranteed career experience during the course of their programs at the university.
If we talk about employability in specific fields, then some subjects have an impressive track record. Graduates of Nursing and Mathematics report a 100% employment rate two years after graduation, and Physical Science leads to 100% employability six months after graduation. Humanities graduates record an employment rate of 97% just six months after graduation, which is higher than the province average.
4. Amazing campus and location
Trent University has two major campuses in Ontario. The Peterborough campus is spread across 1,400 acres of land, having an award-winning architecture that is set against the breathtaking natural beauty of the Otonabee River. Here, the more academically-rigorous programs are taught at state-of-the-art facilities. The second campus is located in the Durham Greater Toronto Area, which is in the city of Oshawa and was opened in 2010. At this campus, the university runs its career-ready academic programs and offers various experiences to the students.
Both campuses offer a wide range of services and amenities for students, including recreational facilities, dining options, and other student support services like counselling and academic and career advising.
5. Clubs, societies and international student experience
Trent University has a wide range of clubs, societies and organisations for students to get involved in. Academic clubs such as the Trent Pre-Law Society and the Trent Economics Society can be chosen by students interested in these fields. The athletic and fitness clubs help students to stay fit during their university years and include the Trent Rowing Club, Trent Running Club and the Trent Outdoors Club. For students wishing to join the cultural clubs, plenty of options are available, apart from arts and music clubs such as the Trent Film Society, the Trent Radio Station, and the Trent University Theatre Society.
International students can be a part of specific clubs like the Caribbean Student Association and the Trent African Caribbean Student Union to spend time with students from their countries. International students also get access to various support services in matters of immigration, co-op work placements and housing facilities, among others, to ease their transition into a new country.
Study at Trent University
Begin your Tent University application today by arranging a free consultation with SI-Canada.