Canada is a country that has rapidly bounced back from the economic slump of the pandemic era, and this is evident from the demand for skilled workers across industries. Canada's job market continues to evolve and is particularly driven by various technological advancements, changing consumer behaviours, and emerging industries.
Facing labour shortages in several sectors of the economy, and with many industries needing skilled workers, students are increasingly choosing to study in Canada. Many companies readily hire fresh graduates who are in need of jobs, and with high-quality education, many students can get high-paying jobs, as even the companies need talented people. Here, we discuss the top emerging careers and jobs that are in high demand in Canada to make things easier for you as a prospective international student. Some of these jobs are currently in high demand, while others are emerging with the advancements taking place in technology.
If you want to study in Canada and start a prosperous career, book a free consultation with SI-Canada today to start your application process.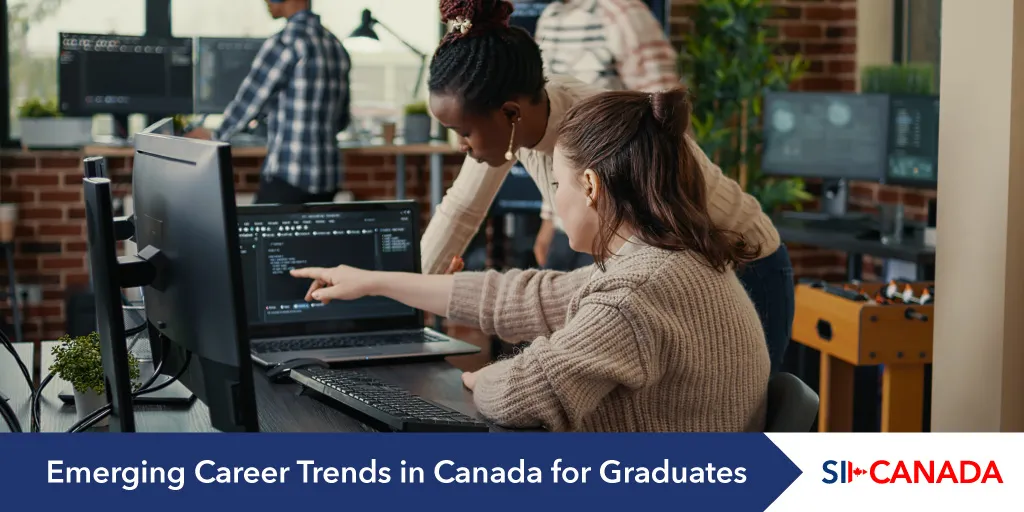 Top 10 Emerging Careers in Canada
1. Artificial Intelligence and Machine Learning specialists
In the present age of digital transformation, artificial intelligence (AI) and machine learning (ML) concepts are integral aspects of growth in various industries across the world. We can see the usage of these technologies, from healthcare and finance to manufacturing and e-commerce, as companies seek AI and machine learning specialists to develop and implement cutting-edge algorithms and solutions. Canada has also been embracing AI technologies in various sectors, increasing the demand for skilled professionals in the field.
2. Data scientists and analysts
Data has currently become the backbone of modern businesses, driving critical decisions and strategic planning at several levels. Data scientists and analysts play a crucial role in extracting valuable insights from large datasets, helping businesses make data-driven decisions. Their expertise is highly sought after in industries like finance, marketing, healthcare, and technology, increasing the overall demand for skilled professionals.
3. Healthcare informatics specialists
Healthcare informatics specialists are professionals who bridge the gap between healthcare and technology. This is a relatively newer field which has been rising in prominence. These specialists are experts in managing and analyzing healthcare data, e-health records, and health information systems. Their role is critical in improving patient care, optimizing healthcare operations, and making data-driven decisions to enhance healthcare efficiency and outcomes.
4. Biotechnology and life sciences specialists
The biotechnology and life sciences industry has witnessed tremendous growth in Canada, especially in areas like biopharmaceuticals, genetics, and medical research. Professionals in these fields, including biochemists, geneticists, and biotechnologists, are in high demand to develop innovative healthcare solutions and contribute to advancements in medical science, which is the need of the hour with newer diseases and health conditions coming up that demand novel and quick solutions to save the people.
5. E-commerce and digital marketing professionals
As consumer behaviours shift towards online shopping and digital experiences, e-commerce and digital marketing professionals are essential to help businesses thrive in the digital marketplace. The demand for specialists in e-commerce management, digital advertising, and social media marketing remains robust and is projected to grow in the future as many industries take up the online route to reach their customers.
6. Environmental engineers and sustainability specialists
Canada's commitment to environmental sustainability has created a surge in demand for environmental engineers and sustainability specialists. These professionals work to develop eco-friendly practices, implement sustainable strategies, and ensure environmental compliance across various industries. As the world progresses towards more sustainable solutions to several problems, sustainability professionals will be needed on a consistent basis in the future.
7. Healthcare professions
Although healthcare is already the most in-demand profession in Canada and many countries, its importance can never diminish. It consistently remains a critical sector of any place that has people, and Canada's ageing population, in particular, has amplified the demand for healthcare professionals on many levels. Along with the traditional healthcare roles like nurses and physicians, there is also a rising demand for allied health professionals, like occupational therapists, physiotherapists, and medical laboratory technologists.
8. Mental health counsellors
Mental health counsellors provide counselling and support to individuals dealing with various mental health issues, such as anxiety, depression, or trauma. They help clients develop coping mechanisms, improve emotional well-being, and achieve better mental health outcomes. The demand for mental health experts has particularly been on the rise since the post-pandemic era as people have been grappling with mental health issues and need guidance to deal with their symptoms.
9. Financial analysts (Economic Recovery)
Financial analysts with expertise in economic recovery analyze economic trends, policy changes, and market conditions in the aftermath of significant disruptions, such as the COVID-19 pandemic. They provide insights and recommendations to guide businesses and policymakers in their recovery efforts. In the current economic scenario, financial experts are needed so that businesses can regain their prominence and retain their status in the coming years.
10. Robotics engineers
Robotics engineers design and develop robotic systems and automation technologies for various industries. They play a vital role in advancing automation, robotics, and artificial intelligence applications, ranging from manufacturing and logistics to healthcare and space exploration. With technological advancements, the field is expected to grow and may need engineers to design the automation systems that will drive the economy further.
Explore Emerging Careers in Canada FAQ
What are the top five employment trends in Canada?
Major trends include:
Technological Advancements and Digital Transformation: The rapid pace of digital transformation across industries has led to an increased demand for high-skilled professionals in fields like artificial intelligence, data science, cybersecurity, cloud computing, and software development.
Sustainability and Green Jobs: As the country is now focusing on renewable energy, waste reduction, and sustainable practices, demand for professionals in renewable energy has also increased.
Healthcare and Allied Health: Canada's ageing population has created a surge in demand for various categories of healthcare professionals.
E-commerce and Digital Marketing: The shift in consumer behaviour towards more online shopping and digital experiences has driven the demand for professionals in e-commerce and digital marketing.
Remote and Flexible Work: The global pandemic has accelerated the adoption of remote and flexible work arrangements in Canada.
What new occupations and industries are emerging in Canada?
Canada is experiencing the emergence of several new occupations and industries, particularly artificial intelligence, sustainable and green technology, digital marketing and e-commerce, and urban planning, among others.
Which field has the best scope in the future in Canada?
The technology sector currently continues to be a driving force in Canada's economy on many levels. Several job opportunities in fields like software development, artificial intelligence, data science, cybersecurity, and digital marketing are expected to remain in high demand in the coming years as well.
Which Canadian field has the highest salary?
Medical specialists, such as surgeons, physicians, anesthesiologists, and other specialized doctors, typically earn some of the highest salaries in Canada due to their specialized training and expertise.