Studying in Toronto offers students a life changing experience in one of Canada's most vibrant and diverse cities. Toronto is home to world-renowned educational institutions, including the University of Toronto, Ryerson University, and York University, known for their academic excellence and excellent graduate prospects. Its thriving job market reflects the city's commitment to innovation and technology.
Toronto's multicultural atmosphere adds a unique dimension to the student experience. With a diverse population and a strong emphasis on inclusivity, students can engage with various cultures, perspectives, and global networks. Beyond academics, Toronto offers a fantastic arts and entertainment scene, diverse culinary experiences, and numerous recreational activities, making it an exciting and fulfilling city for students to live and learn.
If you are considering studying in Canada, book a free consultation with SI-Canada today to learn more about the best options to study in Toronto.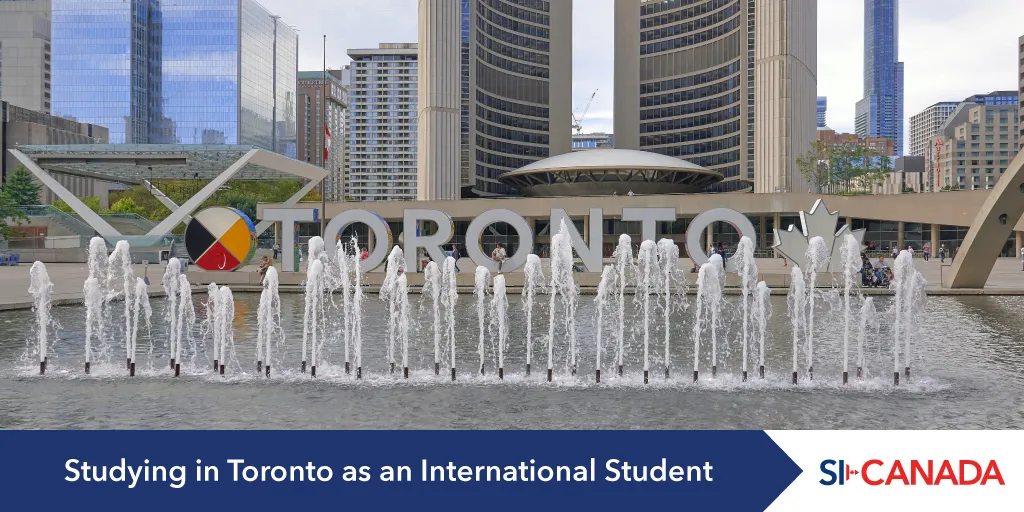 Why Study in Toronto?
- Exceptional and world-class institutions
Toronto is the place for students who wish to study at the best Canadian universities and colleges. The city allows being a part of many top-notch universities, some considered the best globally. The University of Toronto is currently ranked at 21st position in the QS World University Rankings and the Times Higher Education Rankings of 2024. Other top universities include Toronto Metropolitan University and York University. Colleges are also quite popular among students to pursue higher education, and the major ones attracting students are George Brown College, Centennial College, and Seneca College, among others.
- Multiculturalism at its best
Canada is great at being multicultural, but Toronto is the hub of diversity in particular. According to BBC Travel, over 140 languages by different ethnic groups are spoken by people in Toronto. Several specific areas have also emerged due to the high population of certain communities; for instance, one can find Little India, Greek Town, Chinatown, and Portuguese Village. Not only does this diversity help in learning something new about various cultures, but it also helps new students to settle easily as they can find people from their home countries.
- Career opportunities
Toronto is Canada's financial and business center, with many industries thriving and offering job opportunities to graduates. Students have many subject options in various fields and industries, and most of these disciplines are in Toronto. The job market presents various options, but competition also exists as many students are looking for placements. In this scenario, having exceptional skills to help you land a high-paying job easily becomes crucial.
- Dependable public transport system
A robust transportation system can be one of the greatest boons for international students new to a city. This is true in Toronto, where students can use many transportation modes. They can use the subways or ride on buses and streetcars, especially downtown. Public transportation is also cost-effective for students, as they can buy single tickets at CAD 3.35 or monthly passes at CAD 156.
Top Universities and Colleges in Toronto
1. University of Toronto
Canada's top-most university, named after the best city itself, the U of T, was established in 1826 and has been imparting high-quality education to students since then. There are over 700 undergraduate and more than 200 graduate programs that students can take up to earn valuable degrees from the university. It is also highly regarded as the renowned research institution with the largest annual budget for undertaking research activities of any Canadian university.
Popular courses: Computer Science, Psychology, Mechanical Engineering, Physics and Sociology
Student acceptance rate: 43%
Percentage of international students: 25%
2. Toronto Metropolitan University
Historically rooted in providing career-driven education, the Toronto Metropolitan University offers more than 125 undergraduate and graduate degrees to over 48,000 students. The university is known for its exceptional student support services, which make students' lives easier while gaining education. The experiential learning programs at the university are also the strong points of the education system as they help students build career-ready skills.
Popular courses: Civil Engineering, Computer Science, Engineering and Material Sciences
Student acceptance rate: 70%
Percentage of international students: 9%
3. OCAD University
The Ontario College of Art & Design University is a specialized art institute founded in 1876. Courses at OCAD are taught through three main faculties, which deal with programs in arts, design, and sciences of the creative fields. The comprehensive art university is known in Toronto for providing artistic training and promoting the craft.
Popular courses: Graphic Designing, Creative Writing, Advertising, and Illustrations
Student acceptance rate: 50%
Percentage of international students: 21%
4. Humber College
One of Ontario's best public colleges of applied arts and technology, Humber College, offers polytechnic education to students. There are many courses that the students can choose to earn varied credentials. Most of these programs have been designed so that students gain specific knowledge and garner hands-on experience to learn through real-world settings.
Popular courses: Business, Accounting, Biotechnology, and Event Management
Student acceptance rate: 70%
Percentage of international students: 18%
5. George Brown College
A public and fully accredited college of applied arts and technology, George Brown College was established in 1967. It offers over 170 educational programs in business, art & design, engineering, community services, and several other disciplines. Students can go for diplomas, certificates, and degree programs, two of which are also offered in collaboration with Toronto Metropolitan University.
Popular courses: Health Sciences, Culinary Arts, Engineering, and Business
Student acceptance rate: 55%
Percentage of international students: 30%
Popular Courses to Study in Toronto
Business and management: Toronto houses some of Canada's top business schools, such as the Rotman School of Management, which is an integral part of the University of Toronto. Specialized programs in business administration, finance, and management are valued by international students and organizations looking for graduates.
Computer Science and Information Technology: With its thriving tech industry, Toronto's name has become a hub of specialized programs in computer science, software engineering, and IT.
Health Sciences: With world-renowned hospitals and medical research institutions, Toronto is the perfect place to take medicine and healthcare courses. You can study health-related fields to find high-paying jobs in the healthcare industry.
Engineering: The engineering education system in Canada is quite valuable as several programs, including electrical, mechanical, and civil engineering, are widely available in top-notch universities.
Media and communication: With a growing media industry, Toronto is an excellent place to study journalism, film production, advertising, and communication. The fact that students can also find career opportunities in the city helps them decide to study in Toronto.
Student Life in Toronto
How Toronto serves its students to let them have a fulfilling experience is a question that can be on the minds of all prospective students. The answer to this lies in the variety of experiences they can have while living in this phenomenal city. Education is sorted by the presence of world-renowned universities and their specialized courses, which lets them gain the skills and knowledge they need for a successful career.
But, student life is incomplete if they can not fully enjoy the university's offerings and the city's flavour. For this, students are advised to join clubs and organizations at their institutions, which let them embrace new, exciting experiences in sports, social activism, or culture. Students can attend festivals and events like Nuit Blanche, Pride Toronto, and TIFF to check out the city's cultural extravaganza. They can further explore places like Queen Street West, Kensington Market, and Distillery District to immerse in the local Canadian culture. The public transportation system again proves to be the saviour of students in all these explorations as they can easily hop on the subways and buses to roam about the city.
Cost of Living in Toronto
How much money you will spend in any city is one of the most crucial factors always on your mind as an international student. Although Toronto is slightly more expensive than other Canadian cities, the facilities and the environment here justify the overall pricing to a great extent.
Housing costs are a significant part of the overall expenses for International students, and they can choose from on-campus dormitories to off-campus apartments and even homestays. You may have to pay a monthly rent of CAD 1,000-2,500 for a 1 BHK in Toronto, which will again depend on the area. You can expect to spend around CAD 300-500 monthly on groceries. Transportation costs would also take up around CAD 150 per month. Another significant expense for international students is health insurance, which can cost around CAD 600-1,000 annually.
Career Opportunities in Toronto
Toronto is also a thriving economic center, providing many career opportunities to students who have completed their studies in the city. The diverse job market in Toronto spans various industries and sectors, making it an attractive destination for international students.
After their education, students can look forward to working in the finance, technology domains, education, healthcare, and media sectors. While pursuing their education, they are usually given opportunities to take up internships and part-time jobs, which eventually help networking. The contacts made during these stints can be particularly helpful while looking for job options after graduation. The institution's career development centers also support students in finding the right jobs. You must ensure that after the studies are over, you have the necessary work permits to continue working in Toronto and anywhere in Canada.
Study in Toronto
If you want to learn more about studying in Toronto, or begin your application, arrange a free consultation with SI-Canada today.