Montreal, situated in Quebec, the largest Canadian province, stands as the country's most extensive urban center. The city's unique charm, deeply rooted in its French influence, attracts many international students.
An alluring aspect of Montreal for international students is acquiring French proficiency and becoming bilingual swiftly. Often referred to as Canada's "cultural capital," the city serves as a global melting pot, drawing individuals and students from various corners. The blend of cultures, cuisines, and diverse inhabitants offers students an unforgettable experience in this distinctive Canadian locale.
In 2024, Montreal was proudly ranked 13th in the QS Best Student Cities list, an accomplishment attributable primarily to the high-quality education dispensed by its numerous colleges and universities. The city boasts eleven universities and nearly sixty colleges, each specializing in diverse subjects and providing education at all levels.
Read on to uncover the secrets of thriving as an international student in Montreal. If you want to apply, contact SI-Canada today.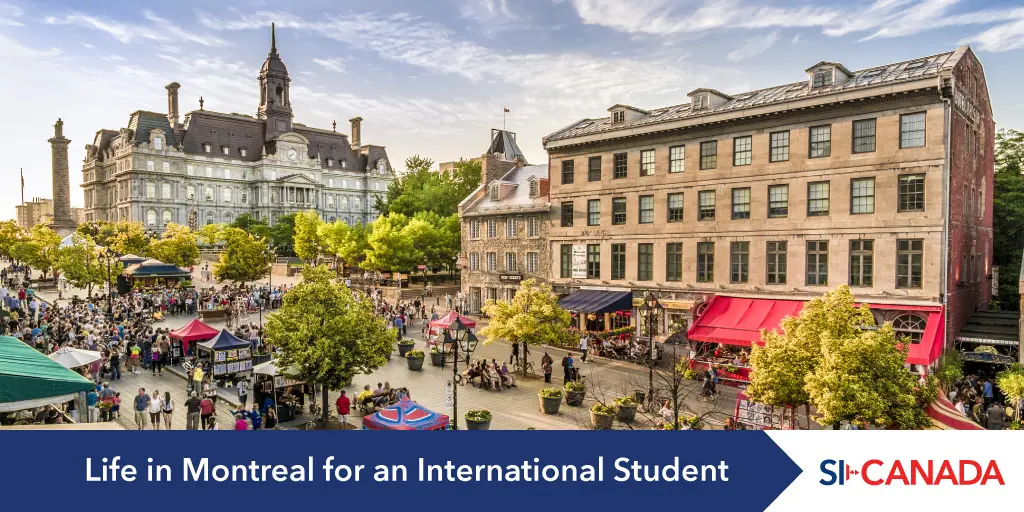 Why Study in Montreal?
1. Large student population
A particular city that ranks among the best places for student living would rightfully have a high concentration of student population. This is evident for Montreal as it has the highest concentration of students per capita in all of North America. From the 3.8 million inhabitants who call this cultural city their home, almost 250,000 are university or college students from other parts of the country and international locations. So, you can easily find students from your country in Montreal, which helps make your life easy as an international student, especially during the initial months.
2. Quality of education
Institutions in Montreal have high standards of excellence, which are usually maintained yearly, which is evident in the influx of new students and graduates receiving employment after their studies. You can either study at the technical institutes and colleges, gaining career-ready skills through their practical programs, or go for degree credentials by studying at the top universities. There is no shortage of options at every level, and the value of your education will remain impressive in the eyes of companies globally.
3. Jobs during and after graduation
Most international students who land in Canada for higher education wish to also take up part-time jobs around the university or college. Montreal's economic strength means that there are numerous job prospects for students, and they can find part-time gigs, which can be taken up for up to 20 hours per week during the study terms and full-time during breaks and holidays. These jobs add up to the work experience a student gains in Canada, which can be beneficial if they apply to receive permanent residence. Even after graduation, they can gain a post-study work permit and find jobs relevant to their educational qualifications and interests.
4. Cultural significance
Roaming the streets of Montreal, you would find an amalgamation of different cultures, all coexisting in harmony to create a multicultural paradise of sorts. Most people speak English and French, but the various ethnicities also have their languages, food, and ways of entertainment. You can have a unique experience by attending multiple events year-round, for example, the Festival de Jazz, Street Art Festival, Francofolies, and other cultural highlights.
5. Low living costs
Being a popular Canadian city, Montreal does offer a high standard of living, and surprisingly, it still manages to offer lower costs to students, especially when compared to Toronto and Vancouver. One of the major costs students incur is housing, and finding suitable and affordable accommodation options in Montreal is possible. Schools are usually affiliated with housing companies and help students get the right living options that are also cost-friendly. Numbeo, a special website maintaining a cost of living database, estimates that rent prices in Montreal are 39.5% lower than in Toronto, with consumer prices almost 9.3% less than in Toronto.
Leading Colleges and Universities in Montreal
Being the top university in Montreal and the country itself, McGill consistently ranks among the best Canadian universities. It stands at the 30th position in QS World University Rankings 2024 and has the highest percentage of PhD students in a Canadian research university. Established in 1821, McGill has created a stellar reputation for providing exceptional educational experiences.
Popular courses: Engineering, Law, Management, Arts, and Medicine.
Student acceptance rate: 47%
Percentage of international students: 30%
UdeM, a prominent French-language university whose foundations were laid in 1878, currently stands among Montreal's best institutions of higher learning. With thirteen faculties in diverse disciplines and over sixty departments, the institution offers many courses at undergraduate and postgraduate levels. The university also has two affiliated schools, Polytechnique Montreal and HEC Montreal, among the most prestigious engineering and business schools in Canada.
Popular courses: MBA, English, Computer Science, and Healthcare
Student acceptance rate: 57%
Percentage of international students: 21%
Being among the three main English universities in a province that mostly has French-speaking institutions, Concordia rightfully deserves a mention here. Especially, when we witness its meteoric rise as a reputable university that was only founded recently in 1974. From that time till now, it has created a reputation for itself by being a beacon of excellence. It has four faculties and numerous colleges, institutes, and centers through which the university offers more than 400 undergraduate and over 120 graduate degree programs.
Popular courses: Communication Studies, Education, Engineering & Technology, Art & Design and Psychology
Student acceptance rate: 78%
Percentage of international students: 22%
The college is a popular hub for fashion, design, and multimedia courses. It is the largest bilingual institution in North America and is popular for offering more than 60 pre-university, professional, and technical courses in creative and career-oriented disciplines. LaSalle College was founded in 1959 by Jean-Morin, known as the "father of fashion design in Quebec."
Popular courses: Fashion, Arts and Design, Business and Technology, Game Design and VFX.
Student acceptance rate: 75%
Percentage of international students: 40%
Popular Courses to Study in Montreal
Popular courses available to study in Montreal include:
Engineering: Montreal's strong focus on technology and innovation makes engineering programs, particularly in fields like computer science, software engineering, and aerospace engineering, highly popular.
Business and management: A strong economy generally means companies are running successfully. To provide organizations with skilled professionals, many institutions offer business administration, finance, and marketing programs.
Computer science and information technology: With a growing tech industry, computer science and IT programs are also highly in demand, offering students promising career prospects after graduation.
Health sciences: Montreal's renowned healthcare institutions make courses in medicine, nursing, and pharmaceutical sciences attractive choices for many students. The chance to have prosperous healthcare careers also motivates students to choose the health sciences.
Arts and humanities: There are specialized institutions that have programs in arts, languages, and humanities. The city's culturally rich environment gives students a fresh perspective on these courses.
Student Life in Montreal
Montreal presents the typical North American advantages alongside a European atmosphere. Picture strolling along the cobblestone streets of Old Montreal and, within minutes, exploring the high-tech buildings in the downtown core. This could be your daily experience while studying in Montreal. Such an opportunity tremendously excites international students as they can enjoy the best of both worlds while pursuing their valuable degrees.
For those who adore nature, numerous lush green spaces are scattered throughout the city, offering perfect relaxing spots after study sessions and part-time jobs. What's most appealing is that all these areas are easily reachable thanks to the reliable and affordable public transportation system. Montreal provides abundant opportunities to relish its multicultural environment, natural beauty, and breathtaking architecture.
Cost of Living in Montreal as a Student
Before embarking on an academic journey in a new land, you should be aware of the costs you will incur while you grow professionally.
Your budgeting will depend on lifestyle choices and how you go about spending and saving some cash by the end of each month. Talking about accommodation, when you live in the campus residence halls, you can quickly expect to shell out CAD 800-1,500 each month. For the same duration, you may have to pay around CAD 1,162-1,536 for a private housing option. The transportation costs can be covered in CAD 100-130 monthly. Bills for food and grocery can go up to CAD 700 in a month, while utility costs can go to CAD 110. Besides these major elements, you would need health insurance, which can cost around CAD 75 for a month's coverage.
Career Opportunities in Montreal
With a thriving economy, there are many career opportunities in Montreal that students can take up after completing their education. The city's strongest industries that can lead to employment among graduates include healthcare, technology, creative industries, and aerospace. Being bilingual in the city will enhance your chances of getting a job relevant to your education. Although that's not mandatory, the benefits are greater if you know French and English professionally.
Study in Montreal
If you want to study in Montreal, contact SI-Canada today for a consultation on your academic future.