Dalhousie University is a Canadian institute of higher education that is located in Halifax, Nova Scotia. Founded in 1818, it is one of Canada's oldest universities and has established itself as a leader in academic excellence, research, and community engagement. With a strong emphasis on innovation through its research initiatives, interdisciplinary studies, and global impact, Dalhousie University offers several academic opportunities for students from around the world.
Dalhousie engages with local and global organizations, businesses, and schools to address social, economic, and environmental challenges, and Dalhousie students and faculty actively contribute to community service, volunteer work, and initiatives that promote social justice, equity, and inclusivity. These are just some of the reasons that make the university a chosen destination among students from across the country and various parts of the world.
Are you interested in pursuing higher education at Dalhousie University? Book a free consultation with SI-Canada today to start your application.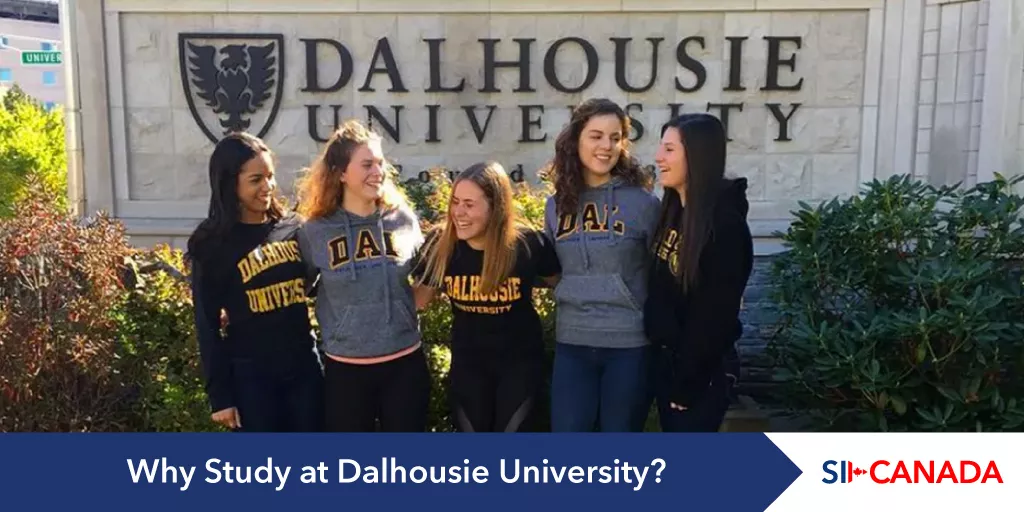 Top Five Reasons to Study at Dalhousie University
1. Courses and Degrees
Dalhousie University offers a wide array of undergraduate and graduate programs across various disciplines. With more than 4,000 Dalhousie courses available, students can choose from fields such as Health Sciences, Engineering, Business, Arts and Social Sciences, Law, Computer Science, Sustainability, and many others. The university is known for its commitment to academic rigour, critical thinking, and experiential learning, providing students with a well-rounded education system that prepares them for successful careers and lifelong learning.
The university has a stellar reputation for delivering high-quality education and maintaining academic rigour across its diverse range of programs, and the faculty members are known to be experts in their respective fields, providing students with an exceptional learning experience through their academic journeys.
2. Research Excellence
Dalhousie University has a strong culture of research and innovation as it is home to world-class research centres and institutes that tackle some of the most pressing global challenges. The university's researchers are engaged in groundbreaking research across various disciplines, including oceanography, health sciences, renewable energy, artificial intelligence, social justice, and more. It offers several opportunities for students to engage in research projects, work alongside esteemed faculty members, and contribute to groundbreaking discoveries.
This hands-on involvement in research enhances students' learning and provides valuable experience and networking opportunities. Through its commitment to discovery and innovation, Dalhousie contributes to advancements that positively impact society locally and globally.
3. Campus Life and Facilities
The Dalhousie University campus is spread across multiple locations in Halifax, offering a vibrant and supportive environment for students. The facilities include state-of-the-art laboratories, well-equipped libraries, collaborative learning spaces, sports complexes, and modern student residences. The vibrant campus ensures that students get to choose from a diverse range of extracurricular activities, clubs, societies, and cultural events, to feel a strong sense of community and belonging. Students can pursue their interests, develop leadership skills, and forge lifelong friendships.
One of the most interesting aspects of the campus infrastructure is that it seamlessly blends historical buildings with contemporary architecture, creating an inspiring and welcoming atmosphere for academic pursuits and community engagement among the students.
4. Scholarships
Dalhousie University scholarships support students in their academic pursuits. Entrance scholarships are awarded to incoming undergraduate students and are based on their academic achievements and extracurricular involvement and some in-course scholarships are also available to current undergraduate students who have successfully demonstrated outstanding academic performance during their studies at Dalhousie. The selection process for these scholarships may consider factors such as GPA, course load, and involvement in extracurricular activities.
Dalhousie also offers various fellowships and awards to support graduate students pursuing research-based or professional programs at the master's or doctoral level. These scholarships may be discipline-specific or open to students from various fields of study. Some faculties or departments within the university offer scholarships specific to their programs. In order to get more information regarding the various options, students can check the official website, contact specific departments or the Financial Aid Office, from where they can get all the necessary guidance and support regarding financial assistance options, including scholarships, grants, and student loans.
5. Stunning Location
Dalhousie University is situated in Halifax, the capital city of Nova Scotia. Halifax is a renowned education hub in Canada, and students at Dalhousie University can benefit from the opportunity to collaborate, network, and engage in interdisciplinary pursuits with students and faculty from other institutions. The city's local population is known for their hospitality, which creates a supportive and inclusive environment for students from diverse backgrounds.
Halifax also offers a rich cultural scene, a thriving arts community, and a wide range of recreational activities, ensuring that students have ample opportunities for socializing, exploring, and enjoying their time outside of academics. The city's location on the eastern coast of Canada offers students easy access to breathtaking natural landscapes, and they can explore the city's stunning coastal scenery, including picturesque beaches, rugged shorelines, and beautiful parks.
Halifax is also a hub for various industries, including technology, finance, healthcare, and the creative arts. The city's strong economic growth and job market present students with potential internships, co-op, and career opportunities.