English is one of Canada's two official languages, with over 86% of Canadians speaking it. International students, whose first language isn't English must demonstrate proficiency through standardized tests as part of the university application process. To prepare for these tests and acquire the necessary academic and professional language skills for reading, writing, and conversation, students often enrol in English as a Second Language (ESL) programs. These programs are typically short-term and offered by colleges, universities, and private language schools.
Students enrolled in ESL programs may find their newly acquired skills valuable for applying to Canadian universities and earning a prestigious Canadian degree. If you are currently studying English in Canada and aspire to apply to Canadian universities, we have an excellent opportunity for you.
To better understand the application process, entry requirements, and scholarship opportunities at Canadian universities and colleges, register for free entry to the Canada University and College Fair in Toronto on November 18th. Meet 25 universities from across Canada one-to-one and have the questions that matter the most to you answered.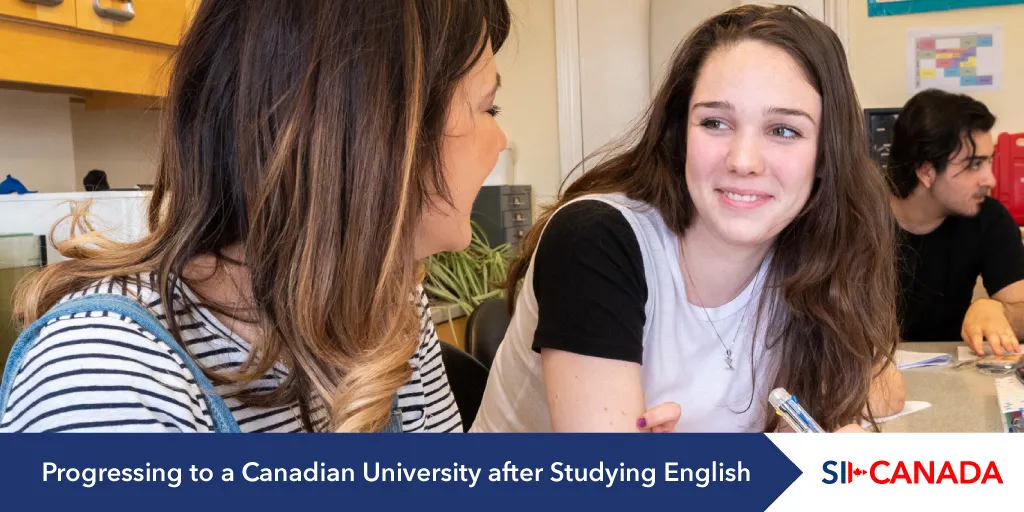 Progressing to a Canadian University after an ESL Program
1. Reflect on your goals before applying
As you near the end of your ESL program in Toronto, it's crucial to reflect on your academic goals. You should find which university and program you aspire to join after your language course is done. Having a clear vision is always a better idea, as that will enable you to focus your efforts and make informed decisions about your academic career.
2. Choose the right university
Toronto boasts several world-class universities, each with its unique strengths and courses. You can carefully research your options, considering your aspirations, the program offerings, location, campus culture, and admission requirements. The most popular choices for international students in Toronto include the University of Toronto, Toronto Metropolitan University, and York University.
3. Meet language requirements
While your ESL studies have undoubtedly improved your English skills, some universities may have specific language proficiency requirements for admission to specific courses. Be sure to check the language requirements of your chosen university and program. Consider taking a standardized English language test such as TOEFL or PTE to meet these requirements if necessary.
4. Academic preparation
The process of transitioning to university studies after a short-term course involves a shift in academic rigor and overall expectations. You can consider enrolling in bridging programs or foundation courses, some of which are offered at the university itself, as those can help bridge the gap between ESL and university-level coursework. Most of these foundation programs are designed to prepare international students for academic success at the university level.
5. Prepare your application
The most important step is preparing a compelling university application highlighting your academic achievements, extracurricular involvement, and personal statement. You can also emphasize how your ESL journey has prepared you for success in higher education. You must also pay close attention to application deadlines and gather all required documents, such as transcripts and letters of recommendation, before starting the application.
6. Explore scholarships and financial aid
Financing your university education is crucial, particularly for international students, as they usually have to pay higher tuition fees. You can research scholarships and financial aid options available through the government, organizations or the university you are applying to. You can take advantage of these financial aid opportunities to alleviate the financial burden.
7. Begin your journey
Once you receive your university acceptance letter, you can arrange for your on-campus or off-campus housing. After the orientation program, you can immerse yourself in campus life and academic activities. You can also join student clubs and organizations and participate in extracurricular activities for a fulfilling university experience.
Attend the Canada University and College Fair
Meet 25 universities and colleges from across Canada at the upcoming Canada University and College Fair. Have all of your questions about studying in Canada answered directly from universities and colleges, as well as the SI-Canada team, by registering online today.