Canada's distinctive education system, multicultural atmosphere, and various post-graduation immigration prospects have attracted Bangladeshi students, making it a favored destination for higher studies across various subjects.
While Bangladeshi students may encounter peers from their community, newcomers can face challenges adapting to the country, particularly during their initial days. If you're a Bangladeshi student in Canada seeking assistance in managing your new life and transitioning to this country, you've come to the right place.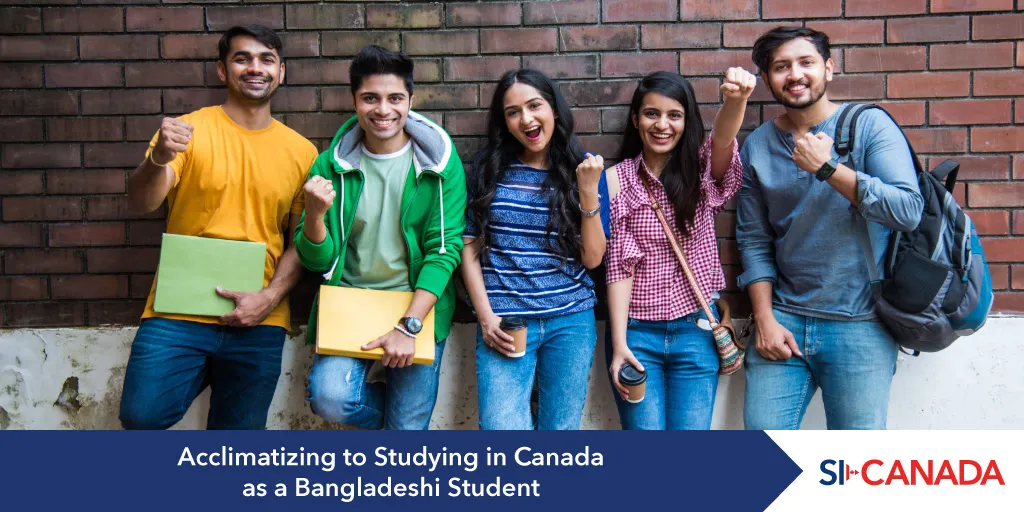 Acclimatizing to life in Canada as a Bangladeshi student
1. Preparation of the basics
Starting your academic journey in a new country requires a solid foundation. It's crucial to ensure that your study permit, chosen course, housing, and health insurance are in order. Once these essentials are in place, you can focus on your studies.
In Canada, enrollment in your preferred course and obtaining a student permit are the initial steps. After that, you should finalize your accommodation. Health insurance is another key consideration, which can be provided by the provincial government or arranged through a private insurance company.
Managing your finances is the next priority, and having a budget is essential. Proper financial planning is the key to a smooth Bangladeshi student life in Canada. As an international student, you can work part-time for up to 20 hours per week, which can help cover some of your living expenses in the country.
2. Cultural adaptation
Canada's reputation for multiculturalism provides a unique opportunity for you to embrace this aspect of the country. You'll encounter individuals from diverse cultural backgrounds throughout your student life, whether on campus or in your city of residence.
While you'll also find fellow Bangladeshi students to whom you can relate for a sense of belonging, engaging with students from various other countries is advisable. This interaction fosters cultural sensitivity, a valuable trait for success in Canada and other global environments. Adapting to Canadian customs is also essential for a smoother transition and an enjoyable life in this new country.
3. Academic preparation
Learning effective time management is key to success in your academic journey. Focus on the academic aspects of your student life in a balanced way to excel in your course and achieve a successful outcome.
The Canadian education system is renowned for its rigorous nature and practical learning opportunities. You'll engage in classes, assignments, projects, discussions, and internships, all vital for earning your degree. Achieving good grades is also essential for accessing job opportunities post-graduation.
4. Settle in your new home
When you chose to study in Canada, you committed to making it your home for several years. Whether on campus or living in private accommodation, getting comfortable may require getting to know people around you, including your roommates. During your free time, consider exploring the campus and the city to familiarize yourself with the local culture. Many Canadian cities frequently host events and festivals to celebrate special occasions, so discover what your city offers and use the reliable public transportation system to explore various places.
5. Extracurricular activities for personal development
University life typically involves more than just academic studies. It's a time when you can expand your horizons by engaging in extracurricular activities. This period allows for personal growth and enjoyment, making selecting the right sports team or other recreational pursuits essential to foster well-rounded development.
These activities can be hobbies you're already passionate about or new experiences to broaden your horizons. Regardless of your choice, strive to balance to ensure your studies aren't negatively impacted while cultivating vital life skills like communication, leadership, and teamwork.
6. Taking care of your health and wellness
As previously mentioned, the primary focus of health is securing your health insurance. In addition to that, consider participating in activity groups at your institution to engage in regular exercise. Nutrition is pivotal in your overall well-being, so maintain balanced meals whenever feasible.
Furthermore, your university or college may offer support through a health and wellness department to address physical and mental health concerns. Don't hesitate to seek assistance when faced with challenges to prevent potential issues from escalating.
7. Career preparedness
Whether you've worked part-time or participated in a co-op program involving internships, these experiences contribute to your international work exposure in Canada. It's important to initiate the process of developing your professional network early on, as it can greatly assist you in securing a suitable job post-graduation.
Your institution may offer a career development team that typically arranges workshops and seminars to educate new students on creating impressive CVs and cover letters, excelling in interviews, and identifying career opportunities in their field. Attending these workshops and seeking support from the staff is highly recommended to launch your career on the right path in Canada.
Study in Canada
If you are a student from Bangladesh or anywhere else in the world who wishes to study in Canada, contact SI-Canada today for a free consultation.