As an international student in Canada, when you first encounter the enthusiasm about Thanksgiving early in October, you may feel confused if you assumed it was only the US that celebrated this unique holiday. Unlike its counterpart from across the border, the Canadian Thanksgiving has some differences, the major one being it is held in October instead of November!
Learn more about celebrating Thanksgiving in Canada below with our handy cheat sheet on what to expect! If you are considering studying abroad at a Canadian university or college, contact SI-Canada today for a free consultation.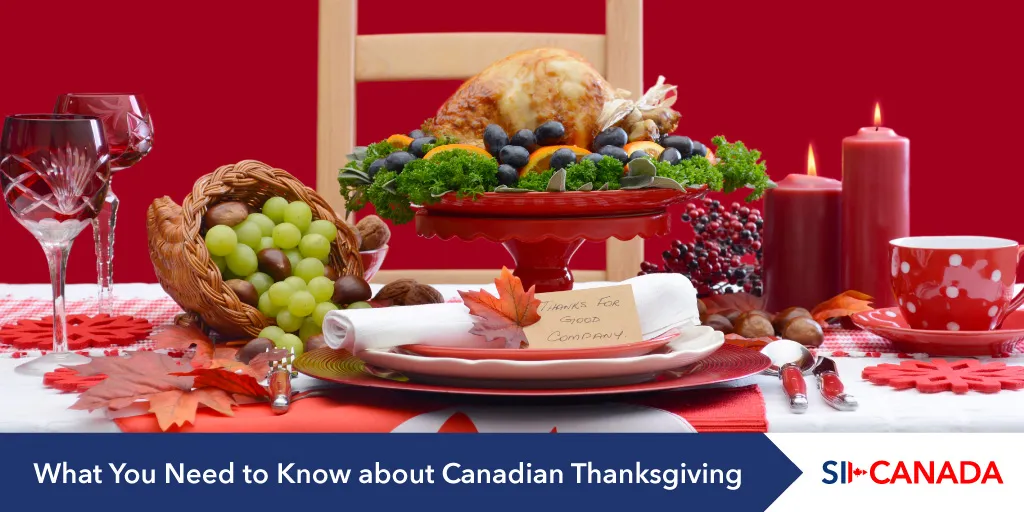 Things to know about Canadian Thanksgiving as an International Student
1. It is more than a holiday
As an international student who is witnessing the holiday season for the first time, it's important to know that this day is not just a holiday. You can cherish a cultural experience to create lifelong memories in the new country. It can be one of the best ways to embrace the culture of your new home, learn more about the history, and enjoy your time with friends as you can eat the delicacies, engage in specific activities, and take in the environment to feel the festivities.
2. A brief history
The Canadian Thanksgiving dates back to 1578 when English explorer Martin Frobisher held a formal ceremony in Newfoundland to give thanks for his safe return from an Arctic voyage. Over time, other regions and communities started celebrating harvest festivals to give thanks for the bountiful harvests that would sustain them through harsh winters. It wasn't until 1957 that Thanksgiving became an official holiday in Canada, celebrated on the second Monday in October.
3. It is not a statutory holiday all over the country
Even though the holiday is a celebration that brings together family and friends to feast on a sumptuous meal, it is only a statutory holiday in central and western Canada. If you are in any of the Atlantic provinces ( Newfoundland and Labrador, New Brunswick, Prince Edward Island, and Nova Scotia), you will notice that it is an optional holiday.
4. Feasting is the most important feature
At the heart of Canadian Thanksgiving is a sumptuous feast with family and friends, which basically makes the holiday all the more special. If you are invited to a private gathering, you will notice that a roast turkey takes center stage and is accompanied by an array of delectable side dishes such as stuffing, mashed potatoes, cranberry sauce, and gravy. So, this can be a great chance to enjoy the cuisine, and you must attend a party if you are invited to one. If not, you must check out local Thanksgiving events and parades in your area.
5. Outdoor activities
As Thanksgiving falls in early October, Canadians take advantage of the pleasant weather to enjoy outdoor activities like hiking, apple picking, and taking in the vibrant fall foliage. This is mostly their last chance to enjoy the great outdoors before the winter sets in, so many activities and events are organized. Some cities even host Thanksgiving parades and festivals featuring floats, live music, and local cuisine. The most famous of these is the Kitchener-Waterloo Oktoberfest in Ontario.
6. Give thanks and be grateful
Traditionally, it is the day to be thankful for the harvest and a good life. Today, many Canadians take a moment during the holiday to express gratitude for all the blessings in their lives, whether through prayer, a heartfelt conversation, or even keeping a gratitude journal. You, too, can join in the festival spirit and take a moment to reflect on the things you're thankful for during this holiday. If you have been invited to a party, you can also take a dish or dessert to share with your hosts, which is mostly a customary gesture, showcasing your gratefulness for the invitation. It can also be a great way to present your own cultural cuisine and engage in cultural exchange.
Study In Canada
If you find Canadian culture exciting and want to be a part of such festivities, you can start by attending the biggest Canada University & College Fair to be held in November in Toronto on November 18th. The exclusive event will give you the chance to meet official representatives from prominent Canadian institutions such as Trent University, Toronto Metropolitan University, Fraser International College, Humber College, and many more.