Canada, known for its welcoming atmosphere, world-renowned education system, and stunning landscapes, is a prime destination for international students. Every year, thousands of students apply to study in Canada, and according to the latest Canadian immigration statistics, there are currently around 807,750 international students in Canada at all levels of education.
The process requires students to go through several steps before immigrating to Canada. With careful planning and timely actions, you can make your dream of studying and migrating to Canada as a student a reality.
If you wish to pursue higher education in Canada, book a free consultation with SI-Canada now to get all the information regarding the best universities, available scholarships and much more.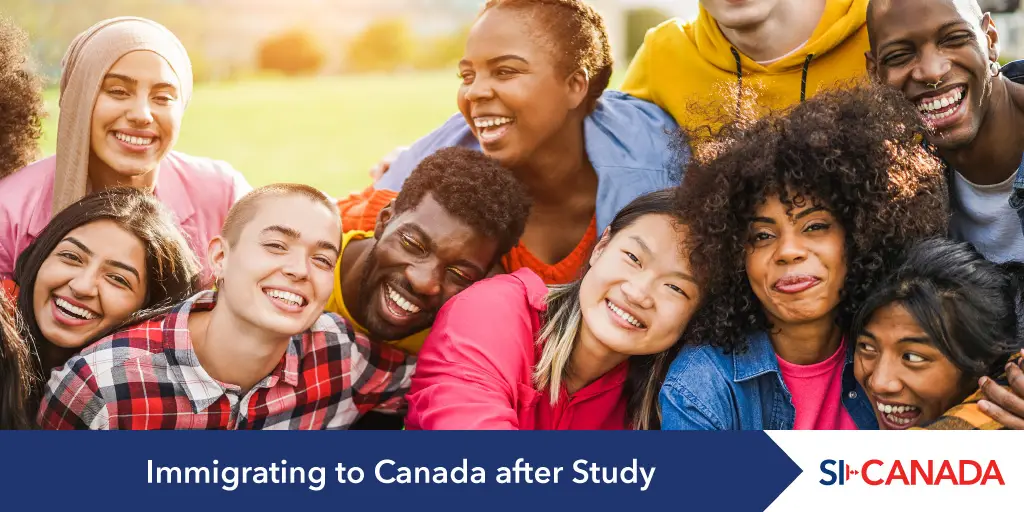 Immigrating to Canada as a Student
1. Choose a Designated Learning Institution (DLI)
The first crucial step on your path to Canadian education is choosing a Designated Learning Institution (DLI). DLIs are government-recognized institutions authorized to host international students. You can research and select a program and institution that aligns with your academic interests and career aspirations. This choice is integral as it not only shapes your educational journey but also influences your eligibility for a study permit at a later stage.
2. Obtain a Letter of Acceptance
Once you've been accepted into a program at a DLI, you'll receive a formal letter of acceptance. This document is not only a symbol of your accomplishment but also a critical requirement for your study permit application. Ensure that the Letter of Acceptance accurately reflects the details of your program, including the start date, duration, and tuition fees.
3. Apply for a Study Permit
After you have received your letter of acceptance, the next step requires you to apply for a Canadian study permit. The study permit is one of the most important Canadian immigration requirements, the cornerstone of your immigration process. Applying for a study permit requires careful attention to detail and a collection of documents, including:
A valid Letter of Acceptance from your chosen DLI.
Proof of sufficient funds is needed to cover tuition fees, living expenses, and return transportation.
A clean criminal record, accompanied by police clearance certificates from countries you've lived in for over six months.
An approved panel physician conducts a medical exam.
A comprehensive study plan outlining your academic and career objectives in Canada.
A valid passport and other identification documents.
Results of English or French language proficiency tests, such as IELTS, PTE, TOEFL, CELPIP, or TEF.
4. Prove Sufficient Funds
Demonstrating your financial capacity to cover both tuition fees and living expenses is a critical aspect of the study permit application. The exact amount required can vary based on location, program duration, and whether you have dependents accompanying you.
5. Pass Medical Examination
In some cases, you may be required to undergo a proper medical examination to ensure that you meet the health requirements for studying in Canada. The test must be conducted by a panelled physician designated by the Canadian government.
6. English/French Language Proficiency
Language proficiency is essential for effective communication during your studies and daily life in Canada. Depending on your chosen program and institution's language policies, you might need to provide evidence of your language skills through standardized tests like IELTS, PTE, TOEFL, CELPIP (for English), or TEF (for French).
7. Biometrics and Visa Application
Part of the study permit application process involves providing biometric information, including fingerprints and a photograph. Once you've submitted your application, you'll receive instructions on how and where to provide this information.
8. Attend an Interview (If required)
In some cases, you may also be asked to attend an interview during the process at your local Canadian embassy or consulate. The interview aims to assess your intentions, background, and eligibility for a study permit. During this interview, it's essential to be prepared and honest to showcase your genuine interest in pursuing your education in Canada.
9. Plan your Arrival
With your study permit approved, planning for your arrival in Canada is time. Organize travel arrangements, secure accommodation, and ensure you're well-prepared for your academic and cultural transition. Familiarize yourself with the Canadian lifestyle, climate, and cultural norms to ease your integration into this new environment.
Remember, immigration policies can evolve, so it's crucial to consult the official Immigration, Refugees, and Citizenship Canada (IRCC) website or seek guidance from authorized immigration experts to stay updated on the latest information and guidelines.
Study in Canada
If you want to begin your application to study in Canada, arrange a free consultation with SI-Canada today.
Immigrate to Canada FAQ
Can you immigrate to Canada as a student?
Yes, you can immigrate to Canada as a student through the study permit program.
How can I immigrate to Canada after studying?
After completing your education in Canada, you can pursue various pathways to immigrate and obtain permanent residency. One option is the Post-Graduation Work Permit (PGWP), which allows you to gain Canadian work experience after graduation. This experience can significantly enhance your eligibility for immigration programs like Express Entry, where you can earn additional points for your Canadian experience, education, language skills, and more. Provinces and territories also offer Provincial Nominee Programs (PNPs) tailored to international graduates. At the same time, the Canadian Experience Class (CEC) provides a direct route for those with at least one year of skilled work experience in Canada.
What are the requirements for an international student to study Canada?
International students aspiring to study in Canada typically need a letter of acceptance from a recognized Canadian DLI, a valid passport, proof of sufficient funds and a study permit issued by the Canadian government.
How can I get PR after one year of study in Canada?
Getting permanent residency (PR) in Canada after one year of study involves several pathways. One effective route is through the PGWP, allowing you to work in Canada after graduation. Gaining one year of skilled work experience through the PGWP can make you eligible to apply for permanent residency through programs like the Canadian Experience Class (CEC) under the Express Entry system.
Can you apply for PR while on a student visa?
You can apply for permanent residency (PR) in Canada while holding a student visa. The Post-Graduation Work Permit (PGWP) offers an opportunity to gain valuable work experience after completing your studies, and this experience can contribute to your eligibility for permanent residency.
What is the fastest way to get PR in Canada?
The fastest way to get permanent residency (PR) in Canada is typically through the Express Entry system. This system manages applications for three economic immigration programs: Federal Skilled Worker Program, Federal Skilled Trades Program, and Canadian Experience Class.