In today's interconnected world, English has become one of the most prominent languages at the global level. Mastery of the language makes it possible for students and immigrants to study, work, and settle in developed countries, particularly in the West. Even if many countries prefer to have their own languages to be known by people coming to their land, almost every country will have English-speaking people.
Canada's reputation as an international education powerhouse extends to its language programs, making it an exciting choice for learners aspiring to take English language courses in Canada. The country has a diverse range of English as a Second Language (ESL) programs, apart from many other courses leading to several credentials such as a certificate or diploma. Whether you're preparing for academic studies, professional advancement, or simply looking to boost your language skills, there's a program for you. Keep reading to find the major English language courses that can be pursued in Canada.
If you wish to study the English language in Canada and need guidance on the institution and course selection, consider booking a consultation with SI-Canada today.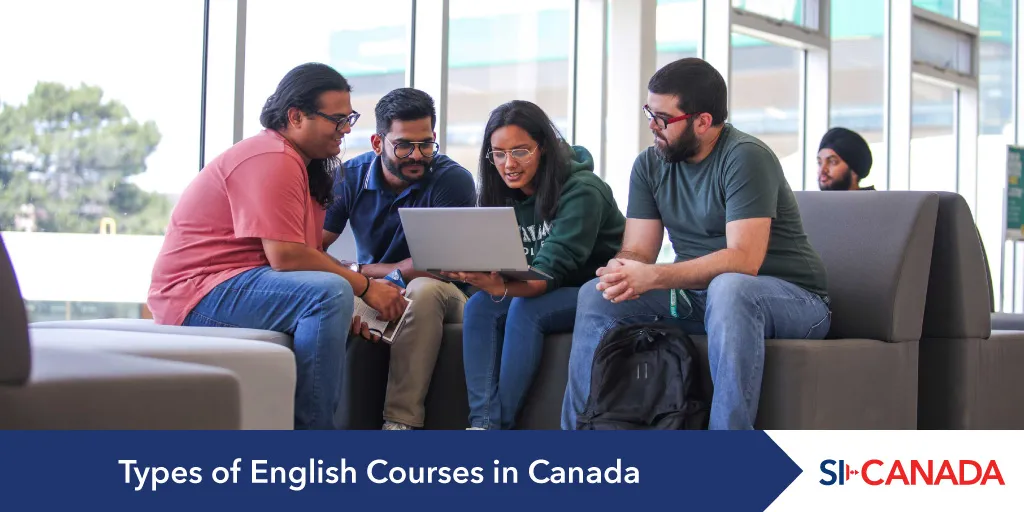 Types of English Language Courses in Canada
1. General English Courses
These comprehensive programs focus on developing your overall language skills, including listening, speaking, reading, and writing specifics. They can be suitable for learners at various levels, from beginners to advanced speakers of the language, and can be taken by tourists or long-term residents as well. If your course is for six months or less, then a visitor visa can work, but a study permit would be required if you want to take up courses with a longer duration.
2. Intensive English Programs
If you want to accelerate your language learning journey, intensive courses offer a full-time, immersive experience that quickly enhances your proficiency. These courses are usually taken by international students who want to fast-track their language proficiency either for university studies or general professional reasons.
3. Business English Courses
These language courses are specifically tailored for professionals and aspiring business leaders. Most of these programs concentrate on language skills required in the corporate world and strongly focus on building business communication, presentation skills, business correspondence, and negotiation. Working professionals looking to enhance their specific communication skills in the language can take up these courses, and so can students who are pursuing international business programs.
4. Academic English Preparation
These courses can be the best option for those planning to pursue higher education in Canada. The academic English preparation courses prepare students to run successfully at the university or college. Some portions of these courses also include cultural knowledge that can be necessary for properly studying at Canadian universities and colleges.
5. IELTS and TOEFL Preparation
These courses focus on preparing students for standardized English proficiency exams like IELTS and TOEFL. Almost all international students who want to study in Canada need to provide English language proficiency, which is usually considered by institutions in the form of test scores from these exams. These courses involve specific lessons in reading, writing, listening, and speaking, which are the major components of standardized tests.
6. English for Specific Purposes (ESP)
ESP programs in Canada usually offer a tailored approach to learning the language, going beyond just fluency. Most of these courses cater to learners with specific career goals. Students looking to enhance their Medical, Legal, Aviation, and Technical English can attend these courses and learn industry-specific language skills to progress in the professional fields.
7. English Immersion Programs
These language courses offer an unparalleled learning experience to students as they are allowed to immerse themselves in an English-speaking environment. Most English Immersion Programs provide a holistic approach by integrating language lessons with real-life experiences, cultural exploration, and meaningful interactions with native speakers.
8. TESOL and TEFL Certification
For students who aspire to teach English, TESOL and TEFL certifications are required. The courses enable students to learn the relevant skills and knowledge needed to impart quality language education to non-native speakers of the language. Students who take these courses become equipped to further teach the language in various settings, including language schools, corporate training, or private tutoring.
Choosing the Right English Course
When selecting an English language course in Canada, you should consider the most important factors, such as your current proficiency level, academic or career goals, preferred location, and budget. An SI-Canada education consultant with all of this and more.