Canada is among the most popular study-abroad destinations for international students seeking high-quality education and diverse cultural experiences. While Canada offers excellent educational opportunities, it is also essential for prospective students to understand the living costs they may incur during their time in Canada. This will largely depend on their lifestyle and the options they choose for accommodation, transport, food and groceries and other utilities, but having a general idea of what you may need is crucial.
Additionally, the government needs to know that as an international student, you will be able to have a decent standard of living and will be able to bear the study costs as well. The tuition costs of your program and university can differ according to factors such as the specific program, location, and university and is advisable that you check the latest fees on the official website of the particular institution you will be applying to.
If you want further information on living expenses in Canada, book a free consultation with SI-Canada now to talk to our experts, who can guide you in finding the perfect route to make your dreams come true.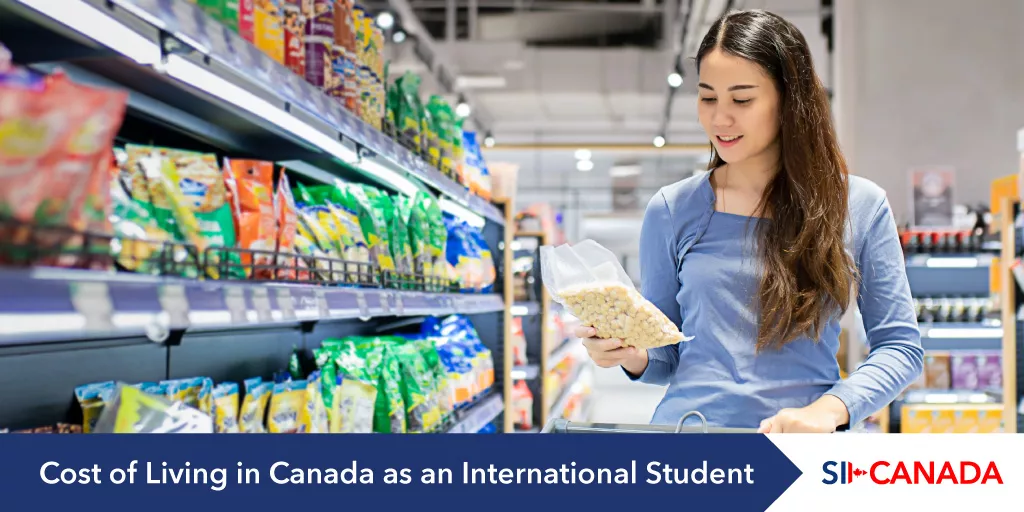 Cost of Living in Canada
Accommodation
One of the first things to consider while studying abroad is the accommodation cost. Much like in other countries, it can vary largely depending on the city and the type of housing you choose. The primary options available are the on-campus housing facilities within the universities, residence halls or dormitories and off-campus housing, including shared apartments and homestay options.
Usually, the costs for on-campus accommodation ranges from CAD 8,000 to CAD 15,000 per academic year and vary by the university and the location. Students also take up off-campus housing by renting an apartment or sharing with other students. The cost for this type of housing can vary from CAD 600 to CAD 2,500 per month, depending on the city and location. Generally, one can save on accommodation costs by sharing with others and taking up the option of staying in areas that are more affordable according to your budget. Another option is that of homestays, wherein you get to live with local Canadian families and pay for the room and food.
Food and Groceries
As an international student, you must budget for your daily meals and groceries. On average, students spend around CAD 300 to CAD 500 per month on food and other groceries. One can consider cooking at home, which can be more economical than eating out regularly, so it might be better to develop your culinary skills to save money in Canada.
Transportation
If you are living on-campus, then this cost is significantly reduced as most residences are within walking distance from institutions. But you would still need money to get around the city for other purposes. When you live off-campus, this is a recurring cost that must be considered.
Canada is a developed country with a robust public transportation system, and the costs usually depend on the city and how you choose to get around. A monthly pass is the most economical way to get around if your usage of the public transportation system is more and can cost around CAD 90 to CAD 150, depending on the city. One-day tickets are also available if a month's pass is not on your agenda and can come within a few dollars.
Cycling is also a popular and eco-friendly option in many cities. You can purchase a bicycle or rent one for approximately CAD 25 to CAD 50 per day. If you plan to own a car, you'll need to consider expenses like insurance, fuel, maintenance, and parking. These costs can add up to around CAD 500 to CAD 800 per month. So, most students don't take this option, especially in the starting months.
Health Insurance
Medical coverage is crucial for international students in Canada and must be considered within the costs. But, some provinces offer public health insurance coverage for international students, like Quebec, British Columbia, Manitoba, Alberta, Labrador and Newfoundland, and Saskatchewan. In other provinces, you may need to purchase private health insurance, costs of which can range from CAD 600 to CAD 1,000 per year.
Books and Supplies
As an overseas student who has travelled all the way to Canada to get specialized knowledge, textbooks, stationery, and other academic supplies become almost a necessity. On average, students usually spend around CAD 1,000 per academic year on books and other supplies.
Mobile and Internet Services
Communication is vital, particularly to talk to your family and friends back home. For this, you will need to budget for mobile phone plans and internet services on a regular basis. Phone plans can vary from CAD 30 to CAD 100 per month, while internet plans cost around CAD 50 to CAD 100 per month.
Social and Recreational Activities
Participating in social and recreational activities is also an essential aspect of the international student experience. You must budget for leisure activities like movies, concerts, sports, and dining out to keep things lively and your mind fresh. The amount spent on such activities can vary depending on personal preferences, but students generally allocate around CAD 100 to CAD 300 per month.
Miscellaneous Expenses
After considering all the major costs of living in Canada, one can take into account some miscellaneous expenses that may include clothing, personal grooming, and occasional travel. You may budget an additional CAD 200 to CAD 500 per month for these variable expenses, which can be saved or used as per your preferences.
Top Tips for Managing Living Costs
Create a Budget: Before arriving in Canada, you must create a detailed budget that outlines your expected income (e.g., scholarships, savings, or part-time work) and all the major expenses. Try to stick to your budget to save and avoid overspending.
Part-Time Work: Many international students in Canada work part-time to supplement their income and manage costs. Ensure that you understand the work regulations for international students in Canada before starting that part-time job, and consider only opportunities that don't affect your studies negatively.
Student Discounts: You can take advantage of the student discounts that are available at various restaurants, stores, and entertainment venues to save money.
Cook at Home: As mentioned earlier as well, preparing your meals at home is often more affordable than dining out and allows you to explore Canadian cuisine while staying within your budget.
Use Public Libraries: Instead of purchasing all the books, you can borrow some of them from university libraries or public libraries to save on textbook costs.
Seek Financial Advice: Many universities often have financial advisors who can provide guidance on managing living expenses and financial planning while studying in Canada.
Cost of Living in Canada FAQ
Is living in Canada expensive?
The overall cost of living in Canada can vary significantly depending on the city or region you choose to live in, your lifestyle, and your personal preferences. On a general level, Canada is considered to have a relatively high standard of living, and some cities, like Toronto and Vancouver, are known for their higher living costs. However, when compared to other developed countries, Canada can be more affordable in certain aspects, like housing, tuition fees, and transportation costs.
How much is the rent in Canada per month?
Major cities and popular urban centres tend to have higher rental prices compared to smaller towns and rural areas. For instance, in Vancouver, you can get a one-bedroom apartment at CAD 1,800 to CAD 2,500+, while in Calgary, the costs range from CAD 1,100 to CAD 1,700.
How much does it cost to live in Canada for a month?
The cost of living in Canada for a month can vary significantly and will start with accommodation, which can be anywhere from CAD 1,500 to CAD 2,500 per month. You will need CAD 300 to CAD 500 for food and groceries and another CAD 90 to CAD 150 for transportation costs. Other important costs include phone bills, health insurance, and other utilities, which are anywhere from CAD 300 to CAD 500 per month. So, you can say that the total monthly cost of living for a single person in Canada can be estimated to be between CAD 2,400 to CAD 4,000.
How much is monthly rent in Canada?
Generally, major cities and urban centres have higher rental costs compared to smaller towns and rural areas. A studio apartment in Toronto can range from CAD 1,300 to CAD 1,800+, while in Montreal, the same can be taken within the range of CAD 800 to CAD 1,200. The costs go higher with one-bedroom and two-bedroom apartments.