The most prestigious universities in the world are centuries old and have been imparting superior quality of education to students historically. But, as with advancements in all fields, the education sector worldwide also witnesses new universities coming up. These institutions may be younger than the other top-ranking universities but have created a name for themselves. In order to highlight the achievements of younger universities, Times Higher Education comes up with the Young University Rankings each year, recognizing and celebrating the excellence of universities that are 50 years old or less. The Young World Rankings provide a platform for these universities to showcase their potential, growth, and contributions to higher education.
The 2023 Young University Rankings were recently released and included 605 universities, up from 539 in the previous year. These rankings are based on 13 performance indicators, similar to the ones that are considered in the flagship THE World University Rankings, but less weight is given to reputation to adjust the scales.
Four universities from Canada have been included in the rankings, and you can learn more about them below. If you want to enrol in any of these top universities, book a free consultation with SI-Canada today.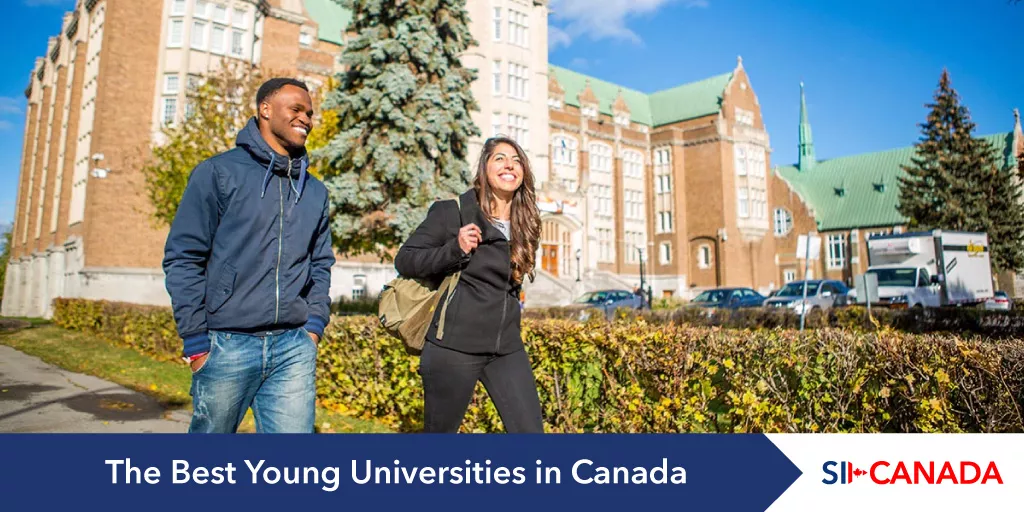 Best Young Canada Universities
Concordia University is a prominent public research university located in Montreal, Quebec. It was established in 1974 and is recognized for its academic excellence, vibrant campus life, and strong connections to the local community. With two campuses situated in the heart of downtown Montreal, Concordia offers a diverse range of programs to national and international students. The university offers more than 200 undergraduate and 100 graduate programs through its faculties and schools. The university is also renowned for its research and innovation contributions to the world and hosts numerous research centres and institutes that focus on various fields, including aerospace, artificial intelligence, genomics, sustainable development, and social innovation.
Many of Concordia's programs are designed to foster critical thinking, creativity, and practical skills to prepare students to pursue successful careers and lifelong learning. Students also have opportunities to engage in community service, internships, and research projects that have a positive impact on society.
Location: Montreal, Quebec
Acceptance rate: 48.6%
Total students: 51,500
Ontario Tech University, located in Oshawa, Ontario, is a modern and innovative university that emphasizes technology, research, and experiential learning. Established in 2002, it has quickly gained recognition for its industry-focused programs and commitment to technological advancements. The university offers a range of programs across various disciplines, including engineering, business, health sciences, computer science, and social sciences. The university's curriculum is designed to align with industry needs, equipping students with the knowledge and relevant skills required for success in their chosen fields. Many programs emphasize hands-on learning, research opportunities, and real-world applications.
The university offers state-of-the-art facilities, labs, and research centres equipped with cutting-edge technology, enabling students and faculty to explore innovative ideas and contribute to technological advancements. It encourages faculty and students to engage in groundbreaking research and collaborate with industry partners and other institutions. The university's research strengths include areas such as advanced manufacturing, clean energy, digital media, health sciences, cybersecurity, and artificial intelligence. The university is also known to prioritize student well-being and provide a supportive environment for personal and academic growth, making it an attractive option for students from across the world.
Location: Oshawa, Ontario
Acceptance rate: 70%
Total students: 10,022
The University of Regina is an institution renowned for its commitment to academic excellence, research, and community engagement. Established in 1974, the university has grown to become a vibrant and inclusive learning community that offers a diverse range of study programs across faculties and schools, such as Arts, Business Administration, Engineering, Science, Education, and Social Work. The university is committed to delivering high-quality education through innovative teaching methods, research-driven curriculum, and personalized learning experiences. It hosts several research centres and institutes, focusing on areas such as energy and environmental sustainability, health, social justice, and Indigenous studies.
The university offers a vibrant campus life with numerous student clubs, organizations, and recreational activities. Students have access to support services, including academic advising, career development, counselling, and health services, and the university's campus facilities include state-of-the-art labs, libraries, sports and fitness centres, and student residences.
Location: Regina, Saskatchewan
Acceptance rate: 90%
Total students: 15,639
The University of Northern British Columbia is a Canadian institution located in Prince George, British Columbia. Established in 1990, UNBC has gained a reputation for its commitment to academic excellence, research output and for providing students with a transformative educational experience that prepares them to become engaged citizens, critical thinkers, and leaders in their respective fields.
UNBC offers a wide range of undergraduate and graduate programs across various disciplines, including arts, sciences, health sciences, business, engineering, and natural resources. The university is known for its small class sizes, personalized attention, and interactive learning environment and faculty members at UNBC are dedicated educators and researchers, providing students with high-quality education and mentorship. UNBC offers a close-knit and supportive campus community with a range of extracurricular activities, clubs, and organizations. The campus features modern facilities, including state-of-the-art laboratories, research centres, libraries, and recreational amenities.
Location: Prince George, British Columbia
Acceptance rate: 75%
Total students: 4,253