Canada is home to many highly-ranked universities that offer computer science degrees at undergraduate and graduate level.
Canadian universities offer industry-approved computer science courses, including programming, software development, computer systems, artificial intelligence, machine learning, data science, and many more. They also have strong industry connections and offer students co-op, internship and research opportunities.
The computer science sector is one of the most in-demand and rapidly growing industries, with many job opportunities for graduates. Computer science graduates can also find job opportunities in various industries, including technology, finance, healthcare, transportation, retail, and more.
In addition, the computer science field is expected to grow faster than the average for all other occupations in the next few years, creating even more opportunities for graduates.
If you want to study computer science, learn more about the best computer science degrees in Canada below (Maclean's Education 2023) and arrange a free consultation with SI-Canada's education experts today to begin your application.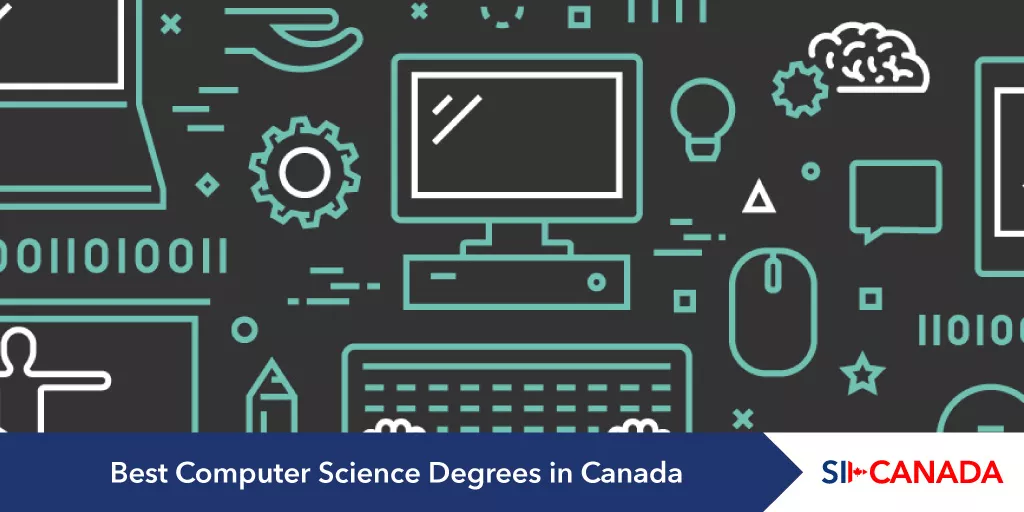 Top Five Computer Science Courses in Canada
1. University of British Columbia
The Department of Computer Science at the University of British Columbia offers undergraduate and graduate degrees in computer science and research opportunities. Programs are known for their emphasis on hands-on experience and real-world applications, as well as its strong faculty and facilities. Some notable research areas within the department include artificial intelligence, computer systems, and human-computer interaction. UBC computer science graduates are highly sought after by employers and have a strong track record of success in the tech industry.
An exciting option available for undergraduate students is the Cognitive Systems Program, which is a specialization in the computer science education field. This program is jointly taught by the Computer Science<, Philosophy, Linguistics and Psychology departments of the school, giving students an interdisciplinary knowledge of the methods through which the systems work in the technological world.
2. University of Toronto
The University of Toronto offers undergraduate computer science courses that are top-rated in the country and the world. Undergraduate students can specialize in data science, game design, computer vision or artificial intelligence.
The school has an outstanding reputation in computer science due to its research advancements in artificial intelligence and neural networks. The students can take advantage of the high-tech computer labs at the school, which also has an award-winning faculty. Internship opportunities make the students gain hands-on experience in the field before entering the job market.
3. University of Waterloo
Students pursuing the computer science programs at the University of Waterloo develop a broad understanding of networks, systems programming and algorithms. Undergraduates can major in Data Science after their first year and gain work experience of almost two years through the co-op program provided by the University, which is among the largest in North America.
Graduates from the University of Waterloo go on to work in leading tech and research at the top universities in the world. Waterloo graduates and professors have also created more than 800 spin-off companies through the expertise that includes Canada's largest software company OpenText.
4. McGill University
McGill University's School of Computer Science is among the best educational institutions in Canada for students who wish to pursue higher education in computer science. Students can take up professional pathways through internships having industrial practicums and also increase their network of like-minded professionals at the annual Tech fair.
An interesting aspect of education at the university is that the students do not have to wait for their graduation to perform research. The school has the Undergraduate Computer Science Research Symposium (UCORE), which allows students to present their research to peers and the department.
5. University of Alberta
The University of Alberta provides undergraduate Computer Science Degrees and Specializations that allow students to either concentrate on the field or combine another area of study according to their interests. This makes it possible for the students to customize their computer science degrees in the field they want to excel in through the programs available through the Faculty of Science at the University.
The computer science department has achieved excellence in research by covering many subjects, including artificial intelligence, robotics, computer games and multimedia, software and database systems, machine learning and bioinformatics.
Study Computer Science in Canada
Arrange for a free consultation call today to discuss the best options for computer science higher education in Canada.