Studying dentistry in Canada is a rigorous and challenging experience, but it can also be highly rewarding. The process typically involves four years of undergraduate study followed by an additional four years of dental school.
During the undergraduate phase, students must complete a series of courses, including biology, chemistry, physics, and mathematics. These courses provide a foundation of knowledge that is essential for success in dental school. Students are also encouraged to gain hands-on experience in the dental field through volunteer work or internships.
On a dentistry course, students are exposed to a broad range of subjects, including anatomy, physiology, pharmacology, and oral pathology. They also receive extensive training in clinical dentistry, which includes both classroom instruction and practical experience working with patients. In addition to the academic and clinical requirements, dental students in Canada must also pass a series of licensing exams before they can become licensed to practice dentistry.
Studying dentistry in Canada is a demanding but fulfilling experience. It requires a high level of dedication and commitment, but the rewards are significant.
If you want to study a dentistry course in Canada, book a free consultation today with SI-Canada to learn more about the application process and other relevant details today.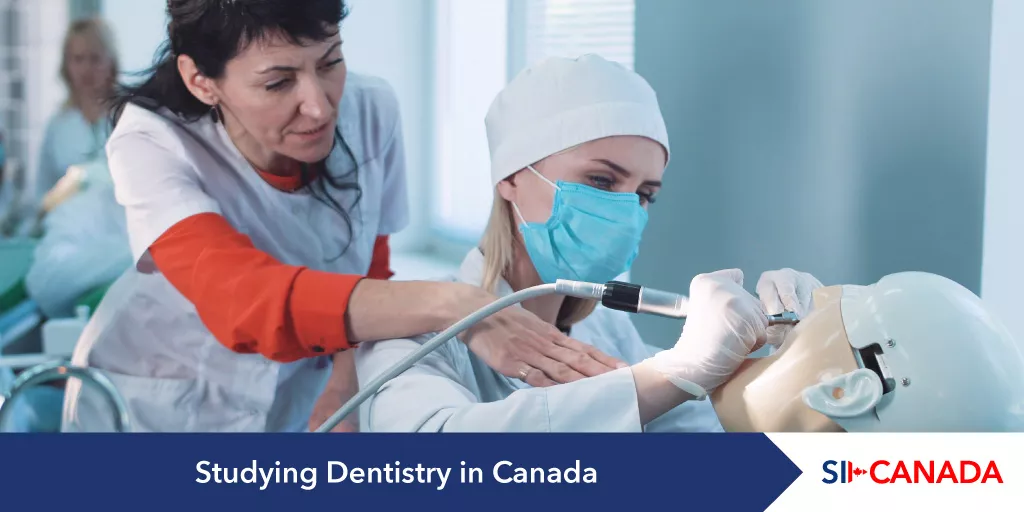 Best Canadian Universities for Dentistry
Generally ranked as the best Canadian university by the major ranking systems of the world, the University of Toronto has the largest and most comprehensive dental school in Canada. The Faculty of Dentistry at U of T was established 145 years ago, and it is the only school in Canada that offers ten dental specialities to students. The university offers undergraduate and graduate degrees in the subject wherein students get trained to be experts through various courses. The faculty maintains a close link between education and research, enabling students to learn about the latest techniques, treatments and diagnostic procedures. U of T trains students to be leaders in their chosen fields.
Suggested course: Doctor of Dental Surgery (DDS)
Entry requirements: Applicants must have completed a bachelor's degree in a related field, apart from having their DAT Scores and English Langauge competency scores.
International fees: $90,000 per year
The Faculty of Dentistry at the University of British Columbia has been instrumental in making remarkable changes in the field of dentistry since its founding at the university more than 50 years ago. It has the world's most technologically advanced dental clinic, the Nobel BioCare Oral Health Centre, which gives students a chance to be trained in practical skills and conduct research as part of their studies. The university offers undergraduate, graduate and postgraduate degree options, apart from having a separate Continuing Education pathway for working professionals in the field.
Suggested course: Doctor of Dental Medicine (DMD)
Entry requirements: Students must have completed at least three years of full-time undergraduate study at a recognized university with a minimum average of 75% in the last two years of study, in which the subjects required are general chemistry, organic chemistry, human anatomy, biochemistry, physiology, physics, and microbiology. Applicants must also show their DAT scores and English Language proficiency scores
International fees: $127,854 per year
Studying Dentistry in Canada
- Becoming a Dentist
To practice dentistry in Canada, one must pass the National Dental Examining Board of Canada exams after getting a dentistry degree from an accredited dental school.
Dentistry in Canada is a regulated profession, and each province has a dental regulatory authority that establishes the licensure requirements one can attain after passing the national examination. Once all this is in place, you can start the practice by opening your clinic or getting a job. Studying dentistry requires time, money, and effort, but a promising and rewarding career awaits if you can commit to all these aspects.
- Dental Aptitude Test
Canada has some of the best dental schools in the world that are renowned for their infrastructural facilities and faculty members. One of the prerequisites for getting admission to dental schools in Canada is that an applicant must take the Dental Aptitude Test.
The DAT is a standardized test to assess knowledge and skills in areas such as perceptual ability, natural sciences, and reading comprehension. The best dental universities may also have their entry requirements, and you must look at the specifications before applying. Keep reading ahead to find the best two dental universities in Canada.
- Dentistry Salary and Career Options
According to Payscale, the average salary given to a Dentist in Canada is $116,128 per year. Being a dental professional in Canada has various benefits apart from the chance to have high-salaried jobs. One gets to explore the specializations offered by the industry, get health benefits in terms of medical insurance, and be a part of a profession that is respected and always has high demands.
After getting a dental degree that usually lasts 4-5 years, one can enter the field directly and work as a Dental Technician, Dental Hygienist, Dental Therapist, General Dentist, and Dental Surgeon. Other jobs where a dental degree can be used for a promising career include Academic Researcher, Health Improvement Practioner, Anatomical Pathology Technologist, Health Service Manager, Medical Sales Representative, Science Writer, Higher Education Professor, and Teaching Laboratory Technician.
Study Dentistry in Canada
Begin your application or have any further questions answered by arranging a free consultation with SI-Canada today.