Canada is among the top three countries to study medicine globally, home to some of the best medical schools in the world. For international students, the opportunity to attain an exciting medical degree and flexible visa options make them stay in the country for longer, which helps build a solid career and live well in the long term.
To study medicine in Canada, you typically need a bachelor's degree and a high GPA. You will also need to take the Medical College Admission Test (MCAT) and complete a medical school application. Once accepted into a Canadian medical school, you will typically complete a four-year program with classroom instruction and hands-on clinical experience.
Learn more about the best medicine degrees in Canada below (QS World University Rankings by Subject 2022) and if you wish to study at one of the top medical schools in the world, begin your journey by arranging a free consultation with SI-Canada today.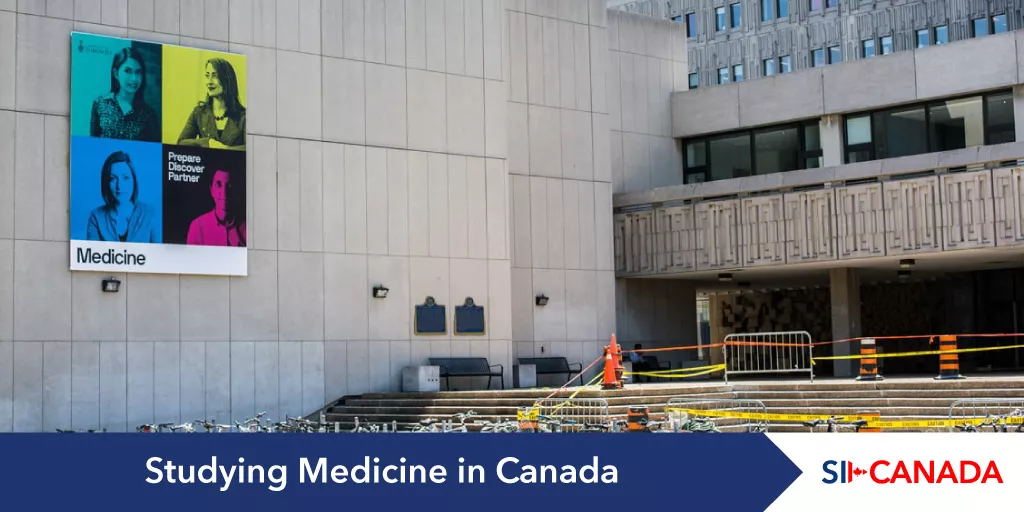 Top Five Medicine Courses in Canada
1. University of Toronto
The Temerty Faculty of Medicine at the U of T is home to the doctor of medicine (MD) program, one of Canada's biggest undergraduate medical education courses. In 2022, the U of T was ranked #1 in Canada by the QS Rankings for Medicine, and the curriculum strives to provide a student-focused learning environment delivered on campus and across the network of affiliated hospitals. The four-year program develops students' knowledge in a diverse range of settings during the first two years, and in the latter part of the program, clinical skills are refined, known as a clerkship.
The Department of Medicine at Temerty Faculty is one of the oldest departments in North America, as it was founded with the School of Medicine at the University in 1843.
2. McMaster University
The School of Medicine at McMaster University was established in 1965 and offers undergraduate, graduate and postgraduate medical education programs. The MD degree at McMaster is competitive and admits only 203 students yearly. The program has been designed to teach medical students about a broad range of health issues and early exposure to patients.
3. McGill University
McGill University's Faculty of Medicine and Health Sciences was founded in 1829 and was the first medical faculty in Canada. It is a leading medical research university in the country. It has been at the helm of epigenetics, biomedical science, neuroscience, stem cell research and regenerative medicine breakthroughs. The foundational undergraduate medical programme is a four MD degree.
It has six leading schools providing medicine courses and numerous departments, units and institutes that foster an environment where technology and collaboration are merged to produce the brightest medical professionals. The faculty of medicine at McGill has produced three Nobel laureates- David H. Hubel, Andrew Schally and Jack W. Szostak.
4. University of British Columbia
The Faculty of Medicine at UBC provides a four-year MD undergraduate program that integrates experiential learning through the Summer Student Research Programmer, Healthcare Travelling Roadshow and Integrated Community Clerkship.
The MD program imparts invaluable training at state-of-the-art facilities. It equips the students with the training, knowledge and experience required to meet the changing demands of the current healthcare industry. Students learn and work alongside faculty members to hone their clinical skills and foundations of medicine at the hospital wards of the urban and rural areas of British Columbia.
5. University of Alberta
The University of Alberta's Faculty of Medicine and Dentistry is among the oldest medical schools in Western Canada, founded in 1913. It has 20 departments, eight research groups, two faculty divisions and 15 centres and institutes.
There are various accredited medical programs, including undergraduate degrees in medicine, radiology and dentistry and graduate programs with the possibility of research topics to be undertaken in many fields of medicine.
Study Medicine in Canada
Study medicine at the best universities in Canada by booking a free consultation with our experts today.