Canada attracts thousands of international students to its universities and colleges yearly, and all must apply for a Canadian study permit to enter the country successfully. A study permit allows you to stay in the country for educational purposes.
With a Canada study permit, you can enrol in a full-time program at a designated learning institution (DLI) and study in Canada for the duration of your course. You can apply for a study permit from within or outside Canada. You may also be able to work part-time on or off campus while you study, and you may be eligible for a post-graduation work permit after you complete your studies.
Learn more about how to get your Canadian study permit below. If you want to study in Canada, arrange a free consultation with SI-Canada today to start your journey to a Canadian degree.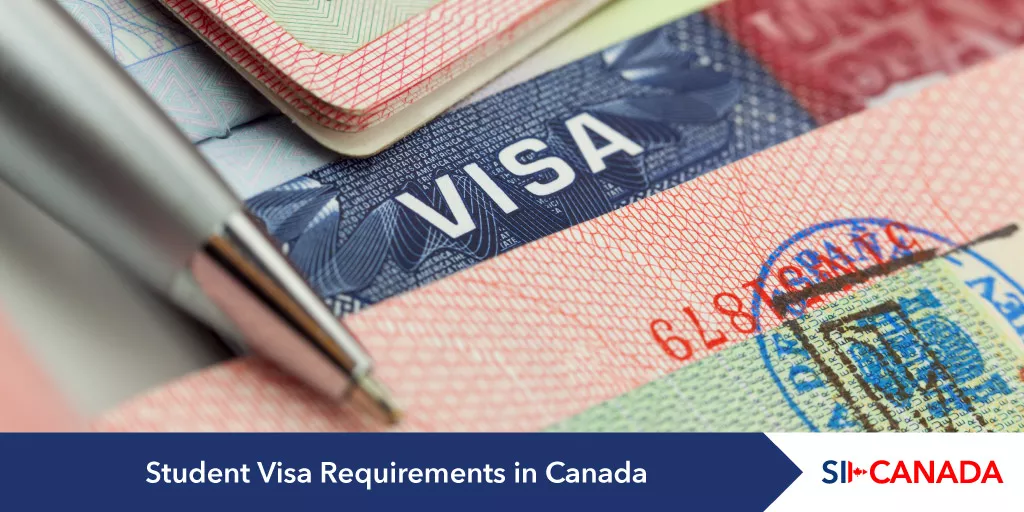 Canada Study Permit Requirements
To be eligible for a Canada study permit, you must:
Be accepted by a designated learning institution (DLI) in Canada
Prove that you have enough money to support yourself during your studies, without relying on employment income or social assistance
Be in good health and pass a medical exam if required
Have no criminal record and provide a police certificate if required
Provide proof that you will leave Canada at the end of your studies
Securing a Canadian Study Permit
Ascertain if you need a study permit
The first step in attaining the study permit is knowing whether you need one. Some countries and Canada have agreements that exempt their students from obtaining the permit. You would not need a student permit if:
Your program lasts six months or less
You are a member of foreign armed forces that are on official duties in Canada
You are a staff or family member of a foreign representative accredited by Global Affairs Canada
You have a Registered Indian Status in Canada
You are a temporary resident of the country and an asylum seeker taking French language and culture courses in Quebec.
Suppose none of these conditions applies to your case. In that case, you need to start applying for the student permit after receiving your letter of acceptance from a designated learning institution (DLI), a school the territorial government has approved to admit international students to their programs.
Collect the required documents
Before you start the online application process, you must collect all the required documents so that the process can be taken forward without any hindrance. As per the rules of the Canadian government, you will need the following.
The electronic copy of the original of your letter of acceptance from the DLI
Proof of funds that guarantee that you will be able to support yourself during the studies
Proof of identity that includes a valid passport or travel document and two latest passport-sized photographs)
A letter of explanation stating the reason you want to study in Canada and giving assurance of the understanding of your responsibilities as an international student
If you are under 17 years old, a Custodian Declaration is required.
If you are planning on studying in Quebec, then additionally, you need a Quebec Acceptance Certificate (CAQ)
Other documents may also be required, about which you will be notified in time, in case those are needed.
Start your online application
When you have all the documents, you should start the online application, for which you will need the following:
Create an online account after reading the instructions carefully. Sign in to the account and keep the details handy, as this account will be needed to pay the fees, submit the application and check your status
Fill out the form with your name, address, education, and background information
Upload the required documents requested by the platform
Pay the fees at the end of the application
You must regularly check the status of your application for updates or extra requests by the authorities. Usually, interviews are not taken during the Canadian study permit process, but an officer's assessment may require one, and you may be called for the interview. You will receive a letter having the interview date, place, and time.
Provide the biometric information and pass a medical exam
If you have never given your biometrics, there will be a requirement for you to have your fingerprints and photo collected at the official Visa Application Centre. For this, an additional CAD 85 will be required. Residents of certain countries also need to undergo a medical examination by an approved panel physician. In some cases, you may also need a police certificate.
After completing these steps, the authorities will look at the application to ascertain whether the applicant has furnished a complete application. If not, you will be asked to provide further documentation. After the completion of the application, the decision will be made.
In case of a rejection, you will get the reason for the same. If the study permit is approved, you will receive a port of entry letter of introduction stating that you are allowed to study in Canada. This is not the study permit, which will be given at the port of entry if you come from outside the country. The study permit will be mailed to you if you are already in Canada. The border services officer will check the letter before they grant you entry into the country. The authorities will also send the eTA or a visitor visa if you need one.
Study In Canada
Do you want to study in Canada? If so, book a free consultation with SI-Canada today to know the best options in terms of courses and universities and colleges.